For just over the past year we've been using You Need A Budget as our primary budgeting and tracking tool for our home finances.
My wife and I both enter our receipts and regular spending into the software so that we know exactly where our financial situation is every day.
The software allows us to easily track exactly how much money we have left over to spend in various budget categories every month, and alerts us when we've got a problem spending area to crack down on.
We've been pretty happy with the software and how it has worked for us over the past year, and would still rate You Need A Budget as one of the best desktop budgeting software available currently.
With You Need A Budget releasing a completely updated version of their software today, I thought it would be a good time to do another review of the software, as well as talking about some of the updated features.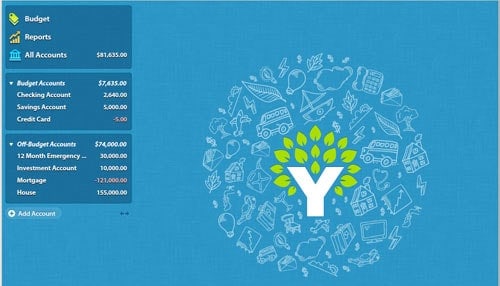 You Need A Budget 4 Released
YNAB was originally released in early 2003 by Jesse Mecham, a former CPA with a Masters of Accountancy degree from Brigham Young University. Originally only an advanced excel spreadsheet, it morphed into what it is today, a full featured stand alone budgeting software.
YNAB 4, which launches today, offers a variety of improvements to YNAB 3 which I reviewed here. Among the biggest improvements are the cloud sync option (so that you can edit your file from anywhere/anytime without worrying about file conflicts), account reconciliation (something I have wanted for a while), cleaner design and improved reporting. The folks at YNAB were kind enough to give us an advance copy of the upgrade a week ago to test out, so let's jump in and take a look at some of the updated features of YNAB 4.

Cloud Sync Keeps Files Updated And Backed Up
One of the biggest improvements for YNAB 4 over the previous version of the software is the fact that it now has built in Cloud Sync capabilities. In other words your file can be saved to the cloud and you can edit it from any of your desktop computers, your Iphone or Android device, all without worrying about file conflicts.
In YNAB 3 we had already saved our budget file into our DropBox account to ensure it was backed up, but at times if my wife and I were editing the file at the same time a situation could arise where we would have a conflicted file and someone's changes would be lost.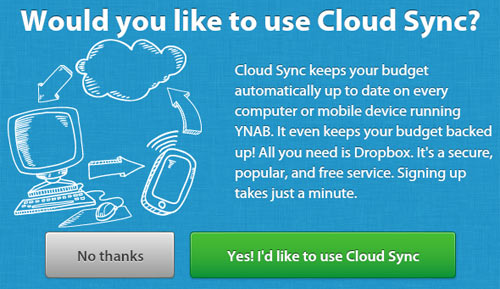 With the new Cloud Sync you can now edit your file from any of your desktops,laptops or mobile devices all at the same time, and no changes will be lost. So I could be entering receipts on my Ipod Touch upstairs, and my wife could be entering hers downstairs at the same time. No problem.
All you need to do to use Cloud Sync is open a DropBox account (you can get a free one here), and then enable Cloud Sync in YNAB when you're setting it up. If you're not comfortable backing your files up to the cloud, you can disable this Cloud Sync feature, however.
Account Reconciliation
One thing that I've felt the software was missing in YNAB 3 was the ability to reconcile your accounts to your bank statements. I've been using that feature for years with Microsoft Money, and relied on it at times to find small discrepancies in our balance versus what the bank was showing. To be honest for the past year I've had issues several times trying to reconcile accounts in YNAB 3 without the feature, and it was pretty annoying. I had continued using Microsoft Money to a degree because of that missing feature.
In YNAB 4 I'm excited to announce that there is now account reconciliation built in! Reconciliation is very similar to what I'm used to with Microsoft Money where you just click the button to reconcile, enter the ending statement balance, and then click off the charges as you compare them to the statement. If you show a difference in balance, you'll be able to figure out what you're missing in YNAB much easier with this new functionality. I know it will cut my time in the software significantly!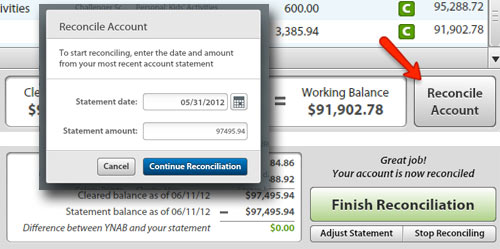 Autosave And File Versions
YNAB 4 has been updated to allow for auto-saving to happen on an almost instant basis, so you never lose any of your work.
In addition there is a new file versions feature that allows you to save your file whenever you want. Let's say you want to backup a version of your file before you start reconciling your accounts. You can do that, and revert to that save point/file version later on if something goes wrong while reconciling.
Updated Reporting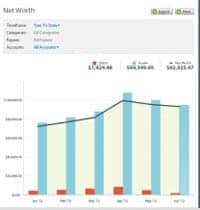 The reporting has been completely updated in YNAB 4. It had some pretty decent reporting previously, but in version 4 it becomes even prettier, easier to read and more useful. Some of the new or updated reports I'll find most helpful include:
Income versus expense report: A nice little report that is basically a profit & loss statement showing how much income is coming in, and how much in expenses is going out. Nicely laid out and probably my new favorite.
Net worth report: This report should help you get an idea of how you're progressing towards your overall goals. Filter your report by accounts, view debts, assets and total net worth by month.
Spending by category report: The report isn't new, but it is much prettier and easier to read than in previous versions. Drill your spending down by category and subcategories to find problem areas. A nice legend of categories and amounts spent appears on the right.
Spending by payee report: This report is new in YNAB 4 and will help you to get idea of how much you're spending at certain stores, companies/etc. Good way to get down into the nitty gritty of your spending.
The reports still aren't perfect by any means, and I'm sure we'll see continued improvement in this area, but I'm finding that the new and updated reports are making the software even more useful than before.
YNAB 4 Download
YNAB 4 runs on the Adobe Air platform. Downloading and installing YNAB 4 was a simple process, just download the installation package for your platform, run it, and you're all set to go. I've been using YNAB 3 for the past year or so, and upgrading to YNAB 4 was easy, just open the budget file from YNAB 3. You can get a full featured 34 day demo via the link below if you want to try it out:
YNAB Free 34 Day Full Featured Demo
YNAB 4 Setup
Setting up your software once you download and install is pretty easy.
Create a new budget file, open/upgrade an existing one: When you first open the software you have two options – to create a new budget, or open or upgrade an existing YNAB file. We had an existing budget from YNAB 3, so we just opened that. If you don't have an existing budget, once you create your file you'll need to setup a budget and categorize all your expected income/spending.
Add accounts: Once you've created your file, it's time to add your accounts. Just enter an account type, starting balance and whether the account is included in your budget.
Since we had an existing budget and accounts setup, we didn't really need to go through much to setup YNAB, it just worked seamlessly when we opened our existing budget file. If you don't have any of that setup, it may take you a while longer to create a budget and set your accounts up.
YNAB Mobile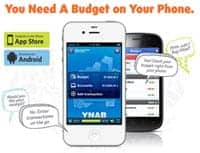 YNAB has mobile apps that you can use on iPhone and Android devices.
There are a couple of versions of the Iphone app available. There is the free YNAB Lite app that will allow to enter transactions and check budget category balances on the go, and then sync to the cloud. Their full featured iPhone app ($4.99) will give you other functionality like geo-aware payees, checking your account balances and more.
The full Android app is also $4.99, here's a quick look at that in this video:
YNAB 4 Pricing
YNAB 4 has different pricing depending on whether you have bought the software in the past, or if you're a new user.
New user: $60
Bought YNAB 3 on or after December 27, 2011: $0 free upgrade
Bought YNAB 3 before December 27, 2011: $40 to upgrade
Free Demo
While I believe the price of the software is well worth it, one thing I always suggest people do before jumping in is try it out for a month and see if it actually fits your needs. Luckily YNAB 4 has a 34 day full featured demo that should give you more than enough time to take it for a spin. We tried YNAB out before buying it, and were impressed with it. We think you'll be impressed too.
Download The YNAB Free 34 Day Full Featured Demo
Conclusion
I bought You Need A Budget 3 about a year ago after hearing about it online. After trying it out we found it was easy to use and an effective way to track our zero based budget. We were hooked and we've been using it ever since.
The latest version of the software, You Need A Budget 4, is a definite improvement. It makes YNAB easier to use with others and backup with Cloud Sync functionality. They've updated and refreshed the design. They've also added features that have been requested by myself and others like account reconciliation, updated reports and file versions.
The software is now better than ever, and it will definitely continue to be my #1 recommended budgeting software for people looking to turn their financial lives around. Check it out at via the link below.
If you're looking to use the cloud based version of YNAB (versus the desktop), check out this YouNeedABudget review for a full detailed look at that.
Try You Need A Budget For Free Now!