If you're like me, you have several dozen passwords and online accounts to remember. So when it comes to keeping track of the important ones – the financial accounts – you have to be especially diligent in keeping everything organized.
Whether you're looking for some ways to keep track of your online bill payments, seeking a system for remembering all those passwords, or safeguarding your digital financial information from prying eyes, here are some ways you can securely manage all of your financial accounts.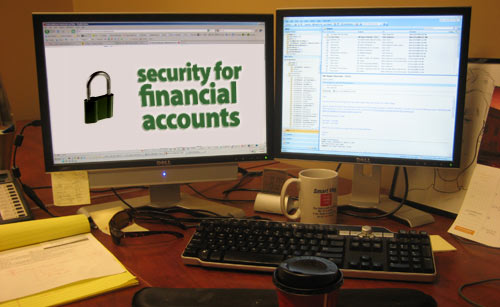 Simplifying and Securing the Storage of Online Financial Accounts
We want to simplify the way we handle online financial accounts to save both time and money. Forgetting to pay a bill can result in fees. Shuffling through a stack of paperwork on your desk to find the note with a scribbled password on it takes up too much time.
It is said that Albert Einstein believed that "everything should be made as simple as possible, but no simpler." That sums up our goal to manage a multitude of online financial accounts within a few easy-to-use systems. You might not follow all of the advice in this article, and that's okay, just make sure to follow enough of it to help you better manage your financial accounts.
5 Online Account Management Strategies
Here are a few of my favorite ways to keep track of my online accounts (and keep them safe). What's your favorite?
1. Remember to pay your bills with Manilla.
Manilla.com is a great way to bring most of your financial accounts under one roof. It's a free online service that helps you remember to pay your mortgage, smartphone bill, credit cards, and more!
You can even review statements and log into your online accounts by following the appropriate links – allowing you the freedom of only remembering one password! Read a review of Manilla.com here and here
2. Get the big financial picture with Mint.
Mint.com helps individuals get a bird's-eye-view of their entire financial picture. The most notable feature of Mint is that it allows you to create a budget that you can manage from your smartphone. So, if you need more than simple bill reminders and statements, give Mint a whirl. Read a review of Mint.com here.
3. Store all of your online passwords with 1Password.
1Password picks up where Manilla and Mint leave off, allowing you to store all your online accounts and passwords with ease. It doesn't matter whether the accounts are financial in nature or not – throw Facebook in there as well while you're at it! The beauty of 1Password is that it can integrate with your web browser so that passwords are automatically entered every time you visit a website.
4. Encrypt your sensitive computer files.
Do you have passwords, account numbers, and other sensitive information sitting on your computer that you don't want in the wrong hands? Many of us do. That's why I recommend encrypting those files or encrypting your entire computer. Encrypting makes it much harder for the bad guys to steal your information – online or offline.
If you're on a Windows PC, try creating an encrypted folder on your computer in which you store all your sensitive financial information.
If you're on a Mac running OS X Lion or Mountain Lion, head over to System Preferences, then Security & Privacy, then FileVault. Turn on FileVault and follow the onscreen instructions to encrypt your entire computer. This takes very little time and is pretty easy!
Whatever you do, don't forget your master password once you encrypt your files . . . you won't get them back if you forget your master password!
5. Throw important files in a floor-bolted safe.
If you have a lot of financial paperwork that you don't want to be stolen, consider investing in a floor-bolted safe. This might seem a little extreme, but these can't be stolen (without considerable effort) and are sometimes the safest place to keep your online account usernames and passwords. For those of you who don't trust your financial login information on a computer, this is a great way to go. However, it's not the simplest solution, so be sure to consider all your options before making this leap.
With a little effort, you can securely manage your online financial accounts, pay your bills on time, and live a more organized life! What are you waiting for? Take some action today and you'll be better off for it!
What are your favorite tools for managing your financial data? Perhaps you have a strategy that isn't mentioned. Leave a comment below!