My wife and I have been using You Need A Budget as our main budgeting software for over a year now. We started using You Need A Budget 3 last year, and found it to be an easy way to stay on track and on top of our family budget.
A few weeks ago we started using the new version of You Need A Budget when it was launched and have been impressed with the improvements in the software including a fresh new design, the ability reconcile accounts and how you can now sync your budget files to the cloud using your DropBox account.
A couple of weeks ago I did a full YNAB 4 review where I talked about the software in depth and did a full video walkthrough of the application to give people a feel for how it works. This past week I got a copy of the mobile app for YNAB so that we could enter our receipts and check budget balances on the go.
I've now been using the Android version of the YNAB mobile app for a week or so. So here are my first impressions and review of the YNAB 4 mobile app. A video walkthrough of the mobile app appears below.
You Need A Budget 4 Features
I've done a full review of You Need A Budget 4 previously, but I figured I'd do a quick recap of some of the desktop application's features here.
Budgets: The zero based budgeting functionality of YNAB is the reason why we bought it in the first place. Every penny of income is assigned to a giving, saving or spending category so that no money goes unaccounted for. Your budgets help you to stay on track and figure out when you're overspending in certain categories.
Cloud Sync: This is one of the biggest upgrades in YNAB 4 over previous versions. The Cloud Sync option allows you to backup your budget files to the cloud (DropBox), and your transaction entries are saved immediately. So if you enter a transaction on the mobile app, it appears on the desktop version right away. Multiple computers can enter transactions in YNAB from different computers at the same time as well, and all will be synced together seamlessly. No conflicts or missing transactions.
Account Reconciliation: For me this was the second most exciting upgrade in YNAB 4 because previously you couldn't easily reconcile your accounts – a pretty basic feature in some other financial software. By adding in an account reconciliation process, one of my biggest complaints about YNAB 3 software was done away with.
Updated reporting: The new version of YNAB also has some updated and improved reporting functionality, making it even easier to stay in tune with where your money is coming and going to.
The desktop app is a great piece of software, and the mobile app is a nice add-on to it.

YNAB 4 Mobile App Allows Transaction Entry On The Go
YNAB 4 Mobile apps make it easy for you to enter transactions while you're out and about. Just left the grocery store? Enter the transaction and view how much you have left over in your grocery budget. Thinking about going out to dinner? Check your budget in the app and see how much money you've got left in your dining out budget. Having the mobile app has made staying on top of and sticking to our budget that much easier. I'm loving it!
There are currently 3 versions of the mobile app that you can download.
YNAB for iOS: The YNAB app for iPhone and all other iOS devices. There is talk of a full standalone iPad app down the road, but currently the YNAB for iOS should work on iPad. $4.99
YNAB Lite for iOS: A free version of the software that only allows for budget viewing and transaction entry. Android version coming soon. Free
YNAB for Android: This is the version that we have on our Android phones and Kindle Fire. Has all the same features as the iOS version, except geo-smart payees, which they're hoping to add soon. $4.99
Here's a quick look at a comparison of features by version.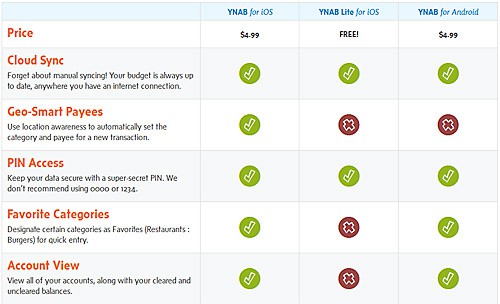 Cloud Sync
As with the desktop versions of the app, the YNAB mobile apps will also sync to the cloud so that your budget files and transactions are always up to date.
I've actually tested out the functionality to see just how well it works, and it's amazing how seamless it is. You can enter a transaction on the app, and as long as you've got a connection of some sort you can watch in real time as the desktop application shows the updated transaction. I actually sat in front of the open YNAB 4 desktop program and entered some receipts on the phone, and almost in real time the receipts showed up on the desktop.
The Cloud Sync feature is great because it never means having conflicted files or transactions like you may have had in previous versions.
Check You Budget On The Go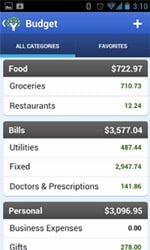 Checking your budget on the go no longer means having to print out your budget regularly and bringing it with you. You can just open up the app, click on the budgets button and see an updated budget category list and amounts left over to spend. Open it up and check your budget before you spend and you'll be sure to stay on track!
Geo-Smart Payees
YNAB for iOS currently has a cool featured called geo-smart payees that uses the phone's location awareness in order to figure out where you are, and then figure out what retailer you're at. It will then automatically set the category and payee for a new transaction.
They're hoping to have this functionality available for the Android version soon as well as it's one of the few features not available for Android users that is on the iOS version. This is how android mobile poker sites apps works when it comes to playing poker on mobile.
Security Pin Access
You can keep your account and budget information secure by setting a pin number for your mobile app. Just don't let your password be 1234.
Favorite Categories
In the full featured YNAB apps you can set your favorite categories for quick access when entering transactions and checking your budget. On our app I've set the grocery, dining out and his and hers blow money categories as our favorites as those are categories we spend a lot in, and typically have issues overspending in.
Accounts View
In the full version of the app you can view your accounts and all the transactions there-in. I've used this a bit to check account balances, and figure out which account certain spending is coming out of when I can't remember. Very handy to have while not at home.
Conclusion
The mobile apps for You Need A Budget 4 are a worthy add-on to the full desktop application. We've found it extremely useful to enter receipts while we're out and about, as well as to make sure we stay on top of our budget. If you're a YNAB 4 user already I'd highly recommend purchasing and using the mobile app as well.
Try YNAB 4 And The Mobile App Now!