For those of us living in the western world, in the United States and other wealthy nations, we often talk about how blessed we are to have been born into a country that doesn't have as many struggles or hardships as those who are living in poorer and third world nations.
We don't have to worry about where our next meal is coming from, or where we're going to sleep at night. We typically don't have to worry about getting caught up in wars or civil unrest. Usually the biggest things we have to worry about are saving for retirement and finding a nice home in a good school district.
While we are very blessed to not have to worry about the necessities of life like food, clothing and shelter, there are times when our wealth can put us at a disadvantage.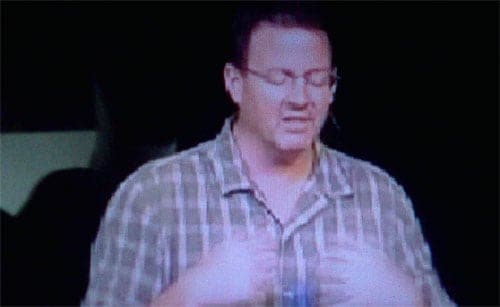 Our Wealth Can Make Us Believe We Don't Need God
In a message a couple of weeks ago at our church Pastor Tim Weber (above) talked about how our wealth can make us feel like we're invincible, that we can supply all of our own needs on our own and that we don't need God. Our wealth becomes a substitute for God, and can become a wall that keeps us from truly depending and relying on God.
The wealth of the rich is their fortified city; they imagine it an unscalable wall. Proverbs 18:11
As the verse says, we imagine our wealth as an unscalable wall, as protection from the hardships of this world. The problem is that the wall is built on a shifting foundation, it isn't solid. Not only that, but on the other side of that wall is God, and God is the only true protection and
source of strength
.
The name of the Lord is a strong tower; the righteous run into it and are safe. Proverbs 18:10
The wealth that we so often depend on can be gone in a flash, and it will always disappoint and leave you wanting for something more. God on the other hand is an ever present help in trouble.
Wealth And How It Can Distort Our True Need For God
Wealth and material things can distort our view of ourselves, and how much we need God. We can begin to think that we don't need God except in the most dire of circumstances. Our wealth becomes our wall of protection,
it becomes an idol
, as it did for the rich young ruler.
A certain ruler asked him, "Good teacher, what must I do to inherit eternal life?"

"Why do you call me good?" Jesus answered. "No one is good—except God alone. You know the commandments: 'You shall not commit adultery, you shall not murder, you shall not steal, you shall not give false testimony, honor your father and mother.'"

"All these I have kept since I was a boy," he said.

When Jesus heard this, he said to him, "You still lack one thing. Sell everything you have and give to the poor, and you will have treasure in heaven. Then come, follow me."

When he heard this, he became very sad, because he was very wealthy. 24 Jesus looked at him and said, "How hard it is for the rich to enter the kingdom of God! Indeed, it is easier for a camel to go through the eye of a needle than for someone who is rich to enter the kingdom of God."

Those who heard this asked, "Who then can be saved?"

Jesus replied, "What is impossible with man is possible with God." Luke 18:18:-27
In the verse Jesus states that it is easier for a camel to go through the eye of a needle than for someone who is rich to enter the kingdom of God. He doesn't say it's impossible for a rich man to enter the kingdom of God, just that it is possible with God. The wealth has to be held in check, we need to acknowledge that it's all God's in the first place. It's His and we need to use the wealth for His purposes.
If I were hungry I would not tell you, for the world is mine, and all that is in it. Psalm 50:12
God Gives Us Margin To Help Others
When we're given wealth I don't think that God has made us stewards of that wealth in order to make us rich. Instead we're being given a responsibility to be generous to others and help others who are in need. We need to share his Word and love.
Command those who are rich in this present world not to be arrogant nor to put their hope in wealth, which is so uncertain, but to put their hope in God, who richly provides us with everything for our enjoyment. Command them to do good, to be rich in good deeds, and to be generous and willing to share. In this way they will lay up treasure for themselves as a firm foundation for the coming age, so that they may take hold of the life that is truly life. 1 Timothy 6:17-19
God wants us to cultivate a life of generosity and of evangelism, loving others and providing an example of his love.
God Will Provide
One thing that may keep people from giving and being generous with that they've been given is a notion that when they give, they're also giving away their own security. The thing is, we're told that God will provide for all our needs.
Look at the birds of the air; they do not sow or reap or store away in barns, and yet your heavenly Father feeds them. Are you not much more valuable than they? Matt 6:26
God can care for us better than money can. The closer you get to God the more you realize you don't need the material and monetary things this world can give.
Ultimate Wealth Is In God
I think that God wants us to enjoy the things he has given, and that there isn't anything wrong with going on a nice vacation or driving a nice car if you can afford it. But your use of what God has given you has to be kept in tension. Spending too much or relying on money too much can become a barrier to our relationship with God. The antidote? To rely on God and live a life of giving and caring for others. Don't pursue money for money's sake.
God gave us the ultimate gift. Though he was the ultimate ruler of the universe and owner of all that ever was, he became poor for our sake.
For you know the grace of our Lord Jesus Christ, that though he was rich, yet for your sake he became poor, so that you through his poverty might become rich. 2 Corinthians 8:9
He saved us from our sins when he died on the cross and gave us true riches in Him.