Crystal Paine and her husband, Jesse, have certainly had financial struggles during their marriage.
When they were first married, they vowed to stay out of debt even while Jesse made his way through law school.
Some months they earned as little as $650, and their rent was $500!
Still, Paine says that they tithed 10% every month and often prayed that their needs would be met, and by the grace of God, they were.
Leading by Example
Paine and her husband have been good stewards of their money.
Not only did they sacrifice so Jesse could graduate from law school debt free, but when Jesse began his law career and Crystal's blog, Money Saving Mom, grew and brought in a nice monthly income, they continued to live a conservative lifestyle. By doing so, they were able to save for 2.5 years and pay outright for their first home in cash. Now, Paine shares her strategies for saving money in her new book, The Money Saving Mom's Budget Book.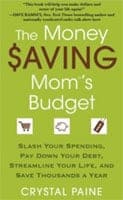 Not Your Typical Budgeting Book
This book is not your typical financial advice book.
In fact, Paine spends the first chapter talking about clutter, not money. Why? She feels that if your environment is cluttered, you are often stifled and likely to spend additional money because you can't find the things you already have, you may not be organized enough to pay your bills on time, and you spend more time cleaning up because you have to constantly move the clutter.
She advocates taking an entire day to clear the clutter from your home. In addition to clutter management, she advocates time management in the second chapter.
The third chapter explains in detail how to budget to meet your family's needs including anticipating expenses you will need to pay throughout the year so you are never caught off guard and never have to dip into your emergency fund for a non-emergency.
She also advocates the use of cash only, which many Bible Money Matters readers already advocate. Finally, she asks readers to take it slowly and get used to having a budget for three months before delving deeper into budgeting. Paine seems to want to truly teach her readers habits that will stay with them for a lifetime.
The heart of the book focuses on how to save money at the grocery store from how to use coupons effectively to how to menu plan to feed your family meals for the lowest cost while not skimping on quality.
Paine offers practical advice on using coupons; she does not go to extreme measures and confesses to even taking a week or sometimes a month off from couponing to recharge. However, she urges all consumers, even those who eat organic foods or have food intolerances, to use coupons because they could still be saving money.
The Money Saving Mom's Budget Book is a basic primer to teach people how to manage their money and stay out of debt. It is a terrific resource for those who are struggling with managing their money or meeting their monthly obligations. If that is you, or if you know someone like that, this book could be very beneficial.
Manage Your Finances to Give Generously
As a devout Christian, donating is something that is very important to Paine. At the end of the book, she advocates donating your time or groceries you can buy for nearly free when using coupons if you are struggling financially.
One of Crystal and Jesse's main reasons for staying out of debt is so they can donate generously. In fact, all profits from The Money Saving Mom's Budget Book will be donated to Compassion International.
Paine's final message is a simple one: learn to control your finances so you can get ahead and also help others by donating your time and money.