What Is A Budget?
First things first. What is a budget? A budget is basically a written plan where you decide where each and every dollar will go in the coming month. You figure out how much income you'll have, and how much you'll need to spend for necessities. The difference between the two tells you how you're doing. If you have money left over, you can allocate it towards savings or investment. If you're in the hole, you know you have a problem somewhere that needs to be fixed. Either you need to be spending less, or you need to find a way to make more income.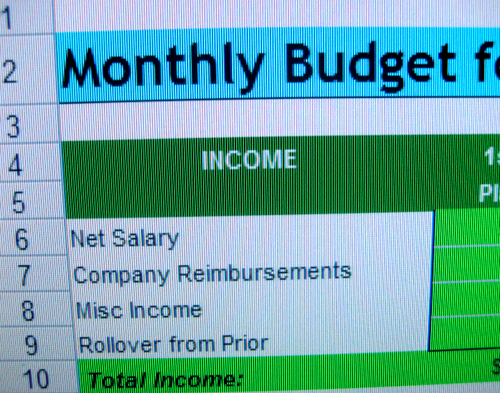 Budgets Are Scary, But They Won't Bite
Let's face it. For most people budgets are intimidating. They're full of details, numbers and restrictions. If you're not used to keeping a budget you might feel like you're more free when you're not living with a spending plan. You're able to spend what you want, when you want!
The problem is that it isn't true, you're not free! You're most likely living in bondage to the next paycheck, and to the next credit card payment. To get true financial freedom you have to know where your money is going. You have to be in charge of your money, not the other way around.
So how do you go about making sure that you're living within your means, and that every dollar has a job? Just follow these simple steps to create your first budget.
Figuring Out The Basics: Income and Expenses
The first thing you need to do when setting up your first budget is to sit down and figure out what you're working with. If you're married you'll want to talk with your spouse, and get them on the same page. Here are the things you'll want to get down on paper:
Income: Figure out all the money that is flowing into your account every month including income from your day job(s), any part time jobs, reimbursements, blog income, investment income etc. This should be relatively easy as most people's income is pretty much the same every month.
Expenses (Necessities): Figure out what your monthly expenses are for the necessities including food, clothing, transportation, shelter, utilities, giving and insurance. Figuring out your basic expenses is usually pretty simple as they are set monthly payments just like your income.
Expenses (Less Frequent or Variable): These expenses can be a bit tougher to nail down as they're either variable month to month or they're paid less frequently. These can include things like food, entertainment, gas, property taxes, pets, hair care, etc. To figure out these types of expense categories you may need to track your expenses over time, and modify your budget accordingly.
The process of figuring out your income and expenses can be more involved than you might think. To figure out a good starting point of what expenses you should be figuring in, check out Dave Ramsey's Gazelle Budget Lite.
Set Up A Monthly Cash Flow Plan
Once you've figured out your monthly income and expenses, its time to set up a monthly cash flow plan. A cash flow plan basically sets out in writing exactly where every dollar of income will be allocated.
If you have 5000 dollars of income coming in, you'll allocate all 5000 dollars to one category or another. If it isn't all spent towards expenses, you'll allocate it to a savings or investment category. This type of a budget plan is called a zero-based budget because the income minus expenses always equals zero.
Other budget plans don't account for leftover money, which often means that it just disappears into miscellaneous spending. For that reason I prefer this type of budget over others.
So here are the steps to creating your cash flow plan:
Write down all income sources and come up with a figure for total net income.
Write down and allocate for all giving and saving categories. Come up with a total for giving and saving.
Write down all set expenses (like mortgage, insurance, debts, etc).
Write down all your variable and miscellaneous expenses. Come up with a reasonable amount to allocate to each of them. Try not to forget any categories.
Figure out a dollar figure for total expenses
Subtract total expenses and giving/saving from total net income. You should come up with zero as the final tally. If you have money left over it needs to be allocated to a category, preferrably a saving or giving category.
Track Your Budget Month To Month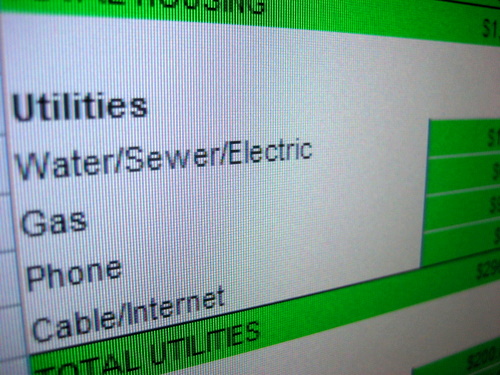 Once you're set up your first budget and your cash flow plan you'll want to have monthly budget meetings at your house to go over and revise the budget. Things often change from month to month, and the budget needs to be flexible enough to change too.
You may realize that you don't need as much grocery money as you first thought, or maybe you're not allocating enough to pay for your property taxes. Get together, look over the previous month's expenses and revise where you need to.
To make the process of tracking your budget from month to month easier it is often helpful to use a financial tracking software. I've tried out quite a few of them, and have liked some better than others. Here are some of the ones that I've enjoyed using:
Desktop personal finance trackers:
Online personal finance trackers:
I won't go into in-depth reviews of the software except to say that they'll all do the job of helping you track your finances and keep tabs on where your money is coming and going. Some will probably fit your personality and preferences a bit better than the others.
At our house I use a combination of tracking all our income and expenses in Microsoft Money while keeping a family budget in an excel spreadsheet that I modified from one put out by glblguy over at http://www.gatherlittlebylittle.com. You can download his spreadsheet here.
His spreadsheet breaks the month down into 2 week increments, and you just input all your set expenses as well as expected variable expenses and keep track of what you've actually spent as the month goes on. For a spreadsheet geek like me that is the only way to go!
Just Get Started Today!
A lot of people don't ever get started on a budget because they don't think they'll be able to get it right, or that they won't like what they find. The truth is you WON'T get it right at first, on average it will take 90-120 days to get your family budget where it needs to be. Even then it will still be in a constant state of small revisions and updates through monthly budget meetings. The important thing, however, is just to get started because the process of doing your budget helps you to get control of your money, and your future!
The plans of the diligent lead to profit as surely as haste leads to poverty – Proverbs 21:5
Does your family do a budget? Is it something you've found helpful? If you're just getting started, what is holding you back?
UPDATE: I know I included a lot of information here, and it may have gotten a little confusing. Here's a quick video to boil it down to 6 easy steps!
This was another post in the series titled "Jumpstart YOUR Economy: Tips For Starting The New Year Off Right".