There are a few things that are certain in life, however, there are at least 2 things we can all count on:
A few people I know actually look forward to doing their taxes every year because they know they'll be getting a giant refund. For example, one friend just received a $3000 refund, and he's been banking on getting that refund for some time to make some repairs around the house.
Is it wise to depend upon a large refund every year like he does, or should he be adjusting his withholding on his paycheck, and getting more money in his account up front?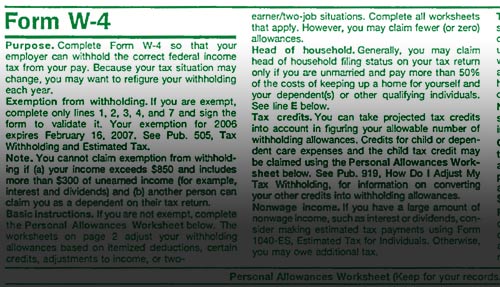 My feelings on the issue are this; Why give an interest free loan to the government every year when you could be keeping that money for yourself, and even earning some interest on it?
How Do You know You Need To Adjust Your Withholding?
How do you know if you're withholding too much on your taxes every year?
If you're consistently getting large refunds, like my friend who got an expected $3000 check, you're probably withholding too much.
If your situation has changed, like you've gotten a divorce, you may need to adjust your withholding.
What other situations will necessitate a change in your withholding, either up or down?
If you recently got married.
You got divorced.
You had a baby.
You bought a house.
You have new separate non-wage income and you want your withholding increased to account for it.
How To Adjust Your Withholding
To adjust your withholding is a pretty simple process. You need to submit a new W-4 to your employer, giving the new amounts to be withheld. If too much tax is being taken from your paycheck, increase the number of allowances on your W-4. If too little is being taken, decrease the allowed amount.
You can usually get a new copy of the W-4 form from your HR or payroll department, or simply grab it from the IRS website (W-4 Form) and fill it out on your own.
Not sure how much you should be withholding? You can go to the IRS website and they have a withholding calculator where you can figure out what you should be withholding.
So the easy 1-2-3 step process is:
Figure out your new withholding on through the IRS's withholding calculator.
Get a new W-4 Form and fill it out.
Submit your new W-4 to your payroll department.
If you were having too much withheld, you just gave yourself an instant pay raise! Be careful, however, if you withhold too much you may find yourself with a nasty little tax bill at the end of the year, and scrambling to file for an extension!
Dave Ramsey On Adjusting Your Withholding
Here's a discussion that Dave Ramsey had with a caller on his show recently about adjusting tax withholdings.
Are you withholding too much onyour paycheck? Are you considering filling out a new W-4 to give yourself a pay raise? Do you prefer getting a large refund at the end of the year?