There are a few things that are certain in life, however, there are at least 2 things we can all count on:
A few people I know actually look forward to doing their taxes every year because they know they'll be getting a giant refund. For example, one friend just received a $3000 refund, and he's been banking on getting that refund for some time to make some repairs around the house.
Is it wise to depend upon a large refund every year like he does, or should he be adjusting his withholding on his paycheck, and getting more money in his account up front?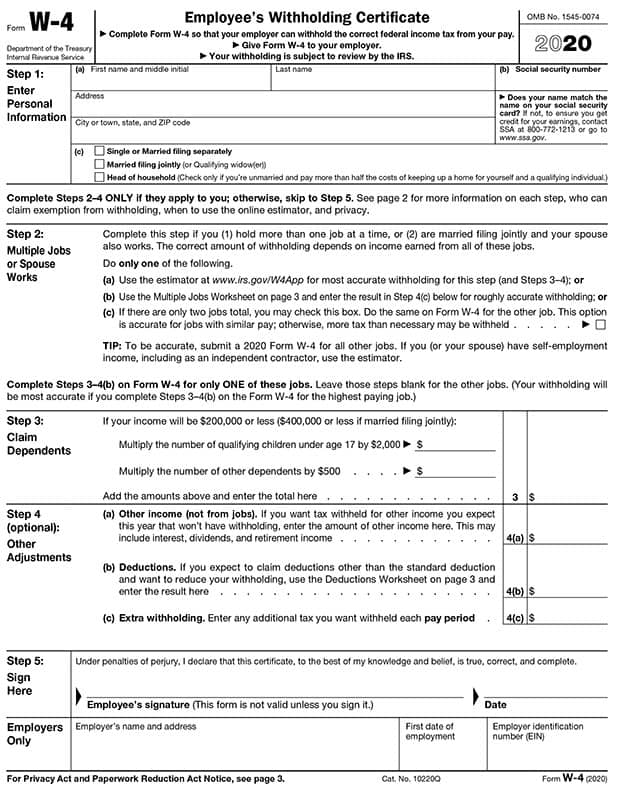 My feelings on the issue are this; Why give an interest free loan to the government every year when you could be keeping that money for yourself, and even earning some interest on it?
This article will look at how to get less taxes taken out of your paycheck (or more taken out if you're not paying enough).
How Do You Know You Need To Adjust Your Withholding On The W-4?
How do you know if you're withholding too much on your taxes every year?
If you're consistently getting large refunds, like my friend who got an expected $3000 check, you're probably withholding too much.
If you're ending up with a big tax bill at the end of the year, you might not be withholding enough.
If your situation has changed, like you've gotten a divorce, you may need to adjust your withholding.
What other situations will necessitate a change in your withholding, either up or down?
If you recently got married.
You got divorced.
You had a baby.
You bought a house.
You have new separate non-wage income and you want your withholding increased to account for it.
How To Adjust Your Withholding
To adjust your withholding is a pretty simple process. You need to submit a new W-4 to your employer, giving the new amounts to be withheld.
If too much tax is being taken from your paycheck, decrease the withholding on your W-4. If too little is being taken, increase the withheld amount.
NOTE: The W-4 form was redesigned for 2020 based on changes to the tax law. From the IRS: The new design reduces the form's complexity and increases the transparency and accuracy of the withholding system. While it uses the same underlying information as the old design, it replaces complicated worksheets with more straightforward questions that make accurate withholding easier for employees. Allowances are no longer used for the redesigned Form W-4. In the past, the value of a withholding allowance was tied to the amount of the personal exemption. Due to changes in law, currently you cannot claim personal exemptions or dependency exemptions.
You can usually get a new copy of the W-4 form from your HR or payroll department, or simply grab it from the IRS website (W-4 Form) and fill it out on your own.
Not sure how much you should be withholding?
You can go to the IRS website and they have a tax withholding estimator where you can figure out what you should be withholding. I recommend going this route to figure out what to withhold, according to the IRS it's the most accurate.
The estimator will walk you through 6 steps where it will ask you some questions about yourself and your filing status, your income and taxes paid via your paycheck, adjustments, deductions, as well as tax credits you can expect. Finally, it will then give you an estimated amount to be withheld for the year. Based on that you can update your W-4 if necessary.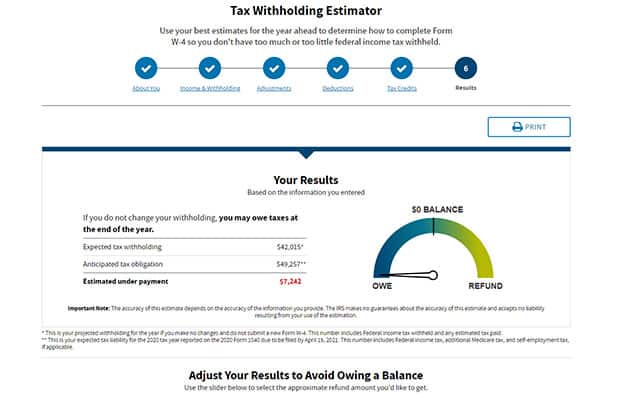 So the easy 1-2-3 step process is:
Figure out your new withholding on through the IRS's tax withholding estimator.
Get a new W-4 Form and fill it out completely based on your situation.
Submit your new W-4 to your payroll department. The new withholding for taxes should take place moving forward.
If you were having too much withheld, you just gave yourself an instant pay raise!
Be careful, however, if you withhold too little you may find yourself with a nasty little tax bill at the end of the year, and scrambling to file for an extension!
Basics Of The W-4 And Filling It Out
Because I know the W-4 form can be confusing, let's take a more in depth look at the W-4 itself and what you need to do when filling it out.
As mentioned above the form changed in 2020 to remove allowances, which is a big update. The form will now have you enter certain dollar estimates for the payroll system to use instead, which they claim should make your withholdings more accurate.
The new W-4 form has 5 steps to it, let's look at it step by step.
W-4 Step 1: Enter Personal Information
Step 1 of the W-4 is just collecting your personal information and filing status. It will ask for information in 3 sections, (a), (b) and (c):

1(a) First name and middle initial, last name and full address.
1(b) Social security number.
1(c) Filing status: Single or Married filing separately, married filing jointly or head of household.
Once you've entered your personal information you can either complete steps 2-4 if they apply to you, or if not, skip to step 5.
W-4 Step 2: Multiple Jobs Or Spouse Works
Form W-4 says that not everyone should complete this step. Only do step 2 if: "you (1) hold more than one job at a time, or (2) are married filing jointly and your spouse also works. The correct amount of withholding depends on income earned from all of these jobs.

The form then gives you the choice of completing this step by filling out
(a) tax withholding estimator for the most accurate withholding (most should do this),
(b) using the worksheet on page 3 of the W-4 for a roughly accurate withholding, or
(c) you can click on the checkbox on the form if you have two jobs total and they have similar pay. Otherwise you're better off using the estimator (a).
If you have self-employment income as a freelancer or independent contractor, you'll want to use the online estimator and it can help you figure out how much to withhold (which you can then enter on line 4(c).
NOTE: You should complete steps 3-4(b) for only one of your jobs, typically the higher paying job. Leave those steps blank for other jobs.
W-4 Step 3: Claim Dependents
In step 3 you will claim your dependents and the tax credits you will be receiving for them. See IRS Pub 972 for details.

If your income is $200,000 or less, or $400,000 or less if married filing jointly, you can claim $2,000 for each qualifying child under age 17. You can claim $500 for other dependents.
W-4 Step 4: Other Adjustments (Optional)
This step is optional, but can be important if you have other miscellaneous income that needs taxes withheld. Things like miscellaneous income or freelance income.

Step 4(a) In this step if you want taxes withheld for other income (like interest, dividends or retirement income), just enter the amount of other income here. You shouldn't include income from jobs or self-employement.
Step 4(b) In this step if you expect to claim deductions other than the standard deduction and want to reduce your withholding, you can use the deductions worksheet on page 3 of the W-4 and enter your result here. The standard deduction for 2020 is $24,800 for married taxpayers filing jointly. It's $12,400 for single and married filing separately taxpayers and $18,650 for those filing as head of household. Most people will typically just claim the standard deduction.
Step 4(c) If you want any additional tax withheld from your pay each pay period, enter that amount here. When I entered some self employment income on the tax withholding estimator, it instructed me to enter the additional withholding on this line.
W-4 Step 5: Sign The W-4 Form

Make sure to sign and date the form, otherwise it's not valid and your employer may just calculate your withholdings as a "single" person household.
Dave Ramsey On Adjusting Your Withholding
Here's a discussion that Dave Ramsey had with a caller on his show recently about adjusting tax withholdings by updating your W-4.
Are you withholding too much onyour paycheck? Are you considering filling out a new W-4 to give yourself a pay raise? Do you prefer getting a large refund at the end of the year?