It sounds counterintuitive, doesn't it? Spend money to save money? No matter how it sounds, if you spend smartly, you can save more money.
When you are trying to get out of debt as we are, you have to employ many strategies to find money to put on your debts. There are many strategies you can employ:
It is the 5th tip, spend money to save money, that I want to talk about today. We have been gazelle intense for 10 months now, and we have only recently begun to apply this principle, but we are seeing the results quickly.
Ways to Spend Money to Save Money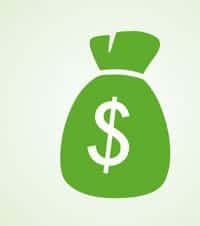 Of course, before I begin, it goes without saying that you should only be spending money for something you need; otherwise you are just spending money that you probably shouldn't be spending. Here are some ways we have been spending money to save money:
Get a Costco membership—We pay $110 a year for our Costco membership, but we do get a rebate for 2% of our purchases, so we actually end up spending about $55 a year for the membership. This sounds like an extravagance when we are trying to get out of debt, but it is actually saving us money. We can't have dairy, so we have to buy rice and soy milk. A little 32 oz. carton of rice milk costs $2.84, but if we buy it at Costco, we can get it for $1.06. Considering we drink about 4 of the 32 oz. cartons a week, we are saving $1.78 per carton or $7.12 a week by shopping at Costco. Over the cost of a year, this translates to a savings of $370.24 in rice milk alone! (To make sure we are saving money, we only buy what is on our list; giving in to impulse buys would diminish our savings.)
Buy a Ooma Telo—This little device can replace your home phone line. It cost us $179 to buy, but our monthly land line phone bill is now only $3.97. When we used AT & T, we paid an average of $29.50 a month. We are now saving $25.53 a month. We have had the Ooma for eight months, and it has already paid for itself. Now, we are reaping pure savings.
Pay for services in full upfront—Many businesses and sports groups will give you a discount if you pay in full. My son is taking a Hip Hop dance class. Because we paid for the entire year in full, we received a 10% discount. That extra 10% is money that we can snowflake on our debt.
Pay for food in advance—We joined two CSAs this year. We paid a grand total of $821, but we get 20 weeks of produce. It is costing us about $41 per week for our CSA produce, but each week's delivery is so bountiful that we have been able to freeze much of the produce and also make freezer meals. We have a deep freezer that is full of already made meals; in the winter we will be able to slash grocery costs even further by eating our 3 months' worth of freezer meals I have already prepared thanks to the CSA. (And there are still 8 weeks left of our CSA deliveries!) Between Costco and the CSA, I rarely step foot in the traditional grocery store.
There are plenty of ways that you can spend money to save money. The important consideration is that you not go into debt to save money. You must be able to set the money aside. Also, only spend money on things you would have bought money on anyway.
What are some of your strategies to spend money to save money?