I first started hearing about Dave Ramsey's Financial Peace University class back in 2008 through some friends of ours at our church.
They were encouraging others in our church small group to check out the class after they had taken it and it had completely changed their financial lives.
As it turned out that same couple ended up teaching FPU a few months later, and we jumped on the chance to take the class. We went through the 13 weeks of class, and after we were done we were on a completely different path financially. We now had a family budget, no debt, and were working hard towards saving for our future, and finding more margin in our budget to give.
Dave Ramsey and his team are in the midst of releasing a completely revamped class this year, and as part of the launch they sent out a copy of their Financial Peace University Membership Kit for me to review. I'll be doing an unboxing and brief review of that kit today, and then next week we'll be giving away a second kit to one lucky winner – so stay tuned! (Check out our unboxing of the old FPU membership kit here.)
The New Financial Peace University Membership Kit
So what are you going to receive when you open up your new 2012 Financial Peace University Member Kit? Here's a quick video showing what's in the package, followed by a description of each below.
The membership kit currently costs $109 ($12.11 per class!), and that includes the cost of your FPU class at a location near you. Here's what's included.
Member workbook: The workbook will be used in class, as well as for homework between classes. Many of the budget forms and other cash flow planning sheets will be found in here as well.
Envelope system: You'll get a wallet for the cash envelope system taught in the class.
Complete Guide to Money – book: This book will go along with the class and you'll read a little bit each week as you progress.
Audio CDs & Case: Each of the video lessons you'll watch in class are included in audio form, so you can listen to them over again if you missed something.
Budget Forms Folder: You get a folder to save all your filled out budget forms in.
Progress Poster: The included poster will help you track your progress through the class, eliminating debt and through Dave Ramsey's 7 Baby Steps.
Welcome Kit & Free Lesson Tickets: You get a welcome kit that includes your membership ID, a FPU eraser and pencil, and 2 free tickets to attend a lesson at FPU. Give the tickets to someone you think could benefit from attending FPU.
Access to FPU central: Login to FPU Central with a supplied member ID, and you can access helpful resources, and a couple of bonus lessons as well.
FPU Membership Kit Photos
Here are some pictures of what you'll find in your FPU membership kit.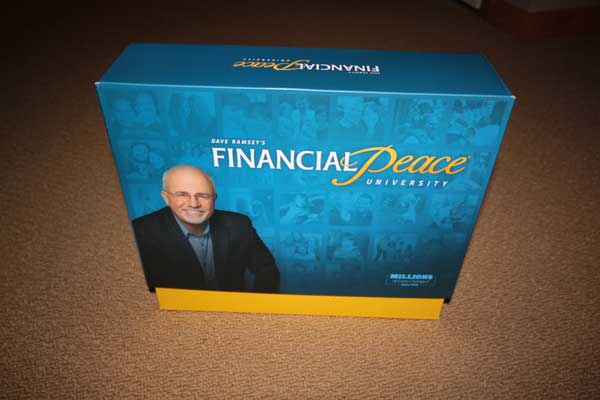 Here's the box before it was opened. Dave's smiling mug right on the front, with a nice faded background showing actual people helped by the program.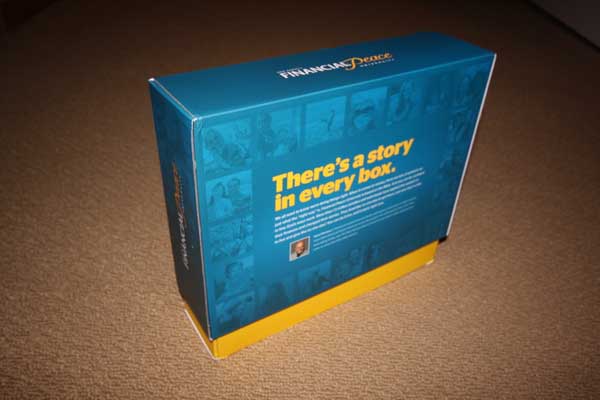 Back of the FPU membership kit box.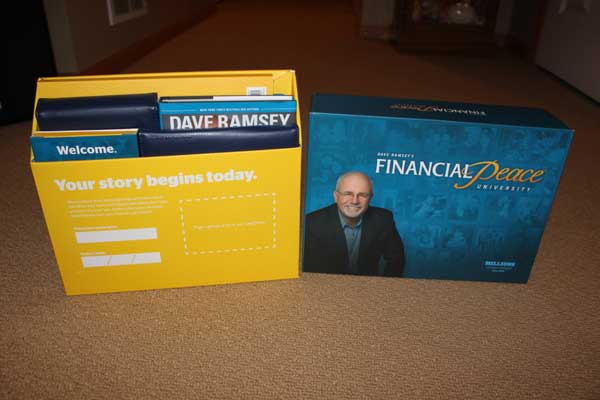 The box sleeve slides off the top, and this is what's inside. All your membership materials neatly tucked away.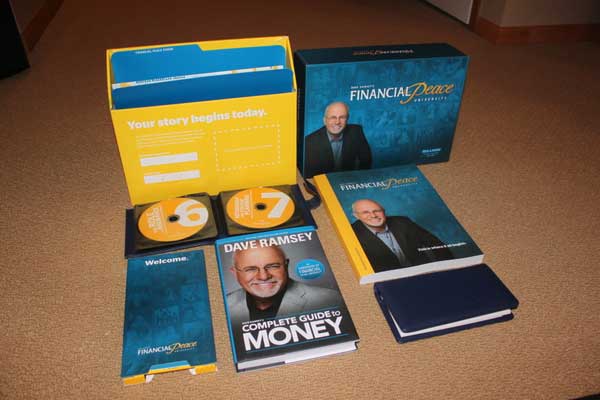 The full contents of the box including audio CDs, workbook, welcome/get started packet, book, cash envelopes.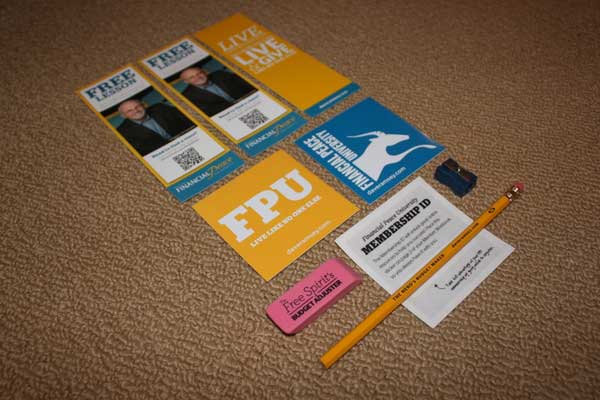 Contents of the welcome/get started packet. FPU stickers, free spirit eraser, budget nerd pencil, membership ID (to attend class and use online resources), bookmark and 2 free passes to attend 1 class for a friend.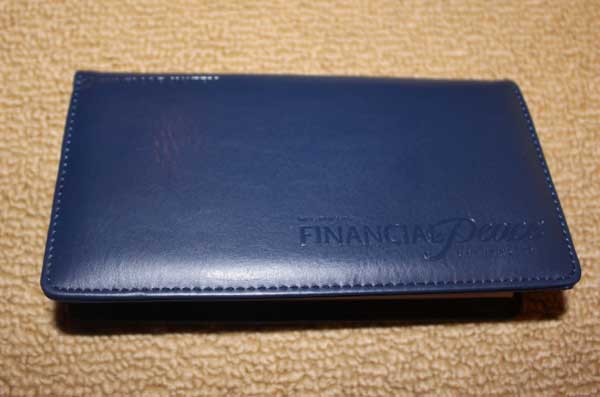 Cash envelope wallet.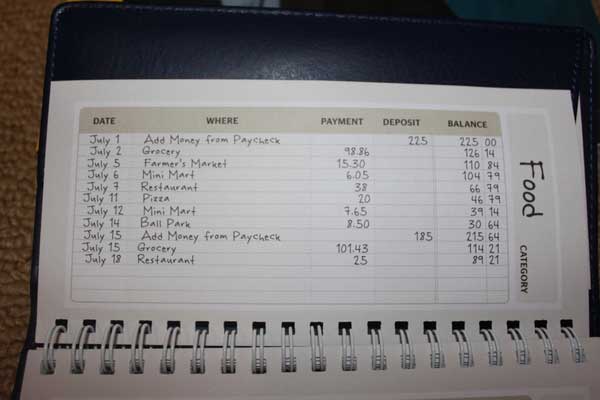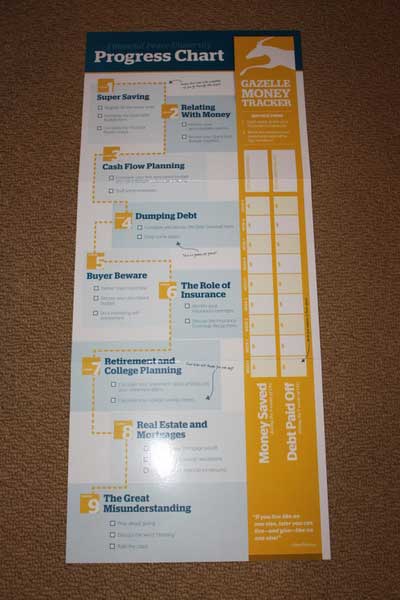 Progress chart so you can track your progress throughout the class.
The New And Revamped Financial Peace University
The previous iteration of the Financial Peace University class had 13 weeks of class instruction. The newer improved FPU class now only has 9 lessons that will jumpstart your financial turn-around that much quicker.
Here's a synopsis of what you'll be learning in FPU:
Lesson 1 – Super Saving: Dave goes over the Seven Baby Steps and talks about the importance of saving.
Lesson 2 – Relating With Money: Learning about the importance of communication and money, especially between spouses. Also explores topics of money and relationships for singles, and parents.
Lesson 3 – Cash Flow Planning: Developing a budget and cash flow plan. Also touches on Ramsey's EveryDollar budget software that comes with the program.
Lesson 4 – Dumping Debt: Figuring out how to dump your debt, and debunking credit myths.
Lesson 5 – Buyer Beware; The Power of Marketing on Your Buying Decisions: Understanding how marketing works so that you can overcome and avoid spending money you don't need to!
Lesson 6 – The Role of Insurance: What kinds of insurance to buy, and what kinds to avoid.
Lesson 7 – Retirement and College Planning: Retirement planning and saving for your kids' college.
Lesson 8 – Real Estate and Mortgages: The ins and outs of mortgages, and buying and selling your home.
Lesson 9 – The Great Misunderstanding; Unleashing the Power of Generous Giving: The power of giving and why it's so important for our lives.
Conclusion
I attended the Financial Peace University class several years ago now, and also helped to teach it along with some close friends.
I thought the class was well put together and really succeeded in introducing people to a lot of financial concepts in a simple and fun way.
You learn a lot, and Dave Ramsey is a born entertainer, so the lessons are never boring.
The new improved FPU class and membership kit only improves on the original, providing a more concise 9 week lesson plan and wasting no time in getting people on the right track.
The cost of the FPU class is well worth it, and I'd highly recommend checking it out if you want to turn your finances around.