My wife and I were just asked by some friends at church if we would help them in hosting a Dave Ramsey Financial Peace University™ class at our church.
They had been planning to teach the class by themselves, but in the wake of our tough economic times they had over 60 people sign up for the class.
They decided they were going to need several other couples to co-host the group, and they asked us to be one of them.
We agreed to do our best to help facilitate the class.
Teaching Financial Peace University™
In preparation for our new class, I thought I'd do a quick review of our own experience in Financial Peace University™. So here is a review of the 13 week class.
Financial Peace University™ – Review
To start out, here's a previous post looking at the FPU package that you get when you sign up for the program. In case you don't want to check out the linked article, you'll be getting audio CDs, CD-Roms, books, workbooks, cash envelopes and more. It is included with your class registration and fee.
After we received the package from our group leaders we quickly jumped in head first and started reading Ramsey's included book "Financial Peace Revisited". It's a great book for debt reduction, with plenty of insight and motivation. The program also has you read from the book each week during the class.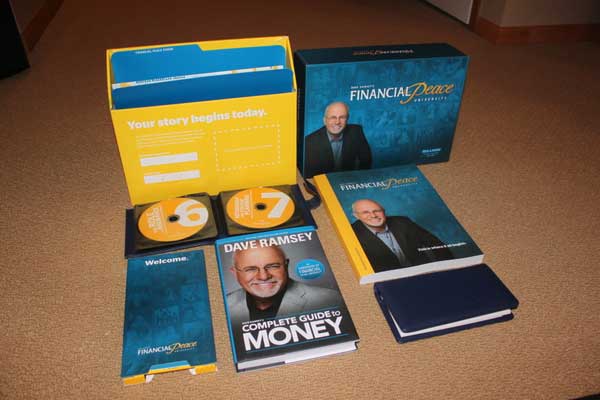 Starting The Class: Reviewing Where You Are, Relationships
When you attend the class for the first few weeks, it's apparent that the focus starting out is going to be on setting a baseline framework from which to work for the rest of the weeks.
Before fixing your problems with debt, it's important to know why you got into debt, talk about how you and your spouse relate about money – and how that may be different, and then look at how you can set up a framework to make changes going forward.
The class starts out looking at saving up an emergency fund to give you a nice base to work off of so that you don't continue going into debt if some "emergency" were to happen. It also talks about setting up a larger emergency fund of 3-6 months once you're out of debt.
Next the class looks at money in marriage, how our money affects relationships and how different people have different outlooks on money. They explore how that needs to be accounted for through having monthly budget meetings where finances are discussed.
Setting Up A Plan For Your Money
After communication about money is established the class dives into the important topics of cash flow planning and budgeting for your family.
It stresses the importance of assigning every dollar to a job (so money doesn't just disappear), and shows you how to do a zero based budget in conjunction with the cash envelope system.
We set up our own budget recently using the software called "YNAB – You Need A Budget" which uses the idea of zero based budgeting and cash envelopes, but in electronic form.
Dumping Your Debt
After you've set up a budget, and have instituted the envelope system to cut your spending, the FPU class looks in depth at how to categorize and get rid of your debt.
It gives an in depth exploration of the debt snowball system in which you pay off your debts from smallest to largest. The system is great for motivating people to get out of debt by giving them small wins, and keeping them on the path to debt freedom. It also explores ways to create new income – even temporarily – while you pay off debt.
The program also talks about the use of credit, how it has gotten out of control, and how they believe that you should forgo the use of credit altogether – especially for those who are in debt.
Making Responsible Purchasing Decisions
The program also spends a week or two looking at how class participants can make better purchasing decisions in order to stay out of debt, and find better deals in the process.
It looks at how companies sell to consumers, and helps tip people off to some of the sales tactics used and the psychology behind them.
It also looks at how to get a better price when you are buying, and how to negotiate a better deal. Those classes were some of my favorite in the whole series.
Planning For The Future
A whole bunch of the lessons right in the middle of the class are devoted to setting up a financial and life plan with your spouse.
The topics covered vary from buying insurance for your family (home, health, life, disability, auto, long term care) to investing and saving for your kids education. It looks at the many options, and discuss which options are the best and should be considered.
It also looks at buying and a home (What type of mortgage, how much can you afford, etc), the best ways to sell a home. It also has a week on considering your job and work life and what type of career you should be in. It talks about working in your strengths and finding a career that you'll love.
The Reasons Why We Get Out Of Debt And Save
The final class – and throughout the 13 weeks one thing that is stressed is that you shouldn't just be getting out of debt, saving and planning for retirement only for selfish motives. You need to be doing these things so that you can also focus on other more important things in life like giving to those in need, supporting people and programs that you believe in – and just being more giving in general.
When you're drowning in debt it isn't something you can really do, but when you're out of debt and on track for retirement – it will allow you to live more and GIVE more.
Conclusion
The Financial Peace University™ class put out by Dave Ramsey and the Lampo Group is a great class that I would recommend to just about anyone who is interested in getting their finances under control, dismissing their debt, and moving towards a brighter financial future.
While there is a pretty decent investment in time since the class is 9 weeks long, and there is a lot of work involved as far as creating budgets, reading the book and workbook activities – it is all worth it in my opinion because the class is very motivational, and for thousands of people has helped to flip that switch to make a change.
The only caveats that I would place on the program surround the investing portions of the class.
While I think some of the advice is sound, I also think some of it is a bit dumbed down for the wider audience – and makes some assumptions that may or may not hold true (like a 12% return on investments). For the debt reduction and motivational aspects of the class, however, I think it is second to none. That, and Dave Ramsey is extremely entertaining to watch during the weekly videos.
Have you taken The Financial Peace University™ Class? Did it make changes to your life? Tell me your experience with FPU in the comments.
UPDATE: The Ramsey Solutions team has reached out and told us that due to the COVID-19 crisis, for the first time ever, they are now offering a free 14-day trial of Financial Peace University online. Check out the details here: FPU Online free trial.