Over the years I've written quite a bit about Dave Ramsey here on this site.
For those that don't know Dave Ramsey is a nationally syndicated radio talk show host, author and financial guru.
I've written about his 7 Baby Steps plan for getting out of debt, as well as his 9 week financial class called Financial Peace University. I've also read and recommend his book Financial Peace Revisited as it was included in the Financial Peace University packet when we took the class.
As you can probably tell, I'm a big Dave Ramsey fan.
I've taken his classes, helped facilitate the class as a leader. I've even had the chance to talk with Dave on the phone one time after he enjoyed one of the posts on this site.
All in all I think his methods are great for helping people to get on a solid financial footing, and to get rid of debt.
With all that said, today I wanted to talk about something that I've heard quite a few people talk about in the last few months – the pricing of Dave Ramsey's programs.
I've heard some people say that his programs cost too much, and that he's making his fortune off of the misfortune of others.
I've heard this even more since it was revealed that Dave Ramsey had built a huge new multi-million dollar house for his family. Others say that his programs are priced reasonably, and are well worth the cost for what you get. Today I thought I'd examine just what his program costs, and whether or not it's a good value.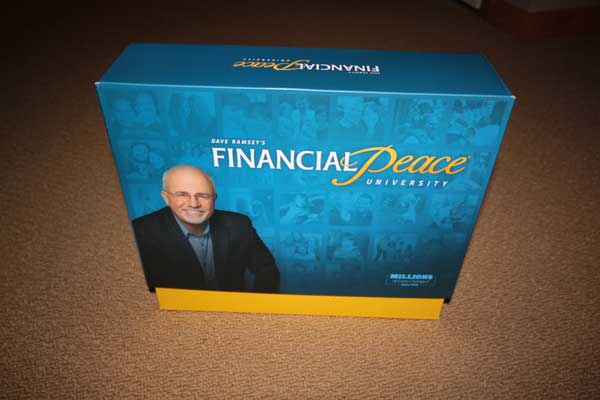 What Is The Cost Of Financial Peace University?
The main Dave Ramsey offering that I've heard people talk about and complain that it's too expensive is Ramsey's Financial Peace University. How much does it cost? From Ramsey's site as of 11/2018
So the class costs essentially costs $129.99 per family. $100 is what we paid when we took the class a few years ago. So apparently the price has increased a little, but what you get with the fee has actually changed as well. You get a lot more now. If you really wanted to save some money it looks like you could pay for the monthly membership and 3 months – only while you're taking the class, and it would cost $109.96.
One thing that should be noted is that the membership options are for an annual membership fee, which expires after one year. If you want to continue after that point, it's $99.99 per year after that. It no longer covers a lifetime membership to the class like it used to.
I've been through the class now twice, and I found it helpful to attend more than once. Sometimes the first time through you may have some confusion about certain topics, and want to go over them again. Taking the class a second time can help you with that.
Financial Peace University also has a home study program as well, which will cost more because it also includes the DVDs of the lectures, which aren't included in the regular class package. The cost for that package is currently the same at $129.99.
Note: I've been told that you can also attend the first class of Financial Peace University at no cost to decide if it's something you might want to do. Something to consider for those on the fence.
What Do You Get For Your Money?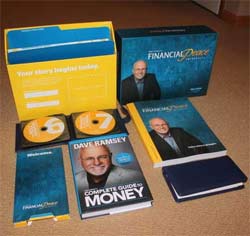 When you sign up for the Financial Peace University class and pay your $129.99, what exactly are you getting? You get the class itself, a membership kit and some other extras:
Financial Peace University lessons taught by Dave Ramsey, Rachel Cruze and Chris Hogan.
Four newly updated lessons coming soon!
Member workbook for all nine lessons.
Subscription to EveryDollar Plus, The Ramsey premium budgeting tool ($99/year value). Renews for free annually with membership.
Access to expert financial coaches and an online community for encouragement and accountability
Digital tools to help you stay motivated
Instant updates to content and features as we add them
NEW! Dave Ramsey's six-lesson course, The Legacy Journey
NEW! The six-lesson course, Smart Money Smart Kids
NEW! Exclusive access to select Ramsey livestream events for FREE
To me that's actually a pretty good value. You're getting all that books and materials as well as the class for only $129.99 For the 9 weeks of class alone that would be around $14.44 per class. That's pretty darn affordable I think. (Check out my FPU Kit unboxing post for more pictures of the materials).
In the past year or so they've been adding new content as well and adding it to the membership benefits. Things like the new budgeting tools, The Legacy Journey course, Smart Money Kids course and free livestreams. So you're getting a whole lot more for your cost than in the past.
You also get some intangibles when taking the class, one of which is a sense of peace knowing that you're in better control of your money. Having a budget and a plan can really give you a sense of power that many didn't have before.
Where Could You Find $129.99 In Your Budget?
The question a lot of people bring up when talking about the class is – "If I can't afford to pay my bills, how can I afford to pay for the class?".
In some instances I know that some churches that offer the class will help people to pay for the class with full or partial scholarships. Even Ramsey suggests, however, that it is a good idea for people to pay their own way.
They've found that people who pay their own way tend to have more success in the program, in part because they have something invested in it.
If they don't pay, since it's not their own money they don't feel as bad dropping out after 2 weeks if they don't like it. Pay the cost, and they're more willing to stick it out and do the hard work.
We saw this very clearly in our own class, one of the few people who got a scholarship ended up dropping out after the 3rd week.
UPDATE: The Ramsey Solutions team has reached out and told us that due to the COVID-19 crisis, for the first time ever, they are now offering a free 14-day trial of Financial Peace University online. Check out the details here: FPU Online free trial.
So where can you find $129.99 in the budget?
The point is, there are a ton of ways that you can come up with an extra $129.99, you just have to be creative!
So Is It Worth It? Is FPU A Good Value?
So is Financial Peace University a good value, and will you be glad you spent the money? In my opinion it is an extremely good value for what you're getting – a road map to a solid financial footing.
It really isn't that hard to find an extra $129.99 in your budget if you put your mind to it, and the returns you'll get through the program will more than pay for it.
If you don't like Dave Ramsey or his methods, you may want to look elsewhere because there are other programs out there that may cost a bit less – like Crown Financial's Money Map program.
But for my money, and from my experience, Dave's program is effective, engaging and fun, and it just works.
What are your thoughts? Are you convinced that the program is a good value? Do you still think it costs too much, or do you have other issues with Ramsey and his program?