Earlier today I was over on another site where a friend and fellow Minnesotan blogger, Travis, was talking about the cost of cell phone plans.
He looked at why we all need to be wary of the hidden costs involved in cell phone plans, both traditional contract plans, as well as with pre-paid no contract plans.
His post, "No Contract Cell Phone Plans Exposed! Are They Really Better?" discussed how the cost of the cell phone you purchase is either baked into your plan (with contract plans), or paid up front (no-contract). In many instances if you're looking to have newer phones every couple of years there won't be much cost difference between the two types of plans.
He summarizes:
No contract mobile phone plans are a lot of smoke and mirrors, and aren't as different from the traditional two year contract as the carriers would like us to believe. But they do put control of the price and frequency of phone upgrades squarely under the control of the consumer, right where it should be.
The sentence in bold is key to me. The cost and frequency of phone upgrades will be one of the key determining factors in just how costly – or affordable – a cell phone plan can be.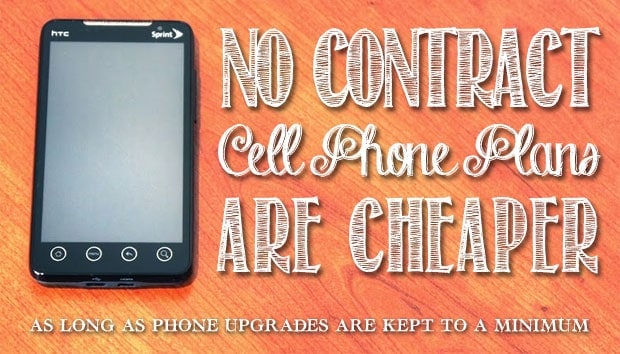 Keeping Cell Phone Plan Costs Minimal
I've written several articles on this site about how I've been able to keep my cell phone costs low. Let's take a look at how we were able to save.
According to J.D. Power the average monthly cell phone bill as of 2013 is $79 per month, while the average family plan is about $149.
Switching To A No Frills No-Contract Plan
Initially my main cost savings on our cell phone bill came because we switched from a regular carrier contract plan where we were paying about $40/month per phone (I know that doesn't sound like much these days, but this was about 10 years ago!), to a plan with Virgin Mobile where we were paying no more than $20 every three months – so just under $7/month. A savings of about $33/month – even more today!
Right off the bat we were saving quite a bit on our cell phone's monthly service cost, and we only bought cheap cell phones with the new provider, less than a hundred dollars. I had my initial pre-paid phone for around 7 years, never upgrading – because it just worked. It made phone calls and did text messages, and that's all I needed it for. When that phone died after being dunked in the wash, I bought a replacement phone, again, for less than $100. Phone costs were paid back in a couple of months through savings alone.
My wife has had a similar experience. We switched her to a pre-paid cell phone plan with Virgin Mobile years ago where she used the same phone for many years without upgrading. She recently wanted to have a nicer smartphone that had GPS, a keyboard for typing texts and other features – so we upgraded her to a pre-paid smartphone plan. Her new phone cost about $150 at the time. Even with that up front cost, which was still minimal, her plan was about $35/month for 300 minutes of calling, and unlimited texts and data. Similar plans elsewhere with contract plans went for $50-100/month or more.
Looking for what the best option for you is? Check out a site like MyRatePlan.com where you can compare plans (Just be aware that they don't include all options).
Saving By Not Needing Constant Upgrades
In talking with friends and family, I am constantly amazed at how often some of them upgrade their technology. It seems that some of them are getting a new phone every year or two. When they upgrade their phones, they're either getting them via an expensive contract cell phone plan (where the cost of the phone is built into the plan and they think they're getting it free or at reduced cost), or they're paying $500-600 up front one of the pre-paid plans.
To me that's just crazy. My first phone I had for 7 years or more, and then when I had to upgrade it was only because that phone had died. Even the smartphone I own now was a couple years old and less than $100 when I bought it!
Saving By Moving To A Freemium Cell Phone Provider
We've been on the pre-paid cell phone plan bandwagon for many years now, essentially all of that with Virgin Mobile. It has been cheap and the service works well in our area (it piggybacks off of the Sprint network).
I recently heard about a way to get even cheaper cell phone service via a commenter on one of my posts. Basically you buy an unactivated Android smartphone, sign up for Google Voice and download an app called "GrooveIP" and you can make free VOIP phone calls when you have an available Wi-Fi connection. That option was cut off by Google this month, however, when they shut down external access to the API and basically killed the app. So late last year I started looking at other low cost options – and found a FREE cell phone provider called FreedomPop.
FreedomPop is a freemium cell phone service provider (again piggybacking on the Sprint network) where you can get an Android smartphone with 200 voice minutes, 500 texts and 500MB of 3G/4G data for no monthly cost. All you have to do is buy the phone – which at the time was $99. The catch? It's still somewhat of a beta service, and all of the cell phone calls are made over the data networks, so it's a VOIP product similar to Google Voice.
I signed up for a plan with FreedomPop and got a HTC EVO 4G smartphone, which I've now been using for several months. At times when I first signed up, FreedomPop didn't work that well, with bad quality calls, and dropped connections. After a few updates to their phone apps, however, it has been working pretty smoothly for a month or two now. I've all but stopped using my pre-paid cell minutes in favor of this free phone plan. If it continues getting better, I may end up dropping my $7/month cell plan altogether.
Pre-Paid Cell Provider Options Abound
If you're looking to switch from a contract plan to a pre-paid plan to save money, there are plenty of available options. Here are a bunch of them, including the top 2 being my current favorites since I use them personally: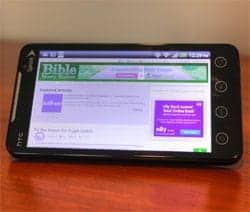 As you can see, there is no shortage of options when it comes to no contract cell phone plans – there are others I haven't listed here as well. Some of them are pre-paid, some are no contract monthly plans and some have "pay what you use" billing.
Your best bet is to search around, compare benefits of each plan (and phones available), and see which one best fits your needs.
Possible Negatives Of No Contract Phone Plans.. Watch Out!
If you do decide to buy a pre-paid or no contract phone plan, there are a few cons you should be aware of.
Phones often cost more: As Travis mentioned on his post, the newer and better phones often cost a LOT more when the cost of the phone isn't subsidized by a 2 year contract. Do your best to buy an older, cheaper model if you want to save.
Newer phones are not always available: On many services the most recent models aren't even available, only becoming an option after a year or two at the bigger companies.
Purchased minutes sometimes expire: Depending on where you get your plan, pre-paid minutes sometimes expire and don't roll over. Be sure what the terms of your plan are.
Some features may cost extra – be sure to double check: Depending on the provider sometimes features like extra data, more texting, minute rollover and more are extra costs that can add up quickly. Make sure you know what you're getting for your money.
Not all providers allow you to port your existing phone number: As a commenter noted below, not all no contract providers will allow you to port your old existing number to their service. If that is a deal breaker for you, make sure you check before you switch.
Do Your Research And Find The Best Plan For You
When signing up for a plan make sure you know what kind of plan you're getting.
Know if your plan is simply a no contract plan where you pay a set monthly rate and get a set number of minutes, data and text, or whether you're buying pre-paid packages of minutes/data/text that are good for a set period of time. There are also a few providers that have you only pay for what you use during the month, meaning a more variable bill every month. Depending on your usage, one of these types of plans may be a better deal than the other for you.
What kind of cell phone service are you currently using? How much are you paying every month? What tips can you give people to save on their wireless bill?
| Moble Virtual Network Operator (MVNO) | Mobile Network | Minimum Plan Price | Free Tethering | Review |
| --- | --- | --- | --- | --- |
| Gen Mobile | Sprint | $5 (Unlimited Text - No Talk, No Data) $10 (300 Min Talk & Unlimited Text - 1GB Data) Discounts if prepaid for 3 months. | Yes | Review |
| Tello | Sprint | $5 (100 Min Talk & Unlimited Text - No Data) | Yes | Review |
| Twigby | Sprint, Verizon Wireless | $9 (300 Min Talk & Unlimited Text - No Data) | Yes | Review |
| Ting | Sprint, T-Mobile | $9 (100 Min Talk & No Text - No Data) | Yes | Review |
| Red Pocket Mobile | Verizon Wireless, AT&T, T-Mobile US, Sprint | $10 (500 Min Talk & 500 Text - 500 MB Data) | Yes | |
| Republic Wireless | Sprint, T-Mobile | $15 (Unlimited Talk & Text - No Data) | Yes | Review |
| Mint Mobile | T-Mobile | $15 (Unlimited Talk & Text - 3GB Data) If prepaid for 1 year. Prepay in 3,6, 12 month increments. Buy 3 Months, Get 3 Free) | Yes | Review |
| Unreal Mobile | AT&T | $15 (Unlimited Talk & Text - 3GB Data). Prepay in 3,6, 12 month increments. | Yes | Review |
| TracFone | Verizon Wireless, AT&T, T-Mobile US, Sprint, U.S. Cellular | $15 (200 Min Talk & 500 Text - 500 MB Data) If put on auto-renew save 5%. | No | |
| Google FI | T-Mobile, Sprint, U.S. Cellular | $20 (Unlimited Talk & Text - No Data) | Yes | |
| Total Wireless | Verizon Wireless | $23.70 (Unlimited Talk & Text - No Data) $25 without auto-pay. | Yes | |
| Cricket Wireless | AT&T | $25 (Unlimited Talk & Text - No Data) | No | |
| Boost | Sprint | $35 (Unlimited Talk & Text - 3GB Data) | No | |
| Straight Talk Wireless | AT&T, T-Mobile, Sprint, Verizon | $35 (Unlimited Talk & Text - 2GB Data) | No | |
| Visible | Verizon | $40 (Unlimited Talk & Text - Unlimited Data) | Yes | Review |