A while back we looked at our huge mobile phone bill and knew that we were just paying too much.
After doing some research we found that we could save a ton of money by signing up for a low cost, no contract cell phone plan through a mobile virtual network operator, or MVNO.
MVNOs are companies that don't own their own mobile network, but instead lease space on an existing legacy provider like Sprint, AT&T, T-Mobile or Verizon.
These companies, since they don't have to maintain or create their own network, bricks and mortar stores or other infrastructure are able to offer service at a more reasonable cost for consumers.
Since most of these providers are all using the same or similar networks, the one you choose typically comes down to which one has the best pricing, the best customer service and best tools.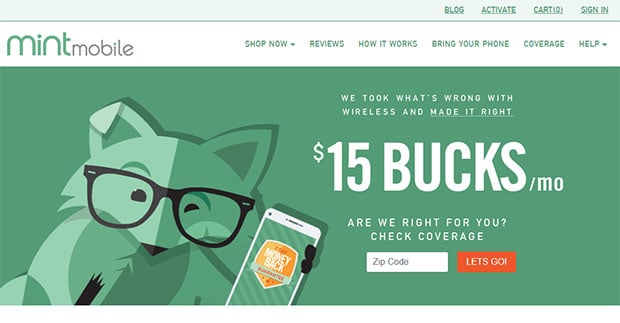 We recently discovered a newer provider and T-Mobile MVNO that is extremely affordable and is getting rave reviews from new users. It's called Mint Mobile. Let's take a look.
Mint Mobile: Pay Less For Mobile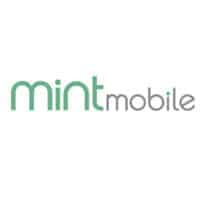 Mint Mobile is a relatively new service having only debuted in the summer of 2016. Mint Mobile is owned and operated by Ultra Mobile, another T-Mobile MVNO. From Wikipedia:
Ultra Mobile is a Mobile virtual network operator (MVNO), founded in 2012, which sells low-cost prepaid mobile phone services with unlimited international calling and text plans, operating on T-Mobile's cellular network in the United States. They offer unlimited calling to 75 countries, and access to over 200 countries. In August 2016, Ultra Mobile launched Mint Mobile (formerly Mint SIM), an online-only MVNO specializing in prepaid mobile plans on the T-Mobile cellular network, which provides discounted pricing based on monthly terms paid in advance.
So Mint Mobile was launched just over 2 years ago, and is on T-Mobile network. Their claim to fame is their low prices based on pre-paid 3, 6 or 12 month pre-paid plans.
Mint Mobile – Phones Available
When Mint Mobile launched they didn't have an online store, and they didn't directly sell phones to their customers. They only sold the SIM cards and calling plans.
That has now changed and they currently offer a wide variety of phones in their online store.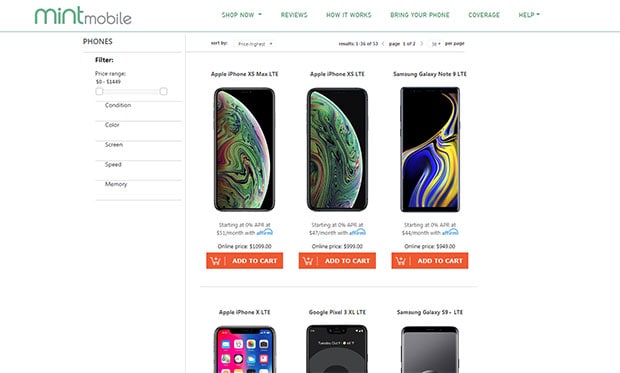 Some of the phones available for purchase on Mint Mobile Shop when I checked include:
Apple iPhone Xs Max
Apple iPhone Xs
Apple iPhone 8
Samsung Galaxy Note 9
Samsung Galaxy Note 8
Samsung Galaxy S9
Samsung Galaxy S9+
Samsung Galaxy S8
Google Pixel 3 XL
Google Pixel 2 XL
Motorola Moto Z3 Play
ZTE Avid Trio
Nokia 2
They have phones available from $54 all the way up to $1099, so there's a phone for every budget, and every need.
If you prefer, you can also bring your own phone to the service, which is what I did.
Bringing My Own Phone To Mint Mobile
Mint has a "bring your own phone" (BYOP) program. To take advantage you just bring your unlocked GSM phone to Mint, and if you want, you can also keep your old phone number as well.
I checked an old phone that I had, a Motorola Moto Z Play, to see if it was compatible with the Mint service. I was able to confirm that it was.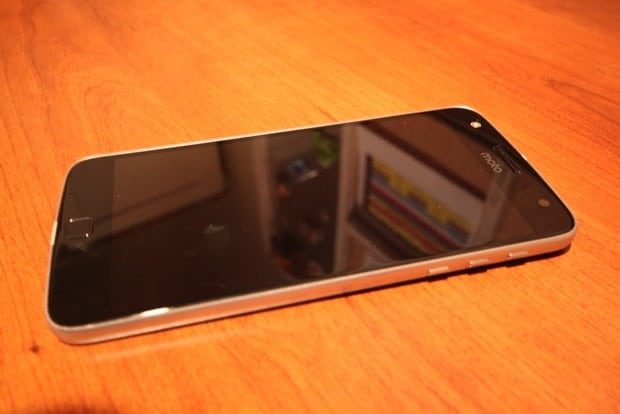 To check your own phone's compatibility just go onto their site, and then click on the "Bring Your Phone" link at the top of the screen.
On the screen that comes up it will ask you to enter your phone's IMEI phone ID number. Once you do that it will tell you if your phone is compatible.
Once you confirm that your phone is compatible it will ask you to choose a plan. In my case I signed up for the 3 month plan for unlimited calling, texting and 3GB of data for $15/month.
Here's what I received in the mail a couple of days later. I received my SIM card to insert into my phone, and then I received a "Refer a Friend" handout that had two additional SIM cards that I can give to a friend, and earn a referral credit.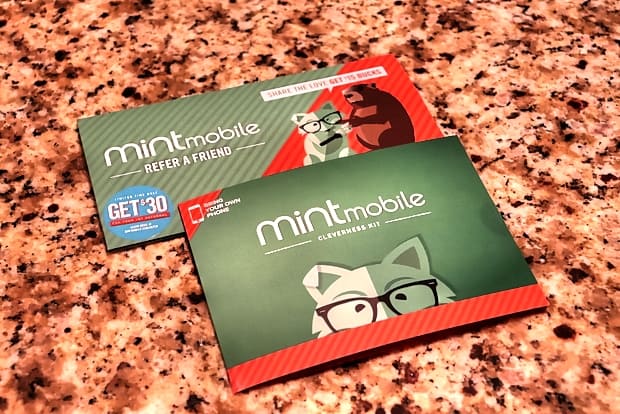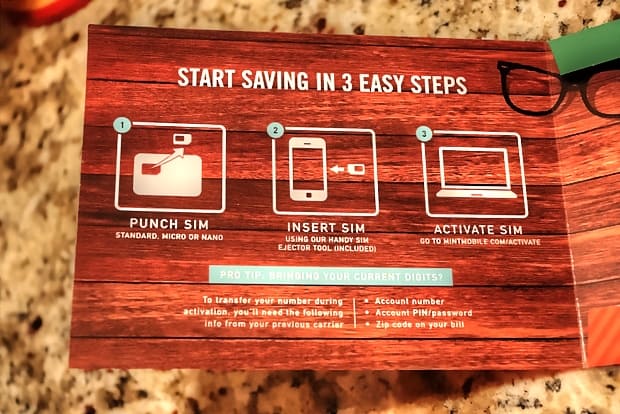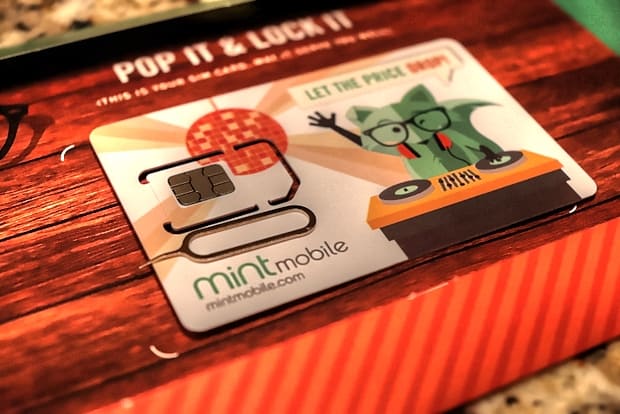 The SIM card package comes with the SIM card itself, along with a handy SIM card ejector tool (see above). The SIM ejector tool isn't something I typically see MVNOs include in their package. It's a nice touch, making the process of setting up your phone to work with Mint hassle free.
Getting started with the service was super easy. I just turned the phone off, popped open the SIM card tray with their handy tool, inserted the card and closed the tray.
When the phone booted up again I went to the Mint site to activate the phone, following their detailed instructions. It all came off without a hitch and the service was up and running in no time.
Mint Mobile Mobile Plans
UPDATE: For the month of February 2019, get 2 months FREE on the 8GB plan when you buy your first month! That's only $20 total for 3 months of wireless with Mint Mobile.
Get The Mint Mobile Super Bowl Deal Here.
Here's their Super Bowl commercial talking about it.
Most studies show that the average monthly cost for a cell phone user is somewhere in the range of $80-$100 per month for an individual line of service. With Mint Mobile, you'll be paying no more than $45/month.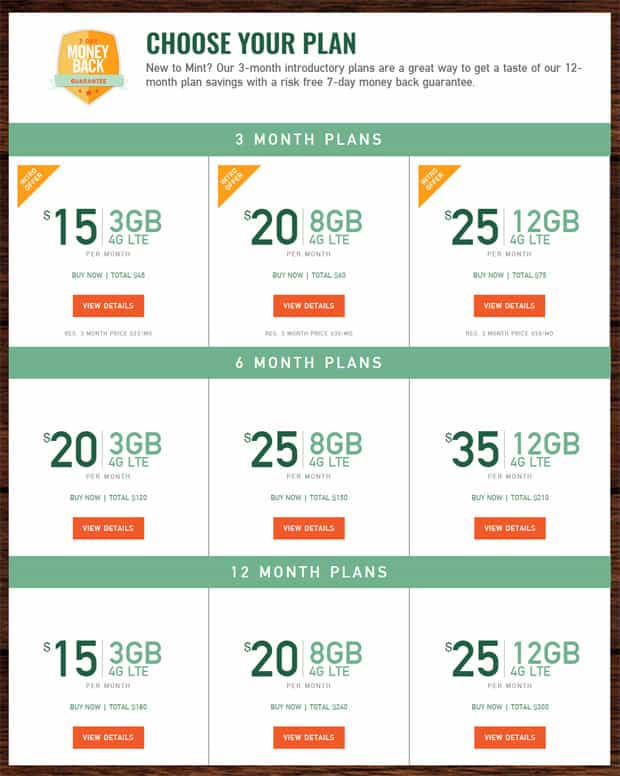 So how do the calling plans with Mint work?
Unlimited calling and texting is included with every plan, you just have to choose how much mobile data you want.
Mint has mobile plans available in 3, 6 or 12 month increments, and you'll get bulk savings for committing to the service for a longer term.
Thankfully right now even the 3 month calling plans have a great introductory deal that offers the same pricing as the 12 month plan. So no need to commit to a full year right out of the gate. Just get the 3 month plan, and if you like it you can bump it up to a year long plan later.
3 Month Calling Plans
These calling plans are pre-paid for 3 months. The low cost introductory offer is for the first three months, and it will then revert to the pricing which is crossed out below.
$75 ($25/month) $45 ($15/month) – Unlimited talk, text and 3GB 4G LTE data (introductory offer)
$105 ($35/month) $60 ($20/month) – Unlimited talk, text and 8GB 4G LTE data (introductory offer)
$135 ($45/month) $75 ($25/month) – Unlimited talk, text and 12GB 4G LTE data (introductory offer)
6 Month Calling Plans
These calling plans are pre-paid for 6 months.
$120 ($20/month) – Unlimited talk, text and 3GB 4G LTE data
$150 ($25/month) – Unlimited talk, text and 8GB 4G LTE data
$210 ($35/month) – Unlimited talk, text and 12GB 4G LTE data
12 Month Calling Plans
These calling plans are pre-paid for 12 months, and offer the best pricing.
$180 ($15/month) – Unlimited talk, text and 3GB 4G LTE data
$240 ($20/month – Unlimited talk, text and 8GB 4G LTE data
$300 ($25/month) – Unlimited talk, text and 12GB 4G LTE data
UpData – Mobile Data Add-ons
Some months you might need to use more data than others. For me I had that happen in the month where my daughter was born. We were at the hospital for several days and I was on the phone constantly. I quickly ran out of data. With Mint Mobile you can now just go into your app or on the website and click on the "UpData" link. From there you can add 1GB of data for $10 or 3GB for $20.
The only downside of this is that the extra data doesn't roll over if you don't use it all. It will expire at the end of the month. So make sure you buy extra data that you're going to use it.
Referral Program
Mint has a referral program where you can earn credits that you can apply towards your service.
When you refer a friend you'll get a $30 renewal credit for your first referral, and a $15 credit for every referral after that.
The friend you refer gets a credit too. They'll receive a $15 renewal credit when they sign up for service!
According to Mint, the renewal credit will be applied to your account 15 days after your friend activates their plan. You should receive an email letting you know that the credit is coming through.
Testing Out The Mint Mobile Service
I've been using the Mint Mobile service for a short while now. Here's a quick look at how the service has performed for me.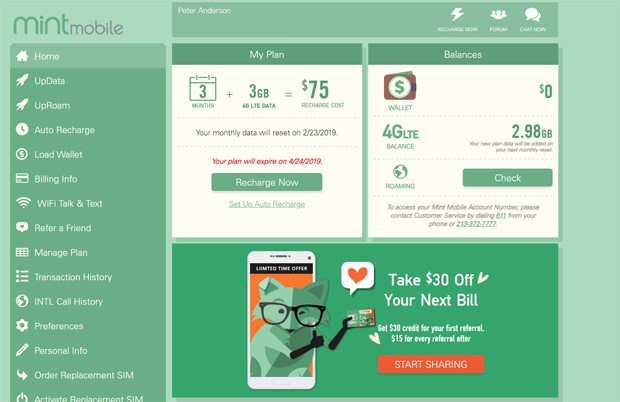 Call Quality
I don't do a ton of calling, but so far the call quality on the T-Mobile network has been great. That's no big surprise seeing as how they're one of the biggest and fastest networks.
I've had no problems with calls breaking up, audio sounding delayed or garbled or anything else. Since the calling plans are unlimited, I can call as much as I want.
Text Messaging
Text messaging with Mint also works just fine, as you would expect. I've been able to text and chat with others, sending emojis and other extras that sometimes don't go through.
Mobile Data Services
The mobile data services with Mint have been getting a workout on my phone as I drive to and from my job. I have listened to a bunch of podcasts, music on Amazon Music, and even some streaming radio stations. Web browsing and social media have also been used.
All seems to work just fine. Since we live in a large metro area, that would be expected.
Mint Customer Service
Mint's customer service is available via phone, email or via virtual chat on their site.
1-800-683-7392 or 611 from your wireless phone
Email: support@mintmobile.com
Support is not 24/7, but is active during the following hours:
Monday-Friday : 5 AM-7 PM PST
Saturday: 8 AM-5 PM PST
Sunday: 9 AM-6 PM PST
Mint also has an online forum and community where you can usually get any questions you have answered. Perusing the forum has been helpful.
From talking with a few others I've heard that customer service can be a bit slow at times. But that tends to be par for the course with low cost mobile service.
Mint Mobile – Super Low Cost Mobile Service On A Great Network
Mint Mobile is one of the lowest cost mobile providers on the market today, and if you're looking for a MVNO that uses the T-Mobile network, they might be the best.
They offer calling plans in 3, 6 or 12 month increments, and if you're happy with the service the 12 month plan offers the best value with a plan that costs only $15/month for unlimited calling, texting and 2GB 3GB of data.
If you're not sure about signing up for that long, just get on their introductory 3 month plan, and try it out at the reduced pricing for 3 months. If it's not for you, nothing lost. If you like the service you can re-up at the 12 month rate.
If you're looking for a new low cost mobile phone provider, Mint Mobile should be near the top of your list.
| Moble Virtual Network Operator (MVNO) | Mobile Network | Minimum Plan Price | Free Tethering | Review |
| --- | --- | --- | --- | --- |
| FreedomPop | Sprint | $0 (200 Min Talk (Over data) & 500 Text - 500 MB Data) | No | Review |
| Tello | Sprint | $5 (100 Min Talk & Unlimited Text - No Data) | Yes | Review |
| Twigby | Sprint, Verizon Wireless | $9 (300 Min Talk & Unlimited Text - No Data) | Yes | Review |
| Ting | Sprint, T-Mobile | $9 (100 Min Talk & No Text - No Data) | Yes | Review |
| UNREAL Mobile | Sprint | $10 (Unlimited Talk & Text - 1GB Data) | No | Review |
| Republic Wireless | Sprint, T-Mobile | $15 (Unlimited Talk & Text - No Data) | Yes | Review |
| Mint Mobile | T-Mobile | $15 (Unlimited Talk & Text - 2GB Data) If prepaid for 1 year. Prepay in 3,6, 12 month increments. Free shipping promo code: IRFREESHIP | Yes | Review |
| TracFone | Verizon Wireless, AT&T, T-Mobile US, Sprint, U.S. Cellular | $15 (200 Min Talk & 500 Text - 500 MB Data) If put on auto-renew save 5%. | No | |
| Google FI | T-Mobile, Sprint, U.S. Cellular | $20 (Unlimited Talk & Text - No Data) | Yes | |
| Total Wireless | Verizon Wireless | $23.70 (Unlimited Talk & Text - No Data) $25 without auto-pay. | Yes | |
| Cricket Wireless | AT&T | $25 (Unlimited Talk & Text - No Data) | No | |
| Boost | Sprint | $35 (Unlimited Talk & Text - 3GB Data) | No | |
| Straight Talk Wireless | AT&T, T-Mobile, Sprint, Verizon | $35 (Unlimited Talk & Text - 2GB Data) | No | |
| Visible | Verizon | $40 (Unlimited Talk & Text - Unlimited Data) | Yes | Review |