Over the years one of the big budget busters I've tried to tame was our mobile phone bill.
Back in the day we had a calling plan with one of the major carriers, and we were paying close to $50/month for unlimited calling and texting for our phones (Mobile data was still not really a thing).  We knew if we could find a lower cost phone service, we could save a ton of money on our monthly mobile phone bill.
These days people are still paying tons of money for their cell service.  JD Power reported that "the average annual wireless phone bill is now $1,152, up 52% from 2006″.  That's almost $100/month for a cell phone bill!
The thing is, you don't have to pay a lot of money for even unlimited cell service these days. With the rise of MVNOs (Mobile Virtual Network Operators), a whole host of small providers are popping up that provide good service, using the same mobile phone networks as the big dogs.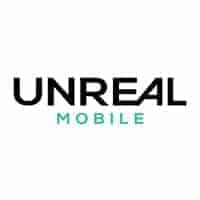 At our house we've gone from being users of traditional big cell networks where we were paying $50+ month per phone, to using several low cost mobile phone providers that start around $10/month.
This past month a new mobile phone service launched, brought to us by the folks who created no frills VOIP cell service FreedomPop a few years back. This time, they wanted to have the service be a more high end, full featured MVNO. A premium mobile provider, but without the premium price. That service is Unreal Mobile.
Having worked with their company in the past (I still use them for a mobile internet hotspot), they asked me to take a look at their service.  I agreed to write up a quick review if they'd send me a device and free service for a couple months.
They sent me a beautiful refurbished Samsung Galaxy S6 to make that possible.  Here's my review of Unreal Mobile.
Unreal Mobile Cell Service
When they launched Unreal Mobile made the claim to have the "cheapest phone plans with unlimited everything. Unlimited talk, text, and data", and on the face of it they are definitely in that conversation.
Unreal Mobile's plans start at as low as $10/month, with unlimited talk, text and 2G data. With the $10 plan you also get 1GB of 4G LTE data.  Not a lot of other providers go that low.
How does other providers compare? Mint Mobile plans start at $15/month, with 2GB of 4G data, but you have to prepay for 3 or 12 months at a time. Unreal Mobile has a similar $15/month 2GB plan, but has no long term contract and is month to month.
Tello charges $14 and $19 per month for unlimited service and 1GB and 2GB of high-speed data.
Republic Wireless plans start at $20/month with 1GB of 4G data.
In my brief scouring of mobile plans, Unreal is definitely the cheapest full featured mobile provider I can find. On top of their low cost they also have no long term contracts, no commitments and you can cancel at any time.  So it's worth giving it a try, especially if you already have an available Sprint device that you can bring.
Unboxing My Unreal Mobile Samsung Galaxy S6
Unreal Mobile sent out one of their devices so that I could test out the service. I could see on their site that they offered both Android devices and Apple iPhones.  Being an Android devotee, I opted for a Samsung Galaxy S6, and they quickly shipped it out.
I received the phone two days later.  Here's a quick look at the gold colored Galaxy S6 as I unboxed it a couple of weeks ago.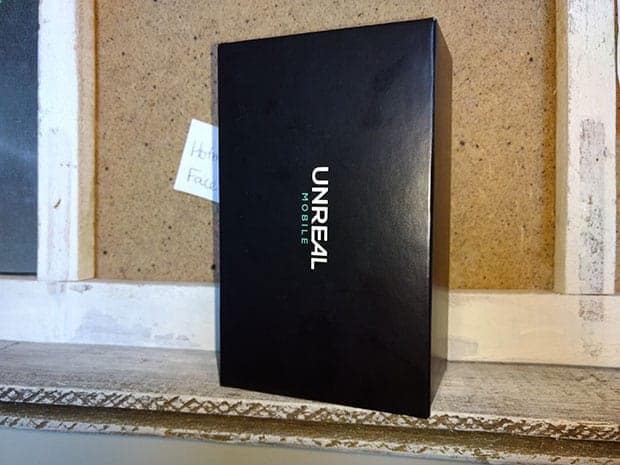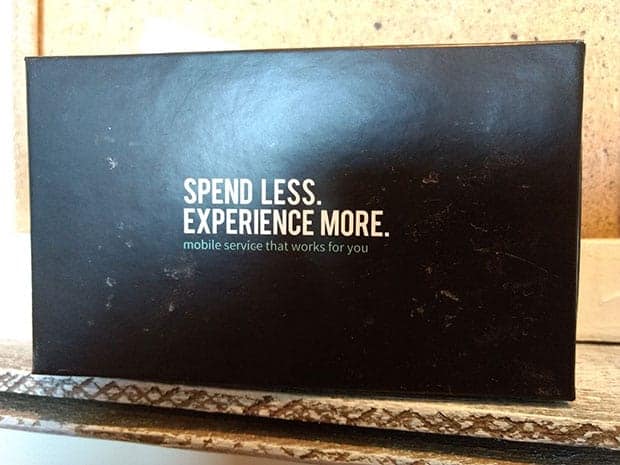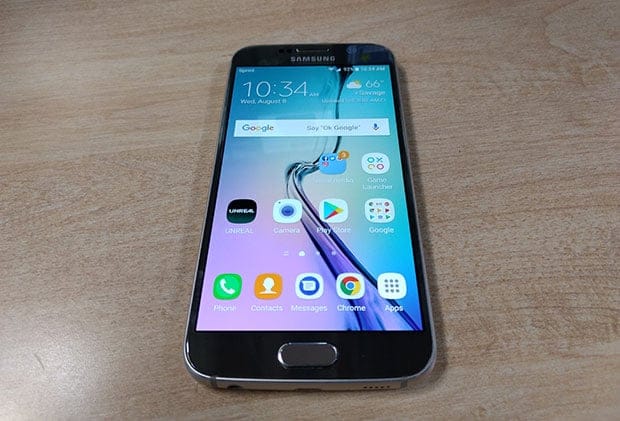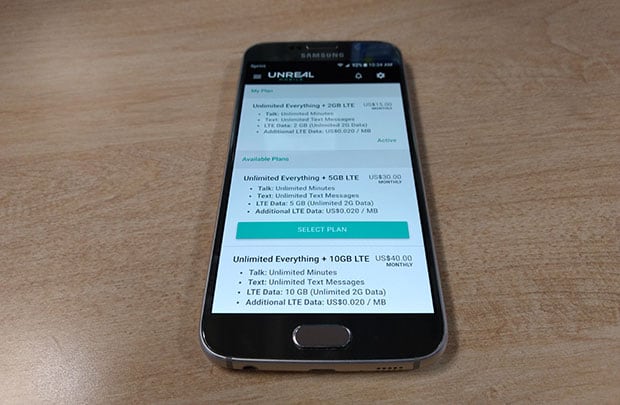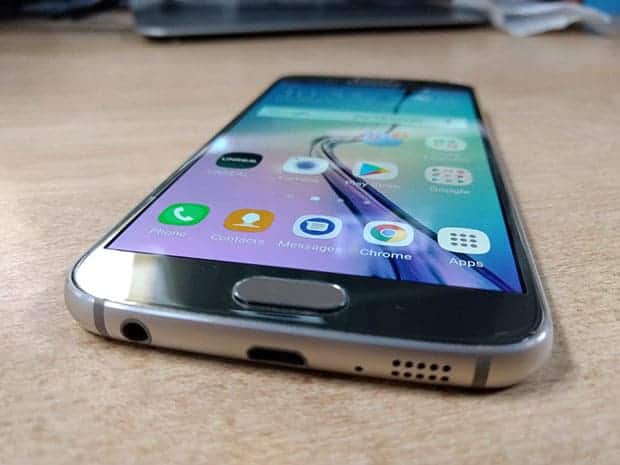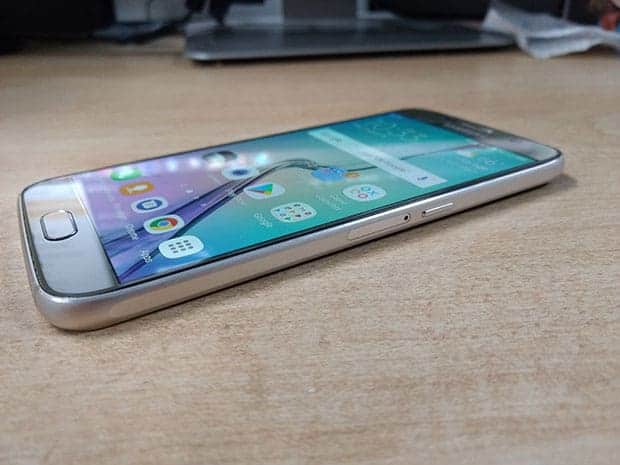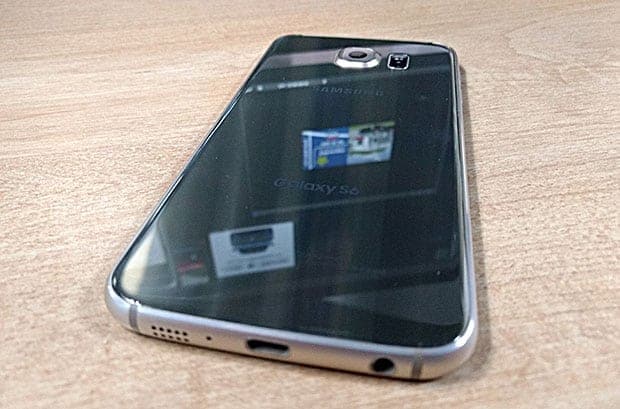 The Galaxy S6 that I received is on the Unreal Mobile shop for about $150 and has the following specs:
Internal Storage: 32GB, 3 GB RAM (No SD Card slot)
Display Size 5.1 Inches
CDMA Network
Operating System Version: Android 7.0
Camera: 16 MP
Secondary Camera: 5 MP
Bluetooth 4.1 & NFC
Li-Ion 2550 mAh battery.
Front/back glass (Gorilla Glass 4), aluminum frame
The phone was released in 2015 so it's not a hot new release, but the phone still has good specs, and can handle just about anything I throw at it.
When I opened the phone and plugged it in the phone booted right up and took me to the Android home screen.  Since this was a review phone I didn't have to do any of the normal setup, that was all done for me by the Unreal Mobile team.
The only thing I didn't like when first turning on the phone was that it had a myriad of updates that needed to be performed.  I think I counted 8 separate operating and system updates that took place that first day, taking the phone from Android 5.0 to Android 7.0.  At least I know the phone gets regular updates and support, right?
Phones Available With Unreal Mobile
Unreal Mobile has a ton of refurbished phones you can buy on their service, from iPhones to Android phones of all stripes.

Some of the phones available for purchase on Unreal Mobile Shop currently include:
ZTE Prestige 2
Apple iPhone 6
Apple iPhone 7
Samsung Galaxy S5
Samsung Galaxy S6
The phones in the shop will vary by day and availability, so check it often to find the one you want.
Unreal Mobile also has a bring your own device (BYOD) program that means you can bring just about any CDMA Sprint certified phone to the service. To see if yours will work go to this link and then click on the "Bring Your Own Phone" link at the top.
In October of 2018 UnrealMobile became a AT&T MVNO as well, so that will open up more GSM phone options as well, if you have an unlocked phone you want to bring to the service.
Unreal Mobile Mobile Plans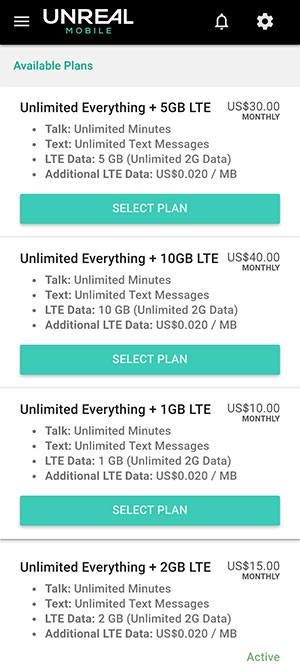 Mobile cell phone plans have been going up in price for a long time, with costs coming close to $100 per month for an individual line of service. According to Cowen and Co.:
The average customer of one of the Big Four cellular providers (AT&T, Sprint, T-Mobile, and Verizon Wireless) spends more than $90 per month for individual service—and the figure is $111 for iPhone owners.
Traditional plans can get extremely expensive, so to see a provider that has plans that are actually affordable is refreshing.  Why pay close to $100  when you have low cost plans like this:
$10/month: This plan gives you unlimited talk and texts, as well as 1GB of LTE data.
$15/month: This plan gives you unlimited talk and texts, as well as 2GB of LTE data.
$30/month: This plan gives you unlimited talk and texts, as well as 5GB of LTE data.
$40/month: This plan gives you unlimited talk and texts, as well as 10GB of LTE data.
My Calling Plan
I am on the $15/month plan that gives you unlimited talk, texts, 2G data, as well as 2GB of 4G data.  Since I don't do a lot of calling and texting, I'm unlikely to need unlimited minutes and text messages, but I use a decent amount of mobile data streaming Pandora and watching video over my lunch break. This plan should cover me. Also, any data you don't use in a given month rolls over to the following month.
Premium Services to add on:
Unreal Speed Boost $2.99/month: This package insures the fastest speeds, even when the network is congested.
Features Of Your Unreal Mobile Account
Your Unreal Mobile account comes with some other features and functionality as well. Here are a few:
Unreal VPN service: If you want to browse privately on the data networks, just turn on the VPN feature of Unreal Mobile and you'll be set to go.
Ad blocking: Block those unwanted ads by turning on the Unreal ad blocker.
Data compression: Data compression helps you to save on your data costs by compressing the data moving across the network.
Data rollover: Any data you don't use in a month, just rolls over to the next month.
Testing Out The Unreal Mobile Service
I've been using the Unreal Mobile phone for a while now.  Here's a quick look at how the service has performed for me.
Call Quality
I don't do a ton of calling, but so far the call quality has been great.
I've had no problems with calls breaking up, audio sounding delayed or garbled or anything else.  I believe I have good Sprint coverage in my area, so for me the call quality has been good.
Text Messaging
Text messaging seems to work just fine as well. I've done a bunch of texts back and forth with people I know (new phone, who dis?), and have sent pictures, emojis and more with no problem.  I don't see any issues here either.
Mobile Data Services
I've been using the data between home and work to stream music in the car, to do Google Maps and to let my son play a few online games in the car.  So far the coverage has been great, and streaming works well. I have no complaints. The fact that even after my 2GB of data I'll still have enough 2G data to do some minimal emails/texts/etc should be more than enough.
Unreal Mobile Is Affordable And Works Great
Unreal Mobile has burst onto the scene with one of the most affordable mobile phone plans on the market.
For only $10/month you can get unlimited calling, text and 1GB of 4G data.  Need more data? Just pay a bit more.
Unreal Mobile is simple, affordable and works great, and I definitely recommend giving them a try.
Get Unreal Mobile's Unlimited Low Cost Service
| Moble Virtual Network Operator (MVNO) | Mobile Network | Minimum Plan Price | Free Tethering | Review |
| --- | --- | --- | --- | --- |
| FreedomPop | Sprint | $0 (200 Min Talk (Over data) & 500 Text - 500 MB Data) | No | Review |
| Tello | Sprint | $5 (100 Min Talk & Unlimited Text - No Data) | Yes | Review |
| Twigby | Sprint, Verizon Wireless | $9 (300 Min Talk & Unlimited Text - No Data) | Yes | Review |
| Ting | Sprint, T-Mobile | $9 (100 Min Talk & No Text - No Data) | Yes | Review |
| UNREAL Mobile | Sprint | $10 (Unlimited Talk & Text - 1GB Data) | No | Review |
| Republic Wireless | Sprint, T-Mobile | $15 (Unlimited Talk & Text - No Data) | Yes | Review |
| Mint Mobile | T-Mobile | $15 (Unlimited Talk & Text - 2GB Data) If prepaid for 1 year. Prepay in 3,6, 12 month increments. Free shipping promo code: IRFREESHIP | Yes | Review |
| TracFone | Verizon Wireless, AT&T, T-Mobile US, Sprint, U.S. Cellular | $15 (200 Min Talk & 500 Text - 500 MB Data) If put on auto-renew save 5%. | No | |
| Google FI | T-Mobile, Sprint, U.S. Cellular | $20 (Unlimited Talk & Text - No Data) | Yes | |
| Total Wireless | Verizon Wireless | $23.70 (Unlimited Talk & Text - No Data) $25 without auto-pay. | Yes | |
| Cricket Wireless | AT&T | $25 (Unlimited Talk & Text - No Data) | No | |
| Boost | Sprint | $35 (Unlimited Talk & Text - 3GB Data) | No | |
| Straight Talk Wireless | AT&T, T-Mobile, Sprint, Verizon | $35 (Unlimited Talk & Text - 2GB Data) | No | |
| Visible | Verizon | $40 (Unlimited Talk & Text - Unlimited Data) | Yes | Review |