College students obviously have busy schedules with classes, assignments, social lives, and extracurricular activities, but many students also need to find the time to make some money.
During the 2019-2020 academic year, the cost for the average college student was $30,050 (including tuition, fees, room, and board) according to EducationData.org.
Many college students have part-time jobs in order to cover part of that cost, but starting a business is another way to make money. Starting your own business may not offer the same guaranteed income that you would get from a job with an hourly rate, but there are some significant benefits, including: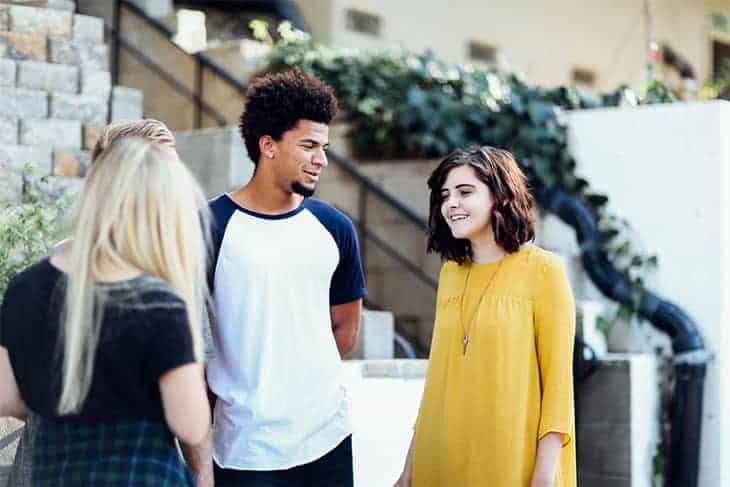 The opportunity to pursue something that you enjoy.
The possibility to gain valuable experience that can help you after graduation.
The chance to grow a business that may turn into a full-time income someday.
The potential to earn more than you could make with the average part-time job.
With those benefits in mind, college can be a great time to start a business.
Not all businesses are equally suited for college students. Ideally, the business should be free or very inexpensive to start, because the last thing college students need is more debt. All of the business ideas covered in this article could be started with very little investment, and they could also be run part-time while you're taking classes.
Business Ideas For College Students
If you're interested in starting a business while in college, here are some ideas that you might want to consider.
1. Social Media Manager
Social platforms like Facebook, Instagram, Twitter, LinkedIn, and Pinterest present huge opportunities for businesses that embrace social media. However, many business owners either don't know how to use social platforms effectively or they simply don't have the time to dedicate to it.
Although they may not be maximizing their potential with social networks currently, most business owners recognize the possibilities. By hiring a social media manager to handle things for them, business owners can reach new customers and engage with current customers more consistently, and they can do it in an efficient and cost-effective way.
If you have some experience with social networks, as most college students do, this could be an ideal business opportunity. Not only are there countless potential clients already out there, but the income potential is significant.
In 2016, Ashley Mason of Student to CEO started a social media marketing business as a 19-year-old college student. Ashley continued to grow the business throughout her time in college and after graduating in 2019. Ashley jumped into running the business full-time.
Because of the combination of high demand and excellent income potential, this is one of the best business opportunities for college students.
2. Virtual Assistant
Another service-related business that has a very strong demand right now is to work as a virtual assistant. You could become a virtual assistant by working through a website like Fancy Hands, but you'll have much higher income potential if you start your own business.
As a virtual assistant (VA), you could offer a wide variety of services like:
Moderating online forums or Facebook Groups
Providing customer service
Managing social profiles
Managing a blog
Setting up appointments
And much more
You could take a general approach and offer a very wide range of services, or you could specialize in a particular aspect. Specializing may allow you to charge a higher hourly rate, but getting clients is a bit easier with a generalized approach.
If you're looking to get started, check out 30 Days or Less to Virtual Assistant Success.
3. Blogger
One of the most flexible business opportunities is to start a blog. Not only can you work whenever and wherever you want, but you can also choose the topics that you want to cover on your blog.
Unlike the service-related businesses that were mentioned so far, blogging is a business opportunity that will require some patience, because you're unlikely to start making money right away. If you're in a position where you're able to put in the work without seeing immediate results, blogging can be a great business.
Blogging offers truly unlimited income potential. Some bloggers are able to earn five or six figures per month by working on something that they enjoy.
There are many different ways to make money from a blog, with the most common methods including:
Advertising
Affiliate programs (getting paid to promote products or services from other companies)
Publishing sponsored content
Offering a service
Selling a product
If your goal is to make money now, consider other options instead of blogging. But if your goal is to start a business that may be able to provide a full-time income by the time you graduate, blogging could be an excellent choice.
4. Freelance Writer
If you enjoy writing but you'd rather work for clients than try to build your own successful blog, working as a freelance writer is an option that you should consider.
As a freelance writer, you could be a generalist and cover just about any topic, or you could specialize in a particular industry or topic. Specializing could give you higher earning potential, but it may be harder to find clients when you're just starting out.
Freelance writing is one of my favorite business opportunities for a number of reasons:
You can get started right away and you'll be making money as soon as you land your first client.
It's possible to get started with $0 in expenses.
There are plenty of opportunities for beginners.
There are also plenty of higher-paying gigs for more seasoned writers.
It's very possible to earn an excellent hourly rate (although you'll typically be paid per word or per project).
Demand for the work is likely to remain strong, due to the vast amount of content being published online everyday.
It's also a totally flexible business. You can work the hours that suit your schedule and scale up or down depending on the amount of time that you're able to dedicate to the business. It's definitely possible to work as a freelance writer part-time in college and then transition to full-time by picking up a few more clients (or by doing more work for the clients you already have.
To get started check out Freelance Writing Success.
5. Author
Another business opportunity for those who like to write is to become a self-published author. Thanks to platforms like Amazon's Kindle Direct Publishing (KDP), anyone can become an author.
Through KDP, you can write and sell e-books and paperbacks that are printed on demand, which means you won't need to invest money in large runs of printed books.
Amazon obviously offers a massive platform that makes it possible to reach millions of book readers. You can write and sell books in many different genres, so the possibilities are virtually limitless.
Becoming a self-published author is similar to blogging in the fact that you'll need to be willing to put in a lot of work before you really start to make a serious income.
6. YouTuber
So far we've looked at several business opportunities that involve creating written content (blogger, freelance writer, and author). A similar opportunity exists for those who want to create video content, and the demand for online video content is growing at an incredible pace.
YouTube is obviously the #1 platform for video content, and anyone can start a YouTube channel in effort to capitalize on the opportunity.
If you look at successful YouTube channels, there is a great deal of variety. They may be educational, entertaining, funny, or just straight-up weird (I'm constantly amazed by the YouTube videos that my kids find).
This is another business opportunity that offers high income potential but requires some time and patience to build. The YouTube Partner Program, YouTube's advertising program, requires you to have at 1,000 subscribers and at least 4,000 watch hours in order to make money from advertising.
7. Podcaster
Podcasting is another type of content-related business, focusing on audio content (although some podcasts are also available in video format). Although podcasting has been popular for several years, it's still a much more wide-open market as compared to blogging.
You could start a podcast on a topic of your choice and make money through:
Sponsorships and advertisements
Affiliate programs
Creating and selling your own products
Just like blogging or starting a YouTube channel, starting a podcast would require you to put in the time to build your audience before you're able to earn a significant income from it.
One of the interesting benefits of podcasting is that you may be able to build a very strong network. Podcasts often rely on guest interviews for content, and there are thousands of people who are actively looking for spots to appear on podcasts as a guest. Podcasters are able to meet a lot of people and make a lot of connections. As a college student, this could be extremely valuable to you if your podcast is related to the field that you plan to work in after graduation.
8. Tutor
One of the most practical ways to make money as a college student is to become a tutor. If you're strong in a particular subject, you can tutor other students in your class that may be struggling, or students who are a year or so behind you. You could also tutor high school (or younger) students.
As a tutor, you can earn a nice hourly rate for sharing the knowledge that you already have. There are no costs to start the business, and you can start making money as soon as you have your first client.
9. Photographer
If you have some photography skills, starting a photography business is a natural choice, and there are several different ways that you could make money as a photographer, including:
Taking portraits or family photos for clients in your local area
Selling your photos at stock photography sites like Shutterstock
Becoming a contributor at Vecteezy and giving away free photos (you get paid based on number of downloads)
Writing for online publications like photography blogs
Creating and selling digital products for photographers (like Lightroom Presets)
Becoming an Instagram influencer (and selling sponsorships)
A photography business would be ideal for students who are studying something creative like art, design, or photography. It's also the type of business that you could start part-time in college and grow to full-time after graduation.
10. Graphic Designer
Starting a business as a graphic designer is a great opportunity for those that have the right skillset. There is plenty of work available and sites like Fiverr make it possible to get started relatively quickly.
Of course, this would be an ideal business for students who are studying design, but anyone with some design skills could make it work. There are plenty of small projects for clients like designing images and graphics to be used with blog posts or social media posts.
Like several of the other opportunities mentioned already, a graphic design business is something that you could do part-time through college and then turn into a full-time business later.
11. Web Designer
Much like graphic design, web design is a skill that's needed by many businesses, and you can make good money if you're able to deliver for your clients.
Web design has changed a lot over the past decade. Today, many web designers are using platforms that require little-to-no coding to create custom websites for clients. You could use pre-made WordPress themes or plugins that give you customization options without the need to code.
Of course, if you're able to code a website, that's great. But if you're not able to code, that doesn't mean that you can't work as a web designer.
Take some time to get familiar with a particular WordPress theme or drag-and-drop builder plugin and you'll be able to meet the needs of most small businesses.
12. App Developer
If you have some coding skills, becoming an app developer is an excellent option. You could either develop mobile apps for clients, or start your own app in attempt to grow it as your business.
Coding skills are highly valuable, and the demand is likely to remain strong for the foreseeable future.
13. Dog Walker
Like many other service-related businesses, becoming a dog walker allows you to start making money right away. You can either create a profile on Rover or find clients in your local area on your own.
In many ways, becoming a dog walker is an ideal opportunity for college students:
You can start making money quickly
Decent average hourly rate
Flexible schedule since appointments can be scheduled around your classes
Lots of potential clients
Doesn't require any experience or specific skills
14. T-Shirt Designer
For those who are creative, starting a t-shirt business may be an ideal opportunity. You could use a platform like Merch by Amazon or Printify to sell your t-shirt designs with a print-on-demand business.
A Print-on-demand business allows you to get started without the need to purchase inventory. You'll upload your designs and the shirts will be printed as they are ordered.
This is a business model that will require some time and patience to build. You might not start making money right away, but the income potential is there if you have a long-term approach.
A college campus with thousands of students can be an ideal place to start and grow your own t-shirt business. Get some friends to wear your shirts and start to build some brand recognition and you may find that sales start coming quickly.
15. E-Commerce
If you're interested in starting and growing an online business, e-commerce is an excellent option. E-commerce has never been more popular than it is today with millions of people not wanting to risk getting sick by shopping in stores.
You can sell just about anything through your e-commerce store, and you can also take advantage of existing platforms that allow you to launch a business very quickly. Amazon's FBA program is an excellent option because Amazon will handle all of the order fulfillment for you, which means you won't need to pack boxes or run to the post office every day.
Aside from selling on Amazon, you could use a platform like Shopify to create your own e-commerce website without the need to hire a designer or developer.
You might assume that an e-commerce business would require you to store your own inventory, which would not be ideal if you're living in a college dorm room. But there are many warehousing businesses that receive and store your inventory for a relative low cost.
16. Book Reseller
Every college student knows that textbooks can be very costly. The best way to reduce the amount that you spend on textbooks is to buy used books from other students.
Most students are eager to sell their old textbooks because once the class is over, they'll probably never use the textbook again.
You could start a business buying and reselling textbooks. There are probably some bookstores on or near campus that already do this, but you'll be able to offer better prices thanks to lower overhead costs.
This business does require some investment in order to buy the books, but it's possible to get started for a minimal amount and then grow the business slowly by reinvesting all of the money that you're making. Having some money to invest when you get started will allow you to grow faster.
17. Musician
College students who have musical abilities may choose to turn those skills into a money-making opportunity. You could make money by performing, by offering lessons, or even by creating music and selling it online.
Some of the other opportunities on this list are likely to offer better income potential, but this could be a good choice for someone who plans to pursue a career in music after college.
18. Personal Trainer
Are you in the gym every day taking care of your own body? If so, you could probably make some money by using your knowledge and experience to help others as a personal trainer.
19. Model
It's possible to make some money by working as a model in your spare time. You could be working for a photographer who is taking stock photos to sell online, for photos that will be used in advertising, or any number of other things.
To get started, you could use a site like Model Mayhem or advertise your services on Craigslist. You can also build up your profile on Instagram or other platforms that can provide some exposure.
20. Flipping
If you're looking for a business that you can start quickly with no particular skills or experience, flipping could be a good option. It involves going to yard sales, flea markets, auctions, or other places where you can buy things for very low prices, and then reselling them for a profit. You might sell on eBay or the Facebook Marketplace to get higher prices than what you'd be able to get at a yard sale.
This is a relatively easy business that anyone can learn. As you get more experience, you'll have a better idea of the types of items that are likely to make a profit, as well as how much you should expect to make from an item. To get started, you can refer to this list of the easiest things to flip for profit.
This free workshop will show you how to get started in 14-days or less: Flea Market Flipper
21. House Cleaner
Another business that can be started with no particular skills or experience is cleaning houses. You can schedule clients around your other commitments, so it's a very flexible opportunity that can be done part-time.
As is the case with other service-related businesses, you can start making money as soon as you land your first client. Finding a client is usually not that difficult. Talk to everyone in your network to let them know that you're looking for clients, post an ad on Craigslist, put your contact info on bulletin boards in your local area, or use a website like Care.com to create a profile.
22. Child Care Provider
Child care or babysitting is an ideal part-time opportunity. You can find some regular clients that need help on a consistent basis and work to grow your business by word-of-mouth. It's not the highest-paying opportunity covered in this article, but there is a lot of work available.
Build Your Own Business As A College Student To Earn Extra Income
If you're a college student and you're looking to make some money, consider starting a business from home rather than settling for a low-paying part-time job.
Starting a business may not be the right fit in every situation, but consider the options covered in this article and see if one of them might be the right fit for you.