One of the things we've done in the past few years to cut costs was to move to a no contract mobile provider.
In the past few months, I heard about a new low-cost provider that just launched on the Verizon network called Visible.
Visible is actually funded by Verizon, and while it is lower cost than being on the regular Verizon network, it uses the same calling and data networks.
The service is the perfect service for people who use a ton of data every month because every calling plan with Visible comes with unlimited everything. That means unlimited calling, texting and data. It does all that while having a plan that costs only $40/month!
So let's take a look Visible and what they have to offer.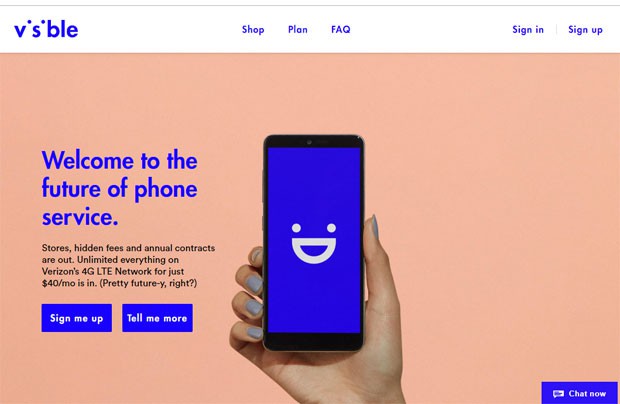 Visible – Affordable Unlimited Everything
Visible is a relatively new service having only launched in 2018. From the Denver Post:
Visible, which opened its headquarters in Denver earlier this year, hopes to attract customers nationwide who want to pay less for unlimited data plans. At $40 a month, Visible's only plan, the service is counting on a low price and stealth, invite-only launch to appeal to customers. The company enters a competitive market that has been upended by formerly last-place T-Mobile, which pushed for no contracts and cheaper, simpler plans. T-Mobile just announced plans to buy Sprint, to become the nation's second largest carrier. It's also getting an unlimited plan down to $40 a month — something most of other mobile services offer but only if several people join a family plan. T-Mobile's plan, for example, is $70 a month, though with four lines, it's $40 per line. But Visible isn't going at it alone. It uses Verizon's 4G LTE network to offer up to 5 mbps speeds, and it received funding from Verizon. CEO Miguel Quiroga also worked for Verizon since 2000, most recently as its vice president and head of digital.
Visible is focused on being a low cost option for people who want an unlimited data plan. At $40 a month, it does just that.
So what's the catch? The only real catch is that their 4G data speeds are limited to 5-12Mbps, and on 5G, speeds are capped at 200Mbps. That might be a deal-breaker for some. For most people like me, however, I don't need speeds any faster than that while I'm on the go, and I'm on WiFi most of the time anyway.
Signing Up For Service With A Phone From Visible
The folks over at Visible were kind enough to send out an Apple iPhone 8 for me to test the service.
The phone arrived in a plain brown box that contained the phone, the charging cable, charging plug, a SIM card removal tool and SIM card.
Here are a few photos as I unboxed the device.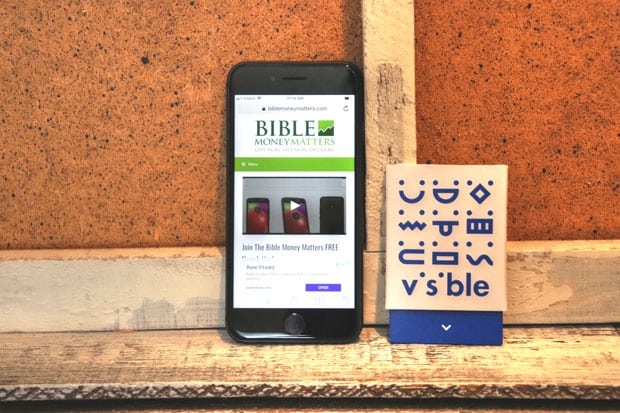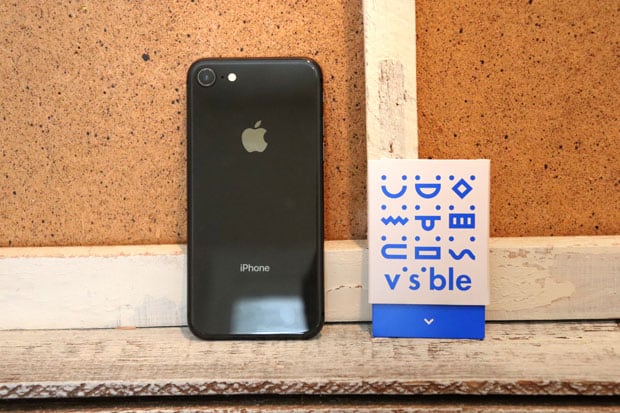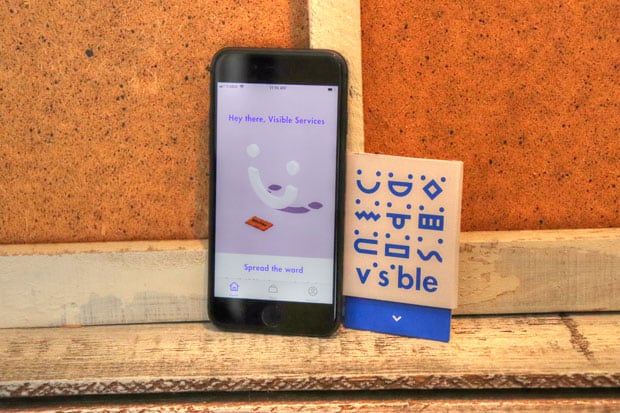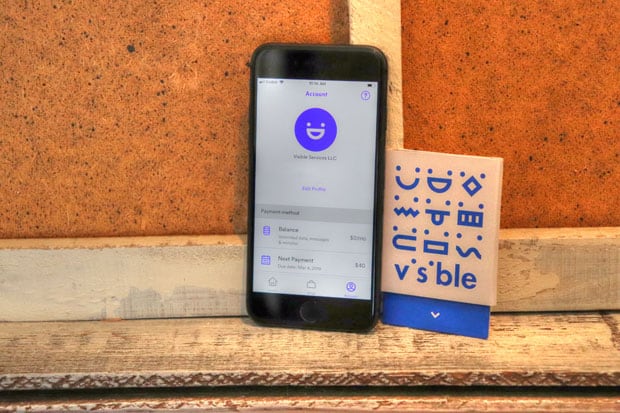 Getting the phone up and running is a pretty simple process. You just put in your new SIM card and turn on the phone. Once the phone boots up just update your carrier settings, download the Visible app, and then follow the onscreen instructions.
The app is where you'll do all of your account management from making payments, to adjusting your account settings.
Visible Cell Service
Since Visible is on Verizon, one of the big networks, it's coverage and call quality is going to be top notch.
I've used them for a short time here in my area in the Minneapolis area, and the coverage and call quality have been superb.
Texting and data services work great as well. I've been able to text with my wife and family, watch video while on the go (without worries of going over my data allowance) and listen to podcasts and streaming radio.
In the past I may not have done that much video or streaming while out and about, but with Visible you have unlimited 4G data (and for some, 5G data as well now), so there's never a worry about going over!
Visible also has free phone tethering available on their phones. Just enable it on your phone, and you can connect your other devices to your phone. That comes in handy if you've got tablets, laptops or other devices you want to connect.
Visible Customer Service
Visible is an app based service, and as such pretty much everything you do is going to be happening in the app on your phone.
If you want to contact customer service, you will have to contact the customer care team via in-app chat or text (text @99370). They also have some limited support via Facebook Messenger (@VisibleMobile) and Twitter (@VisibleCare).
Visible Chat Hours:
Monday – Friday: 7 a.m. – 12 a.m. EST
Saturday-Sunday: 10 a.m. – 10 p.m. EST
If you really want to talk to someone on the phone, their FAQ says to contact them via the chat and ask to speak to someone on the phone.
Phones Available With Visible
When Visible launched they were strictly a "bring your own phone" mobile provider. Since then they have opened their own shop and you can purchase devices through their store.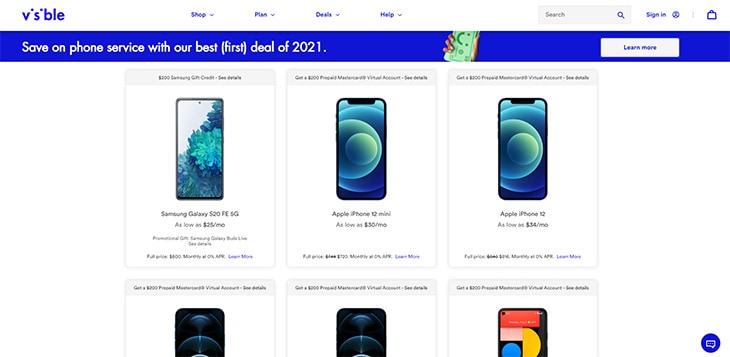 At first they only had service on Apple devices. In the last month or two they've opened their service to Android users, and you can now use a few select Android devices as well.

Some of the phones available for purchase on the Visible Shop when I checked include:
Visible Blade X1 5G (Visible's own Android-based phone made by ZTE)
Samsung Galaxy S21 5G
Samsung Galaxy S21+ 5G
Samsung Galaxy S20 FE 5G
Samsung Galaxy S20 Ultra 5G
Samsung Galaxy S10e
Apple iPhone 12 Pro
Apple iPhone 12 Pro Max
Apple iPhone 12
Apple iPhone 11
Apple iPhone 11 Pro
Apple iPhone 11 Pro Max
Google Pixel 5
Motorola Edge
Motorola Moto G Power
So if you're an Apple devotee, they've got you covered. If you're a big fan of Android devices you have quite a few amazing options. There will be more down the road.
Bringing Your Own Phone To Visible
In addition to buying their phones, you can bring your own phone to the service as well.
So how do you know which phones will work? According to Visible you just check your device's IMEI number on their site or in their app.
A good way to know is to find your IMEI number and then reference it with our app or site. If you don't want to do that – no sweat, iPhone 6, iPhone 6s, iPhone SE, iPhone 7, iPhone 8, iPhone X, iPhone XS, iPhone XS Max, or iPhone XR will work too, with the exception of one iPhone SE and two iPhone 7 models. Android users take note: right now Visible works with Samsung Galaxy S9 and S9+ SE models as well as the Visible R2™ available in our shop. We'll be bringing our service to more phones, so stay tuned to our social media for updates.
So basically just about any recent iPhone will work with Visible, except a couple of models mentioned above.
In addition, there are only 3 Android phones that will work with the service currently, although they do plan on adding more once the beta on Android is complete. They now also have a wide variety of Android phones that will work with the service.
Once you confirm that your phone will work, you just sign up for an account, and have a SIM card sent to your address. Pop the SIM card in and you're set to go!
Visible Mobile Calling Plan
The average cell phone user pays somewhere in the range of $80-$100 per month for an individual line of service, depending on which study you look at.
Thankfully with services like Visible your costs can be much, much lower.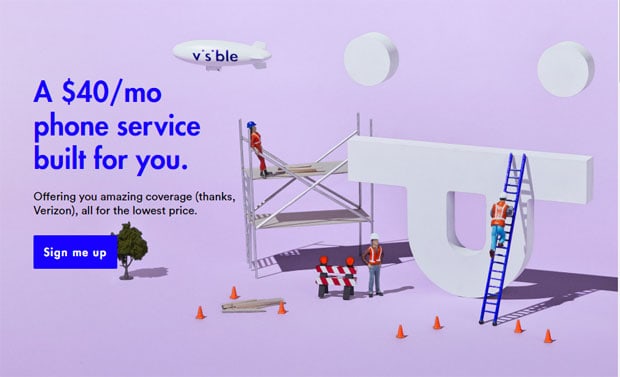 Visible doesn't have a wide range of plans like some other services, they have only one plan, period. That plan, however, will give you everything you need, baked in.
You get unlimited calling, unlimited texting, and unlimited 4G LTE (and 5G if you have a compatible device) data. Yup, unlimited everything.
The cost?
$40/month
In checking around to other providers, many other MVNOs don't even have an option for unlimited data. Most MVNO plans will top out at 10 or 12GB of mobile data. Granted, that's quite a bit, but many don't even have an option for unlimited data.
You can pay your monthly bill by PayPal, Venmo or any credit or debit card.
Visible Party Pay
While $40/month for unlimited everything is already a pretty good deal, you can pay even less if you've got a friend or family member that you can invite to the service.
Just invite someone to your "Party" after you've signed up and once they're activated on the service you'll both receive a discount on your bill. It works out to:
Party of 1: $40/month per person
Parties of 2: $35/month per person
Parties of 3: $30/month per person
Parties of 4: $25/month per person
So if you have 4 members of your family signed up for service you can pay as little as $25/month for service. You still all get your own bill, and everyone has their own account, no need to manage it like a traditional family plan.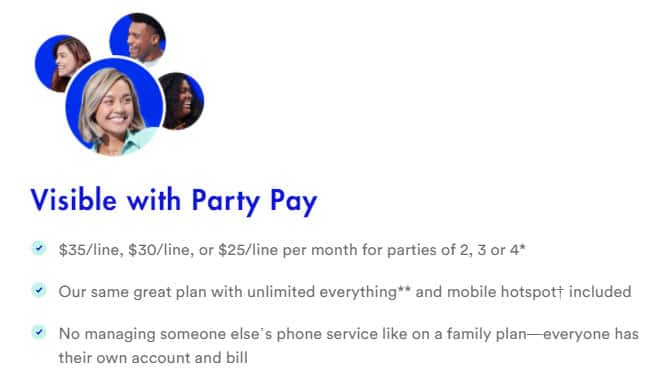 Download Speeds Up To 5Mbps (UPDATE: No Data Speed Caps For Limited Time)
Visible will give you unlimited mobile data, however, it is with the understanding that it tops out at 5Mbps download speeds. NOTE: As of June 26th, 2019, for a limited time Visible has elected to lift that data speed cap for all new and existing members. For all existing and new members who sign up they'll have no data caps for life. Visible may be going back to data speed caps soon, but for now, there are no longer caps.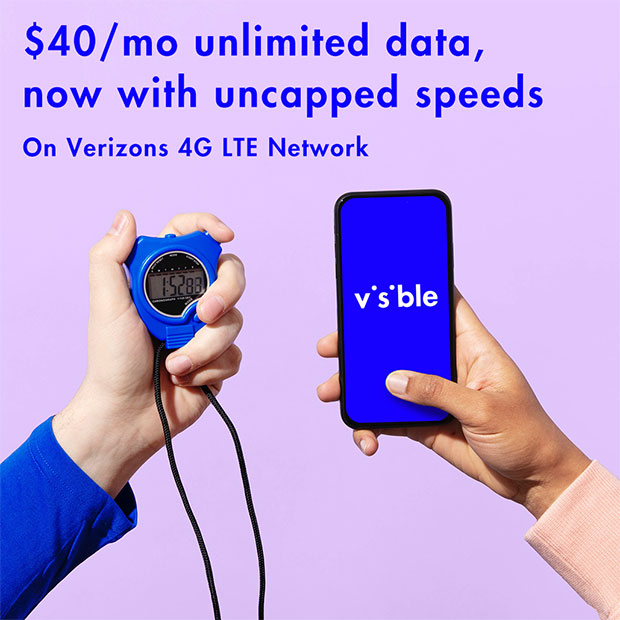 Even with the caps, for most people 5Mbps should be more than enough to watch video, stream audio or surf your social media. Here is how much data you need for common mobile tasks:
Streaming Video: 1-3 Mbps
Video Chatting: 1-2 Mbps
Scrolling through your social feeds: 1 Mbps
Streaming Audio: 0.5 Mbps
As you can see, having 5Mbps should be more than enough to get you by, but thankfully now it isn't a worry anyway, as long as you sign up while the data caps are gone.
Honestly, for years my home internet didn't even have download speeds that fast!
Visible Is One Of The Most Affordable Unlimited Data Plans
Visible is one of the newest mobile networks on the block, and if you're a heavy user of data, they may be just what you were looking for.
With their one size fits all unlimited everything plan for $40, you can watch video, stream your favorite music and chat on social media to your heart's content. You never have to worry about running out of data!
Unlimited data just isn't something that's offered at a lot of MVNOs, but it's included with Visible.
While this might not be the plan for you if you don't use much data, if you're constantly online and need to be connected at all times, this might be a good plan to check out.
Get Unlimited Everything With Visible
| Moble Virtual Network Operator (MVNO) | Mobile Network | Minimum Plan Price | Free Tethering | Review |
| --- | --- | --- | --- | --- |
| Gen Mobile | Sprint | $5 (Unlimited Text - No Talk, No Data) $10 (300 Min Talk & Unlimited Text - 1GB Data) Discounts if prepaid for 3 months. | Yes | Review |
| Tello | Sprint | $5 (100 Min Talk & Unlimited Text - No Data) | Yes | Review |
| Twigby | Sprint, Verizon Wireless | $9 (300 Min Talk & Unlimited Text - No Data) | Yes | Review |
| Ting | Sprint, T-Mobile | $9 (100 Min Talk & No Text - No Data) | Yes | Review |
| Red Pocket Mobile | Verizon Wireless, AT&T, T-Mobile US, Sprint | $10 (500 Min Talk & 500 Text - 500 MB Data) | Yes | |
| Republic Wireless | Sprint, T-Mobile | $15 (Unlimited Talk & Text - No Data) | Yes | Review |
| Mint Mobile | T-Mobile | $15 (Unlimited Talk & Text - 3GB Data) If prepaid for 1 year. Prepay in 3,6, 12 month increments. Buy 3 Months, Get 3 Free) | Yes | Review |
| Unreal Mobile | AT&T | $15 (Unlimited Talk & Text - 3GB Data). Prepay in 3,6, 12 month increments. | Yes | Review |
| TracFone | Verizon Wireless, AT&T, T-Mobile US, Sprint, U.S. Cellular | $15 (200 Min Talk & 500 Text - 500 MB Data) If put on auto-renew save 5%. | No | |
| Google FI | T-Mobile, Sprint, U.S. Cellular | $20 (Unlimited Talk & Text - No Data) | Yes | |
| Total Wireless | Verizon Wireless | $23.70 (Unlimited Talk & Text - No Data) $25 without auto-pay. | Yes | |
| Cricket Wireless | AT&T | $25 (Unlimited Talk & Text - No Data) | No | |
| Boost | Sprint | $35 (Unlimited Talk & Text - 3GB Data) | No | |
| Straight Talk Wireless | AT&T, T-Mobile, Sprint, Verizon | $35 (Unlimited Talk & Text - 2GB Data) | No | |
| Visible | Verizon | $40 (Unlimited Talk & Text - Unlimited Data) | Yes | Review |