Bible Money Matters was made live on the internet at the end of January of 2008. In those 6 years we've gone through 2 different blogging platforms (WordPress and Blogspot), 4 different hosts (Blogspot, Lunarpages, Media Temple and Storm on Demand) and 4 different designs.
Our last design, which was based off of the Thesis WordPress Framework, was designed by myself and has served us well for close to 5 years now. That's a long time in blogging years!
At the end of last year I decided that the site was well due for a refresh. Not only did the site need a new design after all these years, but the old framework used on the site was not mobile responsive, along with a host of other issues.
Our new design went live on the site one week ago today. While we're still tweaking and making changes here and there, it's definitely got a new look and feel that's quite a bit different from the old one.
Today I thought I'd take brief look back at some of our old looks on this site, and then talk about what has changed.
(Looking for the giveaway? Head on down to the bottom of the post!)
Bible Money Matters – A Blast From The Past
When i first launched the site in the beginning of 2008, I started the site as a Blogger blog. I didn't even own my own domain name to start, although I ended up purchasing one a few months later.
The site used a free BlogSpot theme from one of the free theme websites, and it wasn't exactly the prettiest site around. But it contained the colors I wanted – green and black – and it got the job done. It was functional, but it didn't last very long.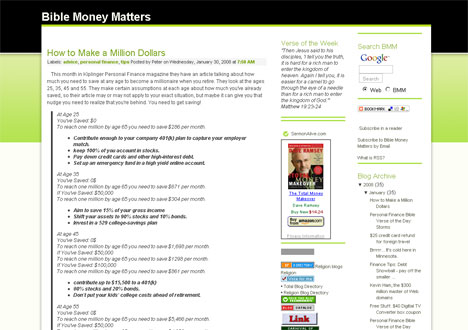 Five months into this blogging experiment I decided that I was going to stick with it for the long haul. I bought a new domain name and moved the site to a self hosted WordPress installation, moving it away from BlogSpot.com.
Once I had moved my site to WordPress I put up a new theme from Brian Gardner and StudioPress called "Vertigo". Even at that time the theme was a year or two old, and again – it was a free theme. I customized it a bit with a logo design, and I was happy with that for a while.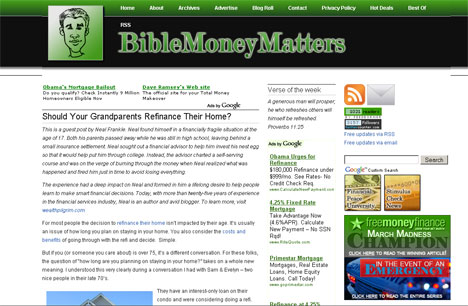 I stuck with that design for almost a year, until I finally decided I wanted to use a theme that gave me more flexibility and options when it came to customizing my site.
I put together and launched a customized version of the Thesis Theme for my site. In the end I stuck with that theme for almost 5 years. The site's layout changed a bit over that time, but for the most part the design didn't change – with the black and green starburst background and text header.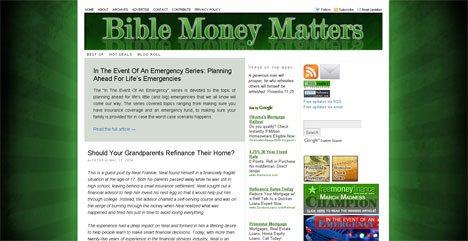 I was happy with the site's design for many years, but a few things changed that made me realize the site was due for a redesign again.
First, DIY Themes came out with a new 2.0 version of the Thesis theme that just didn't make sense to me. It is supposedly better in every way, but to me it just wasn't as intuitive to use. It felt like a step back.
I also knew that I needed to update my site's design to be mobile responsive as a larger number of my users were reading the site on their mobile devices.
Finally, I knew the site's logo design was starting to feel a bit dated after having been live for over 5 years. It needed a refresh.
The New Design Using Genesis WordPress Framework
This past week I put the new Bible Money Matters design live on the site.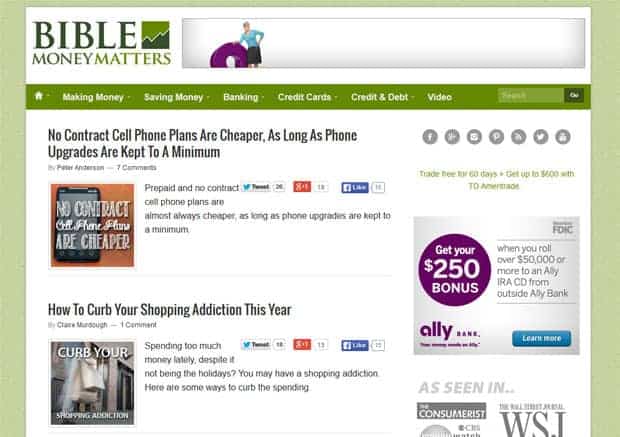 There were quite a few changes to the site. Among the biggest changes:
A new logo design: I worked with friend and fellow Minnesota blogger Aaron of AaronDesign and Art For Your Blog on a new logo design. We went through a few iterations, but I'm very happy with the final result. Thanks Aaron!
A new WordPress framework: The site's framework has changed from Thesis, to the Genesis Framework from StudioPress. When I was researching WordPress frameworks to use on my redesign, time and again Genesis was touted as the cream of the crop. After using it for a short while I can see why.
A new child theme: In addition to investing in the Genesis framework, I also bought a custom child theme for the site called the Dynamik Website Builder for Genesis. Dynamik allows you to customize pretty much everything about your site from fonts and colors, to backgrounds, headers and custom homepage setups. Easy to use, and highly recommended.
Mobile responsive: The site should now be responsive, so that no matter what device or size window you view the site in, it should adjust and be easily readable on your screen. I'm still working on a few things here, but for the most part the site should function on mobile devices now.
Simplified sticky navigation: I had about 30 menu options up at the top of the page before. With the new design I've consolidated a lot of those options and simplified the navigation. It is also now a sticky navigation bar. We're still iterating changes on the menu, but I'm pretty confident it's a bit easier to navigate the site now.
Why I Bought The Genesis WordPress Framework With Dynamik Website Builder
After doing quite a bit of research on what Theme and framework to use for this site, I kept coming back to the Genesis WordPress Framework by StudioPress, and the Dynamike Website builder child theme. I knew a ton of bloggers that were using it, and that loved it.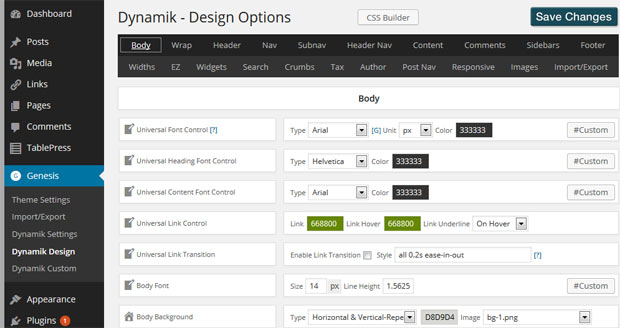 Some of the reasons that I switched to using Genesis include:
Easy to use: The Genesis framework is extremely easy to use with a whole host of site options, SEO settings and custom page frameworks built into the theme.
Customizable: The theme is very customizable, through the stock configuration or through the use of child themes.
Secure: The Genesis team brought on one of the core WordPress developers in order to make sure that the framework was as secure as possible. After having been hacked in the past and hearing other people have issues due to old outdated themes, it's good to hear they're serious about security.
Tons of child themes: There are a ton of great child themes you can buy for the Genesis theme, many of them for anywhere from $20-30. I ended up buying the Dynamik Website Builder child theme (which costs a bit more) because of the sheer number of ways it allows you to customize your site.
Large community and number of resources: There are a ton of resources available talking about how to customize Genesis, and in addition there is a large community of Genesis users willing and able to help you if you can't find an answer.
Easy updates: You can set the theme to email you whenever there is an update, and you can update your theme from the dashboard without worry of losing your customizations since they're made to the child theme.
Great reputation: Their reputation precedes them and you know they offer a quality product – that they'll stand behind.
I may do a more in depth review of Genesis and Dynamik theme down the road, but for now let's just say that I'm extremely happy with the framework and child theme, and that I look forward to using this theme for years to come.
Looking for a theme to use for your site? I highly recommend that you check them out:
New Site Giveaway
To celebrate the launch of the new site, I decided to do a giveaway!
To enter to win just check out the rafflecopter widget below and do the actions described to earn entries!
Prizes You Can Win
What are the prizes?
Grand Prize: Big Bag of Personal Finance Books + $25 Amazon Gift Card
Second Prize: $10 Amazon Gift Card