A recent study from Fidelity identifies saving for college as one of the top goals that parents have for 2014.
According to the study, about 85 percent of parents have saving for college as one of their top three goals for this year.
This isn't too surprising when you consider the following two facts about college:
Many middle class families still view a college education as one of the best ways to ensure financial success in life, since a college education is still often equated with getting a good job later.
The cost of college continues to rise at an alarming pace.
Parents who want to help their children to success expect their children to attend college — and they know that they need to start saving now because the cost of attending college is only going to head higher if things keep on as they are.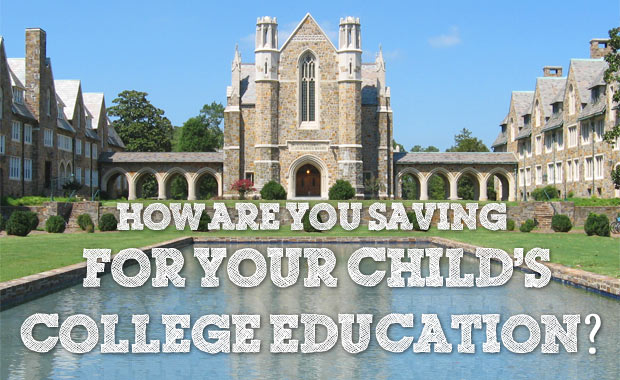 So it makes sense that a financial goal related to college saving is high on the list for many parents.
Setting Money Aside for College
There are two main ways that I am setting money aside for my son's college education. First of all, we opened a 529 plan on his behalf several years ago. This is a way to take advantage of the stock market to help his account balance grow. The money is invested in a rather boring all-market fund in order to alleviate some of the risk.
The other thing we've done is sign up for a credit card branded through Upromise. We shop through the Upromise site, and use the Upromise branded credit card for online shopping. It's a way to leverage credit card rewards on behalf of our son's college education. It's not amounting to a whole lot right now, but it every little bit helps. Plus, now that Upromise offers the option to automatically save with a Sallie Mae savings account, or invest the money in a 529, we are thinking about changing things up a bit to add a little more yield to the college savings effort.
Will It Be Enough?
I still don't know if what we're doing will be enough to completely pay for our son's college education.
The Fidelity survey indicates that parents, on average, want to set aside $405 a month to help their children pay for college. If this $405 a month is divided up amongst multiple children, that can affect what is paid for each.
According to the College Board, the average cost of tuition and fees for the 2013–2014 school year was $30,094 at private colleges, $8,893 for state residents at public colleges, and $22,203 for out-of-state residents attending public universities.
Additionally, whether or not what your setting aside will be enough depends on other factors. My son already shows signs of promise in terms of academic achievement, so we're hoping he can qualify for some scholarships to help the cause. My husband and I both attended school with the help of scholarships, so we're hoping that our son can do so as well. Additionally, there are student loans.
Even if my son has to take student loans to help him along, what we save up over time is likely to reduce the amount he would need to borrow. And, finally, he is even contributing to the cause on his own. He sets aside 20 percent of his income for long-term savings, and this is a habit we hope will continue as he gets older and gets a job.
What are you doing to help prepare for the costs of a college education? Or are you encouraging your child to skip college altogether?