A week or two ago I wrote a review of Betterment.com, an investing website and online brokerage that allows people to automatically invest their money on a regular basis, and have their money be automatically and regularly re-allocated to their correct percentage of stocks and bonds. Basically, it's an easy and simple way to invest for people who don't want to deal with all the nitty-gritty details of investing.
I've been pretty impressed with the site, and with how it makes investing more accessible to regular folks who might have otherwise not had the time or inclination to invest. It's a point-and-click solution that will take you 5-10 minutes to get up and running.
Now that they've announced this week that you'll also get a signup bonus when you open your account, I think now is a good time to sign up for an account. After all, you're already making a return before you start!
Details Of Signing Up For Betterment
Signing up for Betterment is about as simple as a process can get. I went through it a couple of weeks ago when signing up for my own account. It will take you about 5 minutes to enter all your information. You'll need the following to get started:
Contact information, date of birth, and social security number
Employment information
Checking account information
I had opened my account and linked my checking account in less than 5 minutes, and then I just had to wait for Betterment's trial deposits into my account, which took about 1-2 days to happen. Next I transferred my money over to my account and I was ready to invest!
Using Betterment Once You've Signed Up
Betterment keeps everything extremely simple when it comes to investing your money, and really you're only going to have to make choices on a few things.
Choose how much to put into your account.
Choose your allocation of stocks vs. bonds. (They'll help you with this if you're not sure)
Decide if you want to do automatic investments.
Here's a video from Betterment talking about the site, the signup process, and how their tools work.
What Investments Make Up The Account?
Curious about just which investments make up your account? They divide up your holdings into a few different diversified ETFs so your money will basically track market performance.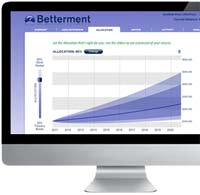 Stock ETFs:
Treasury Bonds:
So there is your diversified portfolio! Piece of cake!
Track Your Betterment Account In Mint.com
If you're a fan and user of Mint.com personal finance manager like I am, once you're signed up for your Betterment account you can also track your portfolio's performance in your Mint.com account. To add your new account just log in, and click on the "add account" link in the left sidebar. On the page that comes up search for Betterment when it asks for your bank name. It will bring up the login screen where you'll just put in your login info for betterment. Your account will then be added to the "Investments" section of your accounts.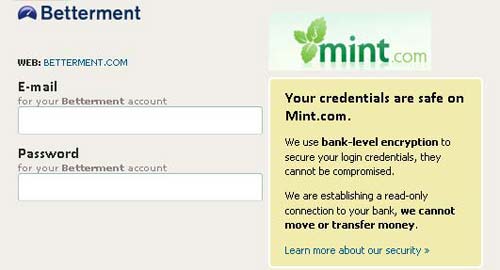 If you've set up automatic investments already with Betterment, you can now just track your performance in Mint without having to regularly log in to Betterment. It will show you historical performance charts, allocations, and lots more. Talk about easy.
Sign Up Now To Get Your Account Fee Free For A Limited Time!
I've been using Betterment for a couple of weeks now, and I'm really enjoying using the site because it just makes everything so easy. Add money, allocate, invest. That's how simple investing should be!
Since they now have a limited-time account bonus that will give you your account fee-free for a time, you'll be ahead of the game right out of the gate. There's no reason not to invest, especially if you were thinking about jumping in anyway! Sign up through the link below.
Signup Bonus When You Open A Betterment account. Click here.