NOTE: Betterment is offering up to 1 year free to new users. Find out full details here. Read our updated Betterment review here.
Lately I've been hearing a lot about a new investing website and brokerage account through Betterment.com. What is Betterment? At its very basic it's another in a long line of online brokerages that allow you to hold stocks and bonds as investments via ETFs, like an account through Etrade or Ally Invest.
But it's more than just that. It's also a tool that helps automate the investing process to make it simpler for the average user, and for those who are just too busy to stay on top of their investing accounts all of the time. So today I thought I'd do a review of Betterment.com.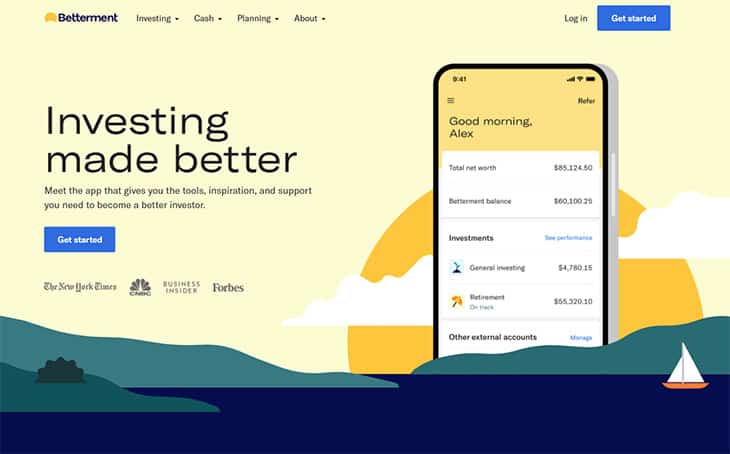 Betterment Background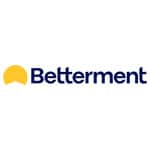 Betterment.com was founded by Jon Stein in 2008. Betterment.com launched at TechCrunch Disrupt 2010 NYC. In December 2010 Betterment.com received $3 Million in a Series A financing round from Bessemer Venture Partners (lead) and Anthemis Group.
Betterment LLC is a Registered Investment Advisor with the SEC and they're SIPC insured. You can be assured of the same protections as you would with a larger financial institution. Of course, since this is an investing account and not a savings account, there is no assurance of not losing your money.
Betterment launched in 2010, and in only a short time after their launch, they were receiving a lot of buzz with writeups in The New York Times, CNNMoney, Investment News, Mint.com, and more.
Awards
When the website launched at the end of 2010, it was already receiving quite a bit of recognition for its innovative ideas and approach.
TechCrunch Disrupt NYC 2010 "Battlefield Finalist"
TechCrunch Disrupt NYC 2010 "Best NYC Startup"
FinovateFall 2010 "Best of Show"
2014 – The First Automated Investing Service to Reach 50,000 Customers With More Than $1 Billion Under Management.
2015 – The First Automated Investing Service to Reach 75,000 Customers With More Than $1.7 Billion Under Management.
2015 – Added to the FT300, the Financial Times' list of Top Financial Advisors.
2016 – Wealth Management Award Winner for best 401(k) Retirement Plan Support Services.
2017 – Benzinga Fintech Award Winners for best robo-advisor.
2019 – Investopedia Best Robo-Advisor
2020 – Investopedia – Best for CashManagement
Since they launched over a decade ago they've had plenty of recognition for their innovated investing tools, and now have over 500,000 happy customers and over $22 Billion in assets under management! Not too shabby.
How Does Betterment Work?
So what exactly is Betterment, and how does it work? The basic idea is this – a lot of people are either just too busy to get too far into the weeds with their investment decisions, or they are too intimidated by the array of choices out there when it comes to investing. Betterment attempts to take the confusion out of the process by making investing simple.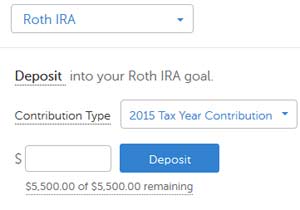 So when you set up an investment account with Betterment, they make the process super simple. After you signup, The only choices you'll need to make are:
How much to invest.
How much of your investment you want in equities (Stock Market).
How much you want in bonds.
You can also set up automatic investments on a regular basis if you want to.
Within stocks and bonds, they divide up your holdings into a variety of ETFs so that you are diversified. Here is what you get on the stocks side:
Vanguard Total Stock Market ETF (VTI)
Vanguard US Large-Cap Value Index ETF (VTV)
Vanguard US Mid-Cap Value Index ETF (VOE)
Vanguard US Small-Cap Value Index ETF (VBR)
Vanguard FTSE Developed Market Index ETF (VEA)
Vanguard FTSE Emerging Index ETF (VWO)
For bond ETFs here is what you get:
The exact allocations of each stock or bond ETF will depend on the allocation you choose. Either way, the stocks and bonds you get will give you a nice diversified portfolio.
Asset Allocation And Visualization Tools
To me one of the selling points of Betterment is the allocation and visualization tools you can use to set your investment goals. You can update your asset allocation, and investing time horizon and see what kind of returns you can expect to see given your amount invested, level of risk, and historical returns. It's pretty interesting to play with the tool and see the differences you can expect given different allocations.
Let's say that you have about $50,000 invested as the demo account does. If you have 80% invested in stocks and 20% in bonds, given a 20-year time horizon it will show you a forecasted range of returns that you could expect to see – anywhere from $100,000-$600,000. Change the percentages and timelines and it can drastically affect your results.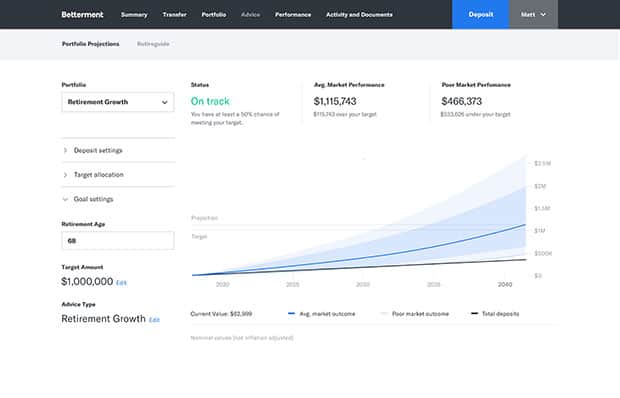 So if you decide you want to change your allocation either to include more stocks or bonds, you just move the slider up or down and then hit the "change" button, and Betterment will update your account holdings and purchasing decisions going forward. Piece of cake!
Automatic Re-allocation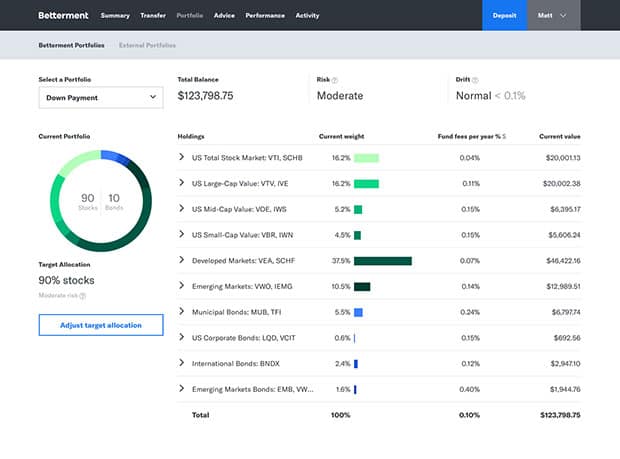 One of the nice things about an account with Betterment is that it will automatically re-balance your portfolio for you every three months, or if your allocations drift more than 5%. Without re-balancing, your account can easily shift over time to have an allocation that is heavier on stocks or bonds than you want it to be. If you start out at say 80/20 stocks to bonds, if you don't reallocate over time you could one day find that your account has an allocation more like 75/25 or 70/30.
This is one of those things that most investors neglect to do on a regular basis, so it's nice to have that part of the account be automatic.
SmartDeposit
Betterment has a feature called SmartDeposit. What is it? SmartDeposit is a way to ensure that you're investing more money in the stock market via Betterment instead of just letting it sit in your checking account. How does it work?
You go into your Betterment account and turn on the SmartDeposit feature for your taxable investing account (it isn't available for IRAs currently). Once you enable it it will ask you want the maximum amount you need in your bank account is, and how much Betterment should invest at a time.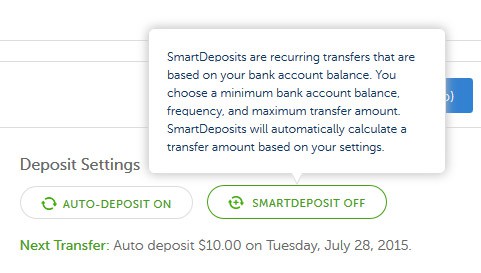 Once Betterment has that information it will automatically invest any excess cash in your checking account over the amount you set. Betterment will check your account at least once a week.
You'll receive notifications of any pending transfers so you can modify or cancel the transaction for up to 24 hours before it happens.
Tax Efficient Investing
One big change that Betterment has made in the past couple of years was to implement a more tax-efficient philosophy. They have implemented strategies to make Betterment more tax-efficient and increase returns for most users.
Tax Loss Harvesting
Betterment will look at your portfolio and help offset your capital gains through Tax Loss Harvesting – which could add an estimated +0.77% in after-tax returns, annually. So what exactly is Tax Loss Harvesting?
Tax loss harvesting is the practice of selling a security that has experienced a loss. By realizing, or "harvesting" a loss, investors are able to offset taxes on both gains and income. The sold security is replaced by a similar one, maintaining the optimal asset allocation and expected returns
While tax-loss harvesting used to have a $50,000 account balance minimum, it is now included at no cost for all users!
TaxMin Lot Selling
Betterment helps save on taxes by using TaxMin Lot Selling.
Choosing which lots of shares to sell can greatly impact the investment taxes you pay. Using our TaxMin cost basis accounting method, we go beyond the industry standard (FIFO). We intelligently liquidate each of your lots when you withdraw to minimize your capital gains.
Tax Impact Preview
Betterment will give you real-time tax information that will help you to make more informed investing decisions. If you decide to change your allocation or make a withdrawal, their Tax Impact Preview tool will allow you to see what kind of an impact the change will have on your taxes, and returns.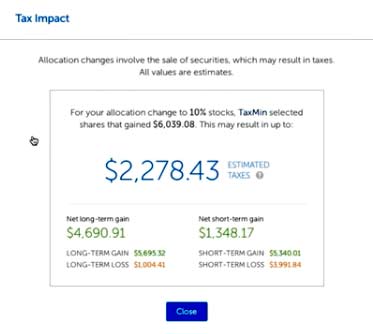 Tax-Efficient Investments
Betterment only invests in exchange-traded funds (ETFs) which are generally more tax-efficient, when compared to mutual funds. Investing in ETFs can provide an estimated .7% in tax savings per year.
Smart Rebalancing
Betterment uses cash flow and dividend reinvestment in order to reduce the need to sell shares to rebalance your account. This can lower your capital gains taxes over time.
Betterment Cash Reserve And Checking Accounts
Up until July of 2019 Betterment had an alternative to the high-yield savings products offered by online banks called Betterment Smart Saver. Your money was invested in very short-term securities that pay comparable rates to those offered on online savings accounts and CDs.
Betterment announced the release of their new Betterment Cash Reserve account which will offer one of the highest APYs in the industry.
How is it different from the Smart Saver product? It will offer a higher rate than many other savings accounts, have FDIC insurance up to $1,000,000, no minimum balance, no fees on balances and unlimited withdrawals (versus only 6 with most savings accounts).
The Checking account includes ATM fees reimbursed worldwide, no account fees, no overdraft fees, no minimum balance, and FDIC insurance up to $250,000. It also includes a bright blue Betterment Visa debit card.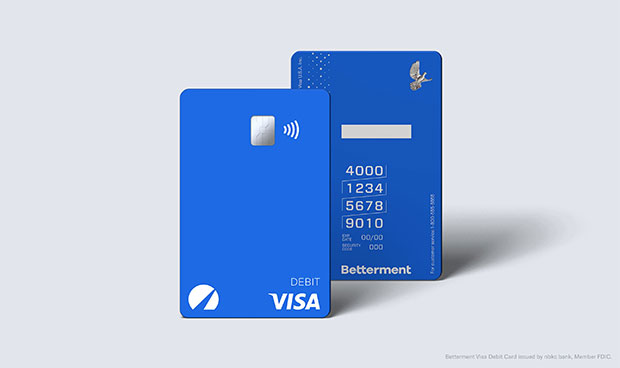 Mobile Apps For iOS and Android
Betterment didn't have an app when they launched way back then, but they now have beautiful apps available for both iOS and Android.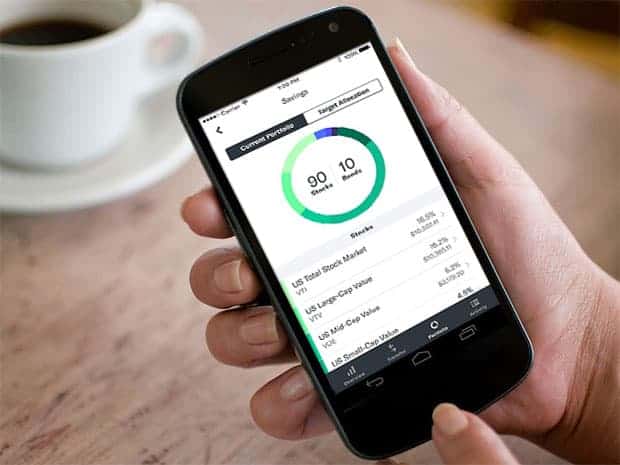 Things you can do in the app include:
Check the balance and returns of your portfolio in real time.
Deposit and withdraw money anywhere, any time.
Manage your portfolio's stock and bond allocation.
Review your goals and account activity.
The apps have only gotten better since they were released, and now support PIN login, management of your portfolio, and reviewing your goals anywhere on the go.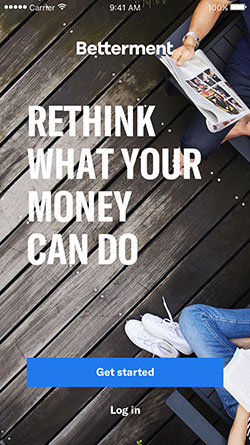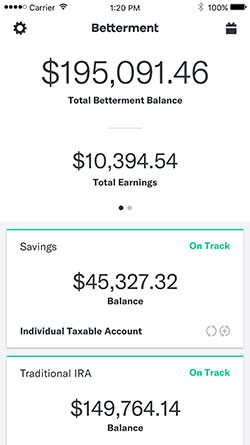 Fees And Charges
Here is where the rubber meets the road – what kind of fees and charges can you expect for using Betterment vs. Vanguard or some other low-cost investment company?
There are no minimums to invest, and there are no fees for trades. Betterment has three plans now, a Digital Plan, a Plus Plan, and a Premium Plan.
Digital Plan: The plan that most people will end up using, the Digital Plan, charges a flat pro-rated yearly fee that is 0.25% for all users regardless of your account balance.
Plus Plan: If you opt for the Plus Plan, where you get access to a team of CFP® professionals which includes an annual phone consultation. The cost is 0.40% annual fee (with a $100k account minimum).
Premium Plan: The Premium Plan gives you unlimited phone consultations with the Betterment CFP® professionals and costs 0.50% annual fee per year. It carries a $100k account minimum.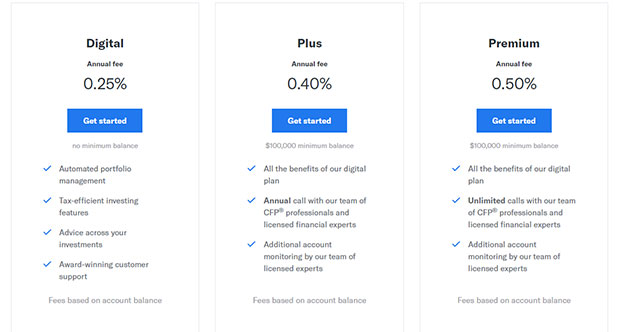 Here is how they explain it on their FAQ:
Our Digital plan costs just .25% per year and offers unlimited access to automated portfolio management, tax efficient investing features, personalized financial dashboards and award-winning customer support. This plan has no minimum balance requirement.

If you'd like access to our team of CFP® professionals and licensed financial experts, you can elect into our Plus plan for .40% per year, which makes you eligible for an annual phone consultation as well as proactive account monitoring by our team of licensed experts. This plan requires a minimum balance of $100,000.

If you need more than one consultation per year, you can elect into our Premium plan for just .50% per year, which makes you eligible for unlimited calls with our team of CFP® professionals and licensed financial experts. This plan requires a minimum balance of $100,000.
NOTE: All accounts also now get tax-loss harvesting at no additional cost and no minimums. Previously there was a $50,000 minimum for this service, but that minimum no longer applies after Betterment removed the minimums for tax-loss harvesting a while ago.
The fees for Betterment originally ranged anywhere from 0.3% up to 0.9% annually when they launched. For many folks that was where they probably stopped reading, as having a 0.9% fee on account balances would be far too high, especially for folks who are more versed in the stock market and have confidence that they could buy a target retirement fund, or low fee index fund via Vanguard or similar low-cost mutual fund company. Going with a low-cost provider like Vanguard would mean a much lower cost because when you do it yourself there are no management fees. Depending on the balance that can be quite a bit of money you'd be saving by doing it all yourself.
Thankfully Betterment quickly reduced their fees from the high .9% for most folks with low balances, and it is now only .25% for most folks, which is very competitive for what they provide, and in line with many other providers.
Conclusion
Betterment.com launched at the end of 2010 and has received a ton of good press and accolades for its innovative investment platform. I have to admit that I am impressed with how they have taken a difficult subject – investing – and made it much more accessible to the average person. The fact that you can make automatic investments, allocations are automatically adjusted, and that it can be a cost-effective option for some investors with smaller amounts to invest make it an attractive offering. Betterment returns promise to be as close to matching the market as possible.
All in all – I think Betterment will be a great offering for many folks who are investing smaller dollar amounts, and who don't want to do all the legwork and regular reallocation of assets. If they want a set it and forget type account, Betterment should probably be one of the first that they consider. And now that they've got a bonus just for signing up, I think there's really nothing to lose! I've signed up myself, and now have about $20,000 invested with the service.
Signup Bonus When You Open A Betterment Account. Click Here.
Have you used Betterment.com, or are you considering it? Tell us your thoughts on Betterment in the comments!