One of the keys when it comes to investing for the long term is to make sure you're minimizing the fees you're paying to invest your money.
Whether it's plan administration fees for the company you're investing with, mutual fund expense ratios and fees, or fees for added account functionality, the more you can minimize how much you're paying, the better.
Morningstar reports that the average expense ratio for actively-managed equity mutual funds is 1.2% and investment grade bond funds have an expense ratio of 0.9%. For me, I prefer to invest in mainly low cost index funds with expense ratios that are much lower.
Beyond saving money on the expense ratios, I also would love to save money on the administration fees I pay in order to invest. My company 401(k) has fees just under 1%, which is way too much for my tastes. I've stopped investing there first since there is no company match.
I have an account with Betterment, and I love their automated investing service, but they still have a .25% annual management fee on my sub $10,000 balance.
This past week I was doing some research on the new slate of robo advisors that have popped up, and one of them jumped out at me because the company advertises itself as the world's first FREE financial advisor. Not only do they invest your money for you in a slate of well diversified ETF index funds, and rebalance your holdings on a regular basis, but they don't charge you any fees in order to do so.
This all sounded too good to be true, so I decided to do a full review of this new automated investing service called Axos Invest, to see what they are all about.
WiseBanyan Acquired By Axos Financial: Becomes Axos Invest
Axos Financial has acquired WiseBanyan Holdings.
As of October 2019 and moving forward WiseBanyan will be known as Axos Invest.
Axos Invest will become a part of the Axos Financial online banking platform. Check out our full review of Axos Bank.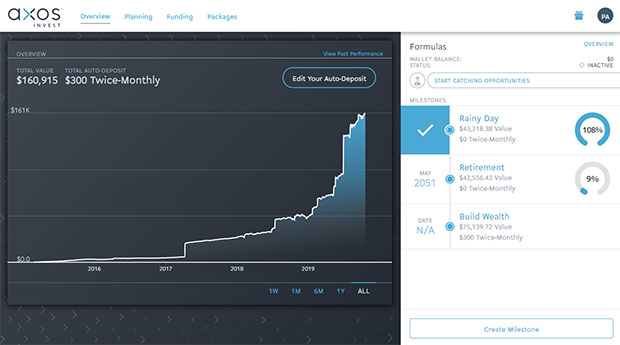 WiseBanyan/Axos Invest History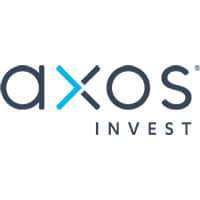 Just about 5 years ago Axos Invest launched, under the name WiseBanyan. They had the goal of being the world's first completely free financial advisor.
Here's their reasoning behind why they launched their site.
Herbert Moore and Vicki Zhou founded WiseBanyan after seeing that the incentives between financial advisors and clients were often misaligned. They saw this firsthand while working in asset management and investment banking respectively, and later as colleagues at a quantitative asset management firm. They realized that the main cause of misalignment was a conflict of financial interests, which often resulted in high fees, unnecessary tax consequences, and unreasonable account minimums for the clients. As a result, they set out to build a company that was not incentivized to earn money at its clients' expense.

WiseBanyan began with the idea that investing is a right – not a privilege. Our mission is to ensure everyone can achieve their financial goals, which starts with investing as early as possible. This is why there is no minimum to start and we do not charge fees. We hope you are as excited about WiseBanyan as we are, especially what it means for you, your friends, and society as a whole.
Axos Invest was launched with the hope of making investing easy, accessible and cheap – even for beginning investors who could only invest a small amount every month.
So how do they make their money if they don't charge any management fees, rebalancing fees or trading fees? Axos Invest has premium add-on client services and products that you can pay for (see below), but their base product is free. From the Axos Invest Facebook page:
We have paid investing and client services to compliment our free managed portfolios. Every paid service will have demonstrable value to clients – an example of one product is "Tax Protection" which includes tax-loss harvesting.
So the core product is free, and will remain that way, while there will be fees for some add-on products like tax loss harvesting.
Axos Invest Accounts Now Available
After reading up a bit about Axos Invest I was intrigued enough to sign up for one of their accounts. I went to their site to find that their service was invite only, and there was a waitlist to get an invite. The reason for that, according to Axos Invest, was because "we work with a broker-dealer that still uses manual processes to open your account. Our waitlist ensures we can control the flow of new clients to our broker-dealer and that new client accounts are invested quickly and seamlessly."
Thankfully the waitlist is now a thing of the past, and you can now open a new account with Axos Invest at any time! Head on over to their site via my exclusive Axos Invest invite link below to get your account now: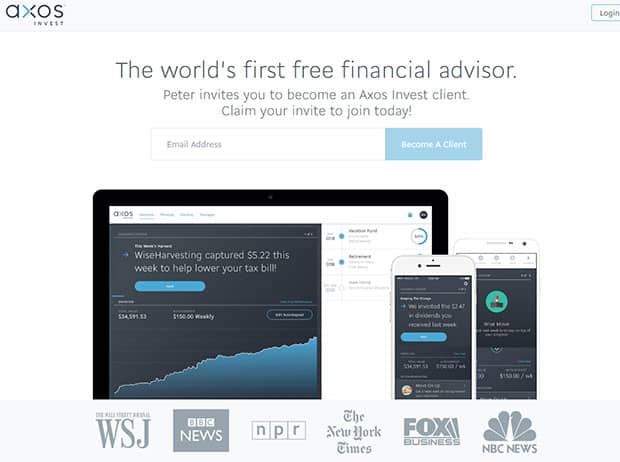 Open Your FREE Axos Invest Account Now
Opening An Account With Axos Invest
After I had clicked on the link in the welcome email, it dropped me right into a brief questionnaire to assess my risk tolerance, time horizon for investing and more.
While you're answering the questions you'll see a progress bar and a "current risk score" listed to the right, telling you just how conservative or aggressive Axos Invest believes you are.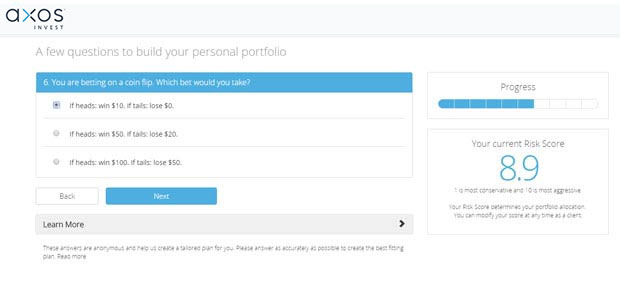 My risk score went up and down throughout the survey based on my answers, and when I was finally completed it gave me a risk score of 7.2. That would give me an estimated asset allocation of 65% stocks to 35% bonds – which seems about what most would suggest as I'm relatively conservative in my investments, and the bond allocation roughly matches my age (put your age in bonds!)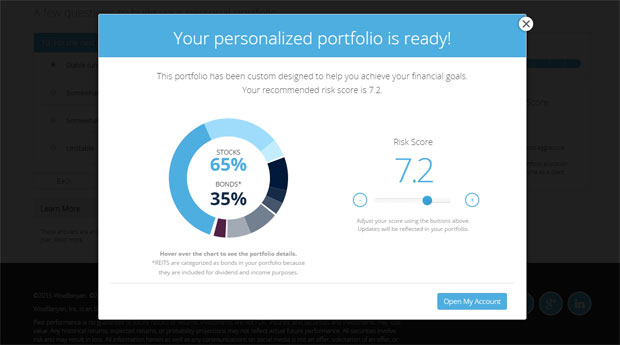 I decided that I wanted to change my risk score and asset allocation to be a bit more aggressive, however, and you can do that simply by moving the slider to the right (or left if you're more conservative). I ended up with closer to a 75/25 stocks to bond allocation.
After completing the survey you click on the "Open My Account" button, which takes you into the account opening process. It will ask for all of your personal information including an email, password, employment information and social security number (like you would have to at any brokerage).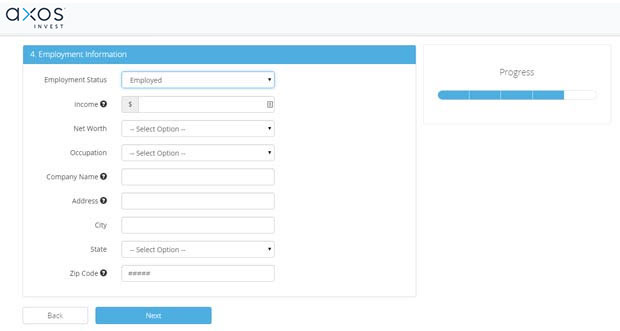 Once you're done entering your personal information you'll be asked to choose an account type. Currently you can choose:
Taxable Investment Account
Roth IRA
SEP IRA
Traditional IRA
After you choose an account type you'll be asked to link a bank to fund your account. You can then choose to fund the account with as little as $10. If you want, you can also set it up to automatically invest for you every month. I have it set to automatically invest $300/month for me on the 30th of every month.
Once you're done your account will be sent to Axos Financial for approval. Their site says it takes about 5 business days for an account to be approved.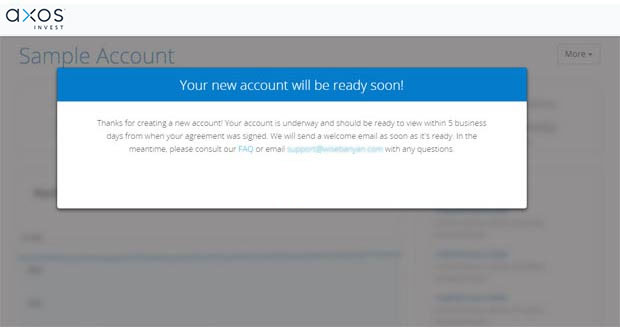 Axos Invest Investment Philosophy
Axos Invest will invest your funds based on Modern Portfolio Theory (MPT).
We use the tools of Modern Portfolio Theory to design the optimal portfolio for a given level of risk. In addition, we further optimize our investment process to minimize tax consequences and streamline the reinvestment of dividends and contributions.
Their investment philosophy is built upon four main pillars:
The value of diversification
Keeping fees as low as possible
The value of passive investing
Starting sooner rather than later
Axos Invest will attempt to give you a portfolio that is well diversified, low cost, and at low minimums so just about anybody can get started now. They'll use the ideas behind MPT to give you the optimal portfolio for your given risk score.
The Actual Investments
So what are you getting when you invest with Axos Invest? You're getting a well diversified portfolio that contains passively managed exchange-traded funds ("ETFs").
The funds held with Axos Invest have an average fund fee of 0.12% – the only fees you'll pay to invest. Here is the breakout for the individual funds they use (that is subject to change, and probably will) and their expense ratios: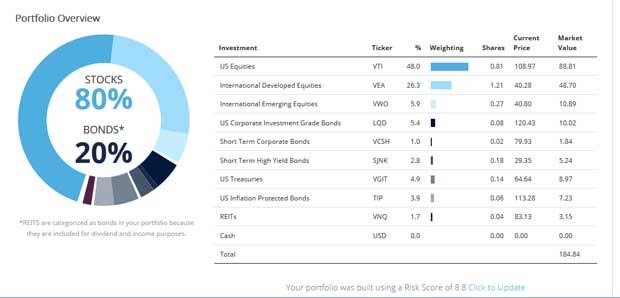 As you can see they have a broad diversification that also includes real estate via the Vanguard REIT Index fund, which isn't something that Betterment gives you.
The performance of Axos Invest has been pretty good. As you can see from the screenshot from Barron's "Ranking the Robos" article below, WiseBanyan/Axos Invest had the second best two year annualized return, through 6/30/19. Not too bad!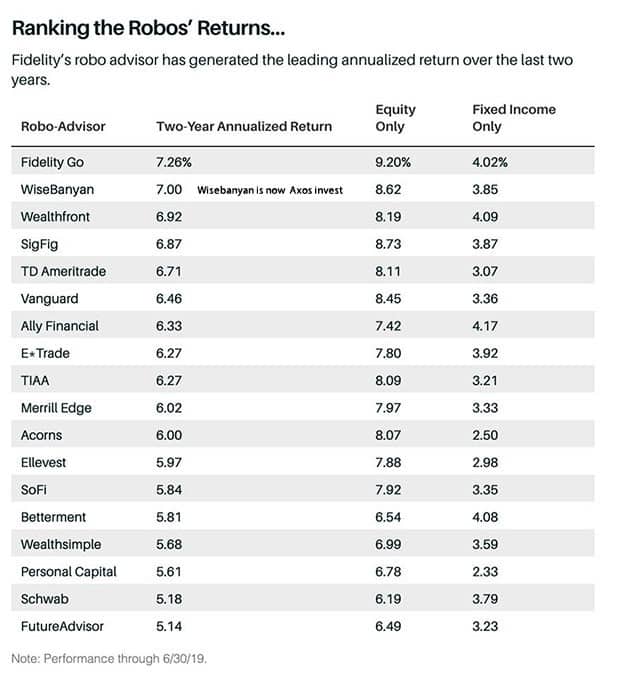 Axos Invest Mobile App
When the service first came out one of the complaints some users had was that there was no mobile app for the service. As of January 2016 there was a mobile optimized app for iOS released, and shortly thereafter an Android app was released as well.

From the app you can now do things on the go like check your balances, view your allocations, make a quick deposit and more. The apps really are very pretty to look at, and are a pleasure to use.
Axos Invest Fees & Account Charges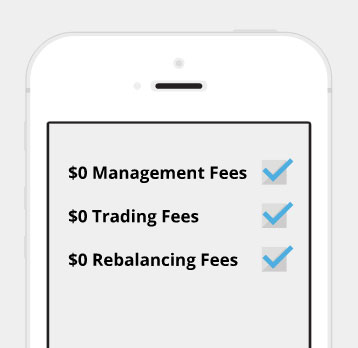 Probably one of the biggest draws for Axos Invest at this point in time is the fact that they are essentially a fee free service. Here are a few of the fees (or lack thereof) that you'll see with the service:
Management fee: FREE
Trading fees: FREE
Rebalancing fees: FREE
Dividend reinvestment fee: FREE
So essentially the Axos Invest service is free to use with no management or trading fees, and no fees to rebalance your account. Competing services like Wealthfront or Betterment will charge anywhere from a 0.15%-0.35% annual management fees, so right off the bat you're saving those fees, which can add up to big money over time.
There are some fees related to transferring funds via wire transfer, or do a full account transfer out, although regular electronic funds transfers (EFT) are free.
Electronic Fund Transfer (EFT) fee: FREE for deposits or withdrawals.
Wire transfers in: FREE (although your bank may charge).
Wire transfers out: $30 per wire transfer.
Account closing fee: FREE.
Full account transfer out fee: $75 per account.
Partial account transfer out fee: $5 per security ($25 minimum/$75 max).
Disbursement of funds by check by mail: $20 per check.
Returned EFT or check fee: $35 per occurrence.
As mentioned above, Axos Invest's product and service is free with the exception of a few small fees for certain types of transfers, or check disbursements. They plan on making their money through add-on products and services.
Premium Add-On Products & Services
There are several premium packages in your Axos Invest account that have a fee associated with them. You can turn them off and on whenever you want.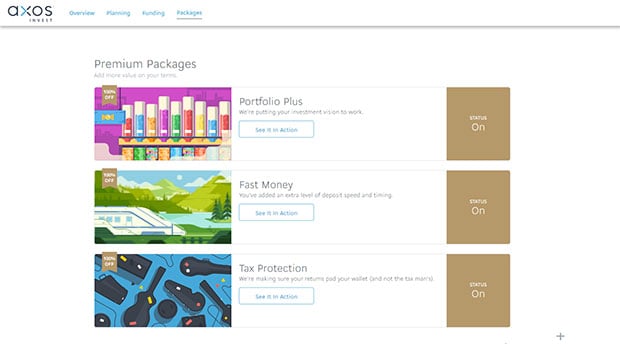 Currently the premium packages include:
Portfolio Plus: The ability to create your own custom portfolio from an expanded list of investments. You can choose from lists of different investment classes and types and add up to 20 investments to each portfolio you create. It costs $3/month to use this add-on package.
Fast Money: When activated this gives you quick same day deposits, auto-deposit scheduler and overdraft protection. It costs $2/month to use this add-on package.
Tax Protection: This package will give you "WiseHarvesting" tax loss harvesting, selective trading (to remove ETFs you hold elsewhere to avoid potential for wash sales) and IRAutomation, which helps you to maximize the use of your retirement account deposits, setup auto deposit plans and more. Each month the cost will be the lesser of 0.02% of your average Axos Invest account value (0.24% annually) or $20. So if you have $5,000 in your account, the monthly cost would be $1.
Using these add-on packages is purely optional, but even if you were to turn them all on it likely isn't going to cost you more than a few bucks per month.
Axos Invest: Great For Cost Conscious Investors
When I first read about Axos Invest I dismissed it out of hand because I thought that there had to be a catch somewhere, there's no way they were offering this service for free when others are charging anywhere from .15%-1.0% annual management fees for similar services.
After looking into it further, however, it does truly seem like Axos Invest is committed to offering a fee free investing service, and plan to keep it that way.
The question is – is it sustainable? They intend to make money for their service via add-on products, like tax-loss harvesting, but we'll see if that will be enough to keep them going for the long term.
For now, however, it does seem like a good option for newer investors. Not only can you start investing with no account minimums, and no management fees – but you can buy fractional shares with as little as $10 and get a highly diversified portfolio that should match the market in the long term. The account has SIPC protection that covers up to $500,000 per client as well, so if Axos Invest were to go under you'd be covered.
I've signed up for my own Axos Invest account and have been with them now for a couple of years. They are one my new go-to recommendations for new investors.
Open your own free account below via my invite link.
Get Started With Axos Invest Now!