Disclaimer: Bible Money Matters has entered into a referral and advertising arrangement with Wealthsimple US, LTD and receives compensation when you open an account or for certain qualifying activity which may include clicking links. You will not be charged a fee for this referral and Wealthsimple and Bible Money Matters are not related entities. It is a requirement to disclose that we earn these fees and also provide you with the latest Wealthsimple ADV brochure so you can learn more about them before opening an account.
In the past couple of years I've written about quite a few investing startups that offer easy ways to invest that take the human component out of the equation.
They're typically simple enough for anyone to understand, low cost and try to capture market returns via low cost ETF index funds. Many people call them robo-advisors.
As I was researching some of the best robo-advisors I came across one that had previously only been available in Canada, Wealthsimple. As of earlier this year they have now crossed the border, and are now available to U.S. users (You can also get up to a $10,000 managed for free as a reader of Bible Money Matters).
Wealthsimple is a hot company, and there is a lot to like about this newer online investment manager.
Today I thought I would take a close look at this automated investment advisor in this Wealthsimple review. How does Wealthsimple work? How do they invest your money? What are the pros/cons of their service?
Wealthsimple Background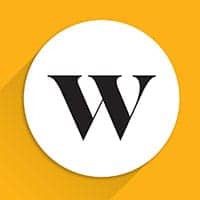 Wealthsimple was founded in September of 2014 in Toronto, Ontario Canada. Shortly thereafter it acquired ShareOwner Investments, the country's first robo-advisor.
Wealthsimple Financial Inc. is an online investment management service focused on making "investing easier for millennials." The firm was founded in September 2014 by Michael Katchen and is based in Toronto. As of August 2019, the firm had over C$5,000,000,000 in assets under management.
Wealthsimple has over $5 billion Canadian dollars in assets under management ($3.75 million U.S.) and over 175,000 clients as of August 2019. They're growing at a decent rate, and with the jump to the U.S. market in January 2017, that can only accelerate.
The company has garnered several awards in it's first few years including:
Fintech 100 – Top 100 Global Financial Technology Companies
2017 Webby Winner – Best Financial Services/Banking Website.
2016 Webby Winner – Best Financial Services/Banking Website.
2016 – Fintech Five – Hottest and most promising financial technology companies.
2015 Product Hunt Toronto – Product of the Year Award.
How Does Wealthsimple Work?
Wealthsimple was founded on the idea of simplifying and automating investing in order to give newer and experienced investors alike a diversified long term portfolio, without any hassle.
How do they do that? They create diversified stock and bond portfolios that are typically made up of ETF index funds. The funds are low cost and diversify your holdings across different sectors of the global economy to increase your gains, and lower your risk.
When you sign up you'll be given a personalized portfolio, based on your answers to a survey at the beginning of the process. It will be tailored to your personal level of acceptable risk, be automatically re-balanced (so that your investments stay in line with your goals) and dividends will automatically be reinvested.

In short, it's a simplified, low cost and automatic investment portfolio that can help you to reach your long term goals.
Opening A Wealthsimple Account (Get Up To $10,000 Managed Free!)
Opening an investing account with Wealthsimple is easy, and users in the USA, Canada and UK are eligible.
To get started, and to get your sign-up bonus, just go through this process:
Go to Wealthsimple.com via this link. (Our link gives you up to a $10,000 managed for free as a bonus.)
Start the online application: From the landing page click "Claim your bonus" and follow the prompts.
Enter basic details: Enter some basic personal information, answer a few questions about your previous investment experience and e-sign one or more Investment Management Agreements.
Bank verification:Verify your banking information via one of the approved methods.
DONE!
No need to worry about providing your banking details as Wealthsimple is fully secure, using 128 bit encryption. They're also SIPC insured up to $500,000.
After you verify your banking information, your Wealthsimple account should be up and running within 5 business days, according to their FAQ.
Wealthsimple Basic Vs. Wealthsimple Black
When you're opening your account and making your initial deposits, one thing you may want to consider is just how much your initial deposit is. With a deposit of less than $100,000 you'll be signed up for a Wealthsimple Basic account, which gives you everything you need to invest in a diversified portfolio, at an annual fee of 0.5%. Signing up for the Basic account will give you a $50 bonus through our link.
If you deposit more than $100,000 in your account you'll be upgraded to a Wealthsimple Black account, which means you'll have a lower annual fee of 0.4%, along with the following benefits:
Financial planning with a Wealthsimple advisor
Access to tax-efficiency benefits like tax-loss harvesting and tax efficient funds.
VIP Priority Pass access for you and a guest to more than 1,000 airline lounges in over 400 cities.
If you already have a large amount to transfer in, the added benefits of Wealthsimple Black are nice to have, and in many cases puts Wealthsimple ahead of the competition. In addition to the $50 bonus for opening a new Wealthsimple account, you'll get an additional $50 bonus if you deposit over $100,000 and open a Wealthsimple Black account.
Wealthsimple Investment Portfolios
The Wealthsimple portfolios mainly invest in diversified ETF index funds and are based on Nobel Prize winning ideas behind Modern Portfolio Theory. Here's how they explain it: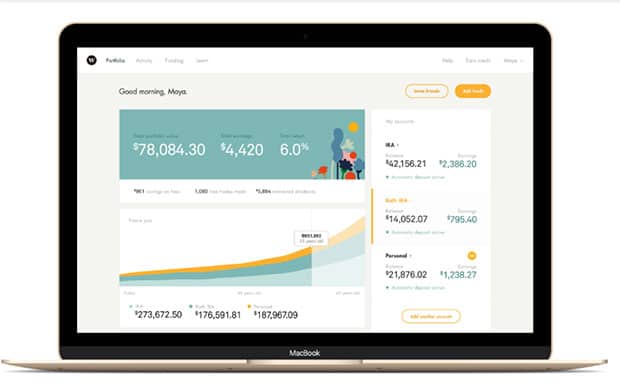 Our approach is based on Modern Portfolio Theory, introduced by the Nobel Prize-winning economist Harry Markowitz, who proved you can minimize volatility (risk) and maximize reward (money!) by diversifying your investments. We invest your money across thousands of companies using Exchange Traded Funds (ETFs) that track different sectors of the global economy. This way, you bet on bigger slices of the economy while taking advantage of market diversification, without being impacted by the growth or loss of one company. In a few easy steps, we'll determine the right mix of investments you should have based on your personal goals. We also designed a socially-responsible portfolio that prioritizes low carbon emissions, advances cleantech innovation, and promotes sustainable growth in emerging markets.
So their portfolios are based on a proven investment strategy, and are designed to maximize reward while minimizing risk. It's a strategy similar to the ones used by other robo-advisors, although the details are a bit different.
Available Portfolios
When signing up there are 3 main portfolios that you can choose from:
Conservative: 65% Stocks, 35% Bonds
Balanced: 50% Stocks, 50% Bonds
Growth: 80% Stocks, 20% Bonds
As of 2017, the following low cost investments are in the portfolios:
Vanguard US Total Stock Market ETF (VTI)
Vanguard Mid-Cap Value ETF (VOE)
Vanguard Small-Cap Value ETF (VBR)
Vanguard FTSE Europe ETF (VGK)
WisdomTree Japan Hedged Equity Fund (DXJ)
Vanguard FTSE Emerging Markets ETF (VWO)
iShares National Muni Bond ETF (MUB)
iShares TIPS Bond (TIP)
Vanguard Total Bond Market ETF (BND)
VanEck Vectors Fallen Angel High Yield Bond ETF (ANGL)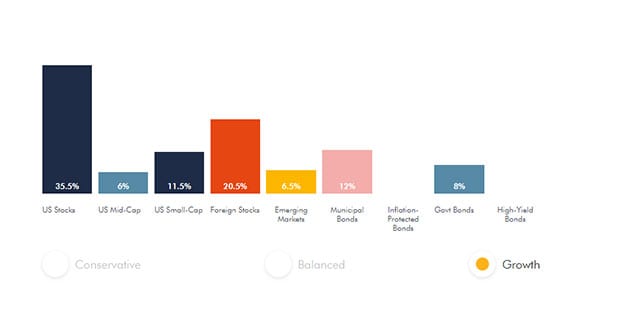 Socially Responsible Investing
Wealthsimple recently released socially responsible investing options for investors who want to invest with their values. Those investments include:
iShares MSCI ACWI Low Carbon Target (CRBN)
PowerShares Cleantech Portfolio (PZD)
iShares MSCI KLD 400 Social ETF (DSI)
SPDR® SSGA Gender Diversity Index ETF (SHE)
PowerShares Build America Bond Portfolio (BAB)
iShares GNMA Bond ETF (GNMA)
Socially responsible investing options will carry a slightly higher fund cost associated with managing the funds to keep the investments "socially responsible". Keep that in mind when choosing this option.
Investments in all of the portfolios can change over time, so check for current investment mix when you sign up.
Wealthsimple Roundup
Wealthsimple added a new feature in October of 2018 called Wealthsimple Roundup that helps you to save and invest in small increments, based on your daily spending in a linked account.
Spend $4.50 at Starbucks? The amount will get rounded up to the nearest dollar, $5 in this case, and once a week your combined roundups will be invested.
How can you take advantage? From their FAQ:
If you're already a Wealthsimple client, open your mobile app and click on "Add funds." There will be an option to turn on Roundup. Then just select the credit and debit cards you want to connect, and the Wealthsimple account you want your roundups to go to. Bingo, you're done. Every time you spend money with one of your linked debit or credit cards, the amount gets rounded up to the nearest dollar, and once a week that money gets invested.
Investing 50 cents at a pop may not seem like much, but when the roundups are added together it can be a surprisingly significant amount of money.
In the past when I've used a roundup feature it can lead to saving $100-200 in a single month if I've spent enough. Definitely a cool feature and one to take advantage of.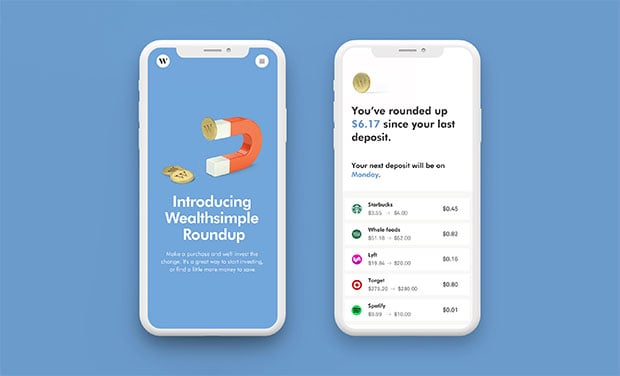 Wealthsimple Mobile Apps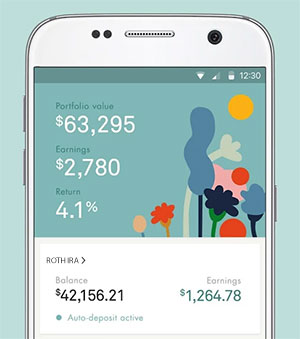 Wealthsimple has beautiful mobile apps for both iOS and Android. The apps were redesigned from the ground up at the end of 2016, and are now even more beautiful and functional.
Some of the functions you can perform in the app:
View your portfolio.
Track account activity.
Setup auto deposits, or make one time deposits.
Access educational content.
Update your profile information.
Wealthsimple Service Fees And Minimums
So how much will you be paying to use Wealthsimple? What are the fees and minimums for using the service?
Wealthsimple currently has no minimums on an account, and there are no trading, account transferring or rebalancing fees either. You can start investing when you deposit $500.
Low Annual Management Fees
The account management fees with Wealthsimple are pretty easy to break down.
$500-$99,999 invested: 0.50% annual management fee.
$100,000+ invested: 0.40% annual management fee.
While the fees for the service aren't the lowest in the industry, they are often much lower than going with a traditional human advisor or a large mutual fund company. They are very much in line with much of the industry on pricing, especially if you're investing more than $100,000 where they include meetings with advisors, lower fees and other perks.
Simplified & Automated Investing
Wealthsimple was launched in the U.S. market in January 2017, and has quickly become one of the premier options for people looking to have a simple, effective and automated investment portfolio. (If you're a Canadian, check out this Wealthsimple review that was written specifically for a Canadian audience.)
Their portfolios are created and based on the ideas of Modern Portfolio Theory, and those proven strategies are the sound basis for a good long term investing portfolio for anyone.
Their fees are lower than you'd likely see when using a traditonal financial advisor, and are in the range of what other providers charge (although some are lower). The fact that they're offering a $100 sign-up bonus through our link should give you plenty of time to test the service out, before deciding if you want to use them for the long term.
I think their service is top notch, and I'd recommend giving them a try.
Sign Up For Wealthsimple, Get Up To A $10,000 Managed Free!