A few blogging friends and I decided to put together a series of posts called "Frugal things to do when you're in…", where we each choose our favorite city or hometown, and put together an article with frugal things to do while you're there.
I decided to put together an article talking about my hometown of Minneapolis, Minnesota.
Frugal Things To Do When You're In Minneapolis, Minnesota
Each person in the series will be talking about each of their home areas, and highlight frugal things to do there when you're visiting (or if you live there). Once you're done reading this article, feel free to check out the other articles in the series (links at the bottom of the page) for frugal things to do in other cities!
So without further ado, here are frugal things to do when you're in Minneapolis.
Minneapolis, A Great Place To Live And A Wonderful Place To Visit!
Minneapolis, at approximately 422,331 people, is the largest city in Minnesota.
The name "Minneapolis", means "The City of Lakes" in a mash-up of the Dakota word minne and the Ancient Greek word polis, which refers to the city's 22 natural lakes.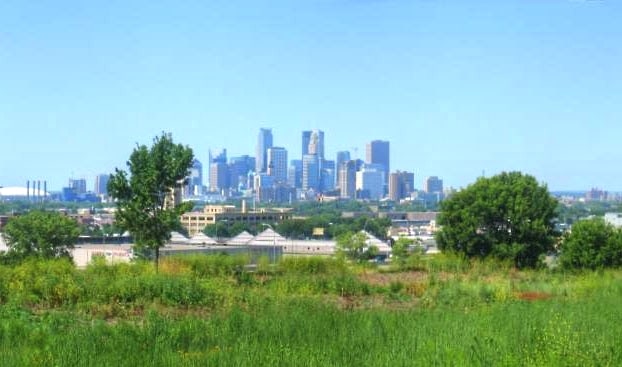 Having lived in Minneapolis and surrounding areas for most of my life, I love living here, and think it is a true treasure, a beautiful place to live or visit. There is always something to do.
You can enjoy the outdoors in one of our many parks. Or if you prefer you can attend a world class Broadway show downtown. The cuisine is delicious and the nightlife is hopping. In short, you can't go wrong with a visit to Minneapolis.
So what are some ways that you can keep things on the frugal side when visiting Minneapolis?
Below I'm going to list some of the best ways that I know to make your trip fun and exciting, while at the same time not breaking the bank. Some of the suggestions will be right in Minneapolis itself, while others may be St. Paul or the greater Twin Cities metro area. (all photos in the post were taken by me!)
So first let's start with transportation:
Transportation In Minneapolis
Minneapolis has plenty of public transit options to help you keep things affordable. If you're flying into Minneapolis St. Paul International airport, a good option for getting to the downtown area is to take the light rail transit. Light rail is a relatively new addition to the Twin Cities area, and if you're going to certain areas of the city it can be an affordable option to get from point A to point B. Fares will be anywhere from $1.50 to $2.75 for the express.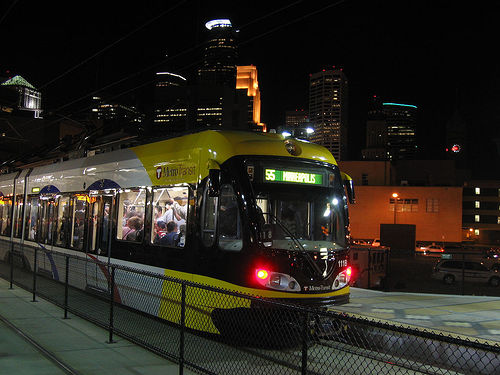 Along the light rail route include such highlights as the airport, the Mall of America (one of the largest malls you'll ever see), Minnehaha Falls, and ending up in downtown Minneapolis at the U.S. Bank Stadium, home of the Minnesota Vikings. See the U.S. Bank Stadium light rail stop in the picture above. It goes a few blocks further ending right near Target Field, home of the Minnesota Twins.
Minneapolis also has plenty of buses running just about round the clock, so you shouldn't have too much trouble finding transportation in the city.
If you're planning on doing a lot of driving around the Twin Cities (probable if you want to see some things in outlying areas), try using a discount car rental website like hotwire.com or priceline.com to get a good deal on a car rental. It is definitely easier to get around in Minneapolis if you have a car.
Both Uber and Lyft are available in the Twin Cities area, and you shouldn't have much trouble finding a ride if you use those ridesharing apps.
If you like to bike, Nice Ride Minnesota, a local bikesharing program has more than 1,500 bikes and nearly 200 stations in its network. If you want to ride around the city you should be able to use a bike for a $6 day pass.
Where To Stay In Minneapolis
If you're coming to Minneapolis for a visit, there are a ton of places that you can stay. Most hotels will be right in the downtown area in the midst of all the action.
If you're looking for something closer to the airport and on the light rail line for convenience, there are a couple of new hotels attached to the Mall of America that are brand new and beautiful.
Personally I prefer to stay in a residential neighborhood in a private home. Airbnb is pretty popular in the Minneapolis area, so I'd recommend checking for a rental near downtown, or in one of the neighborhoods near the Minneapolis chain of lakes.
Enjoy Our Parks And 10,000+ Minnesota Lakes
Minneapolis is known as the city of lakes, and with 22 of them – there is a good reason. Any one of those lakes makes a great place to take the family for a picnic, take a canoe ride, or just to enjoy some sun.
Here are a few of my favorite parks and natural spaces in Minneapolis and surrounding areas.
Lake Bde Maka Ska (Formerly Lake Calhoun): A great place to go for the day to enjoy some sun, a canoe ride, maybe some beach volleyball and a nice walk around the 3+mile lake. It is the place to see and be seen in the summer months (FREE)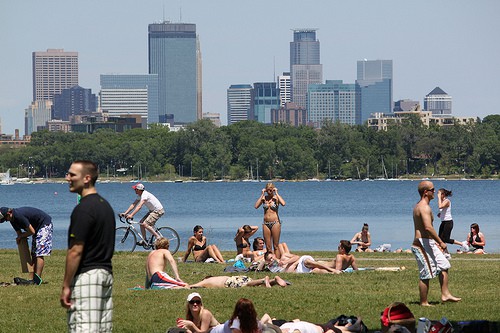 Minnehaha Falls: The falls are a natural wonder, and definitely a must visit for shutterbugs. In the area surrounding you can take nice long walk from the falls down to the Mississippi river, or have a picnic. Beautiful! (FREE)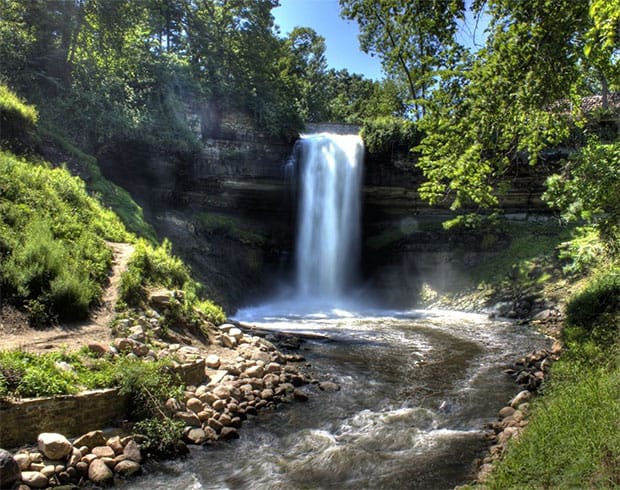 Minnesota Landscape Arboretum: A 1,047-acre garden and arboretum about 20 minutes outside of Minneapolis. Because of it's natural beauty this is often a chosen as a great spot for weddings and for just getting some great pictures. (15 and under free, $7 adults. Free all day Thursday in the winter, and free on Thursday evenings from 4.30 p.m. until 8 p.m. or sunset in the summer)
Lyndale Park Rose Gardens at Lake Harriet: Lake Harriet in south Minneapolis has a beautiful Rose Garden that has been blooming every year since 1907-1908. It's a popular place for weddings, photography and peaceful reflection. If you're going to Lake Calhoun anyway, stop by the Rose Gardens, it is just a short walk away. Also, right across the street is a beautiful asian inspired Peace Garden (FREE)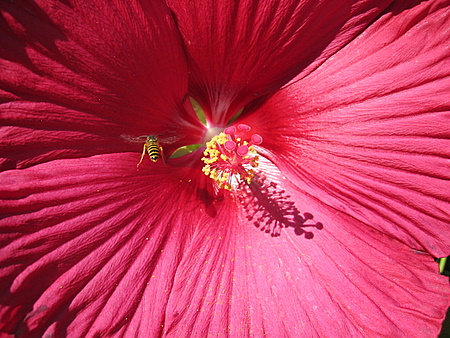 Lyndale Park Peace Garden: Across the street from the Rose Gardens is the Peace Garden. This Asian influenced garden is home to two peace stones from Nagasaki and Hiroshima, a peace pole dedicated to peace between nations and a Japanese yatsu-hashi crooked path bridge. Very calming. (FREE)
Major Attractions In The Twin Cities
Mall of America: If you like to shop, or even just people watch, this place will be heaven. At the time it was built it was largest mall in america, and one of the largest in the world. Fun place just to visit, even if you don't spend money. Also has an indoor theme park. If you prefer, you can go a few miles up the highway and visit the country's first enclosed climate controlled shopping center, Southdale Center. (FREE + any money you spend shopping)
Minnesota State Fair: At the end of Every August, the Minnesota State Fair is the most happening place to be with over 1.7 million visitors every year, the largest state fair by average daily attendance. While it probably won't be completely frugal, if you enjoy eating, riding rides and viewing state fair exhibits, this is one of the best fairs in the country. (Admission: $12 + food + rides). How to save at the Minnesota State Fair.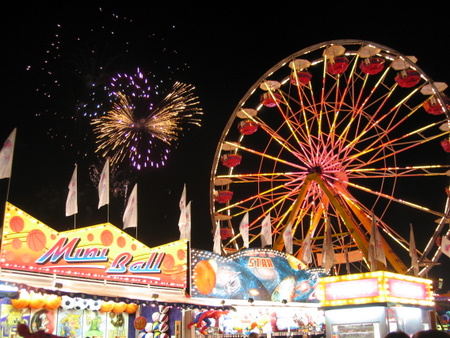 Guthrie Theater: Take in a broadway show at the beautiful riverfront theater complex that opened in 2006. Get in line for discounted rush tickets, or just go up to the fifth floor to take in the views of the Mississippi river from the Guthrie's "endless bridge" river overlook (FREE + show cost).
Como Zoo: Located in St. Paul, this is one of two zoos in the area, and the only free one. Even though its free it still has a wide variety of wildlife – everything from polar bears to tigers and gorillas. One of the best free attractions in the cities. (FREE: donations accepted)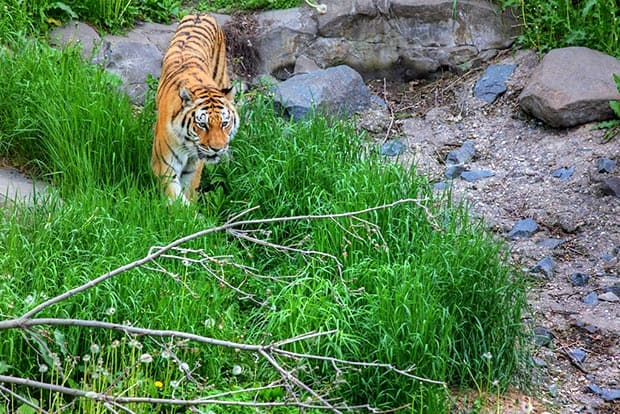 Marjorie McNeely Conservatory at Como Park: A beautiful indoor conservatory/greenhouse that houses a plethora of beautiful plants year round. A great place to go in the winter if you're getting cabin fever, just take a walk through the tropical plants section and you'll be just fine (FREE: donations accepted)

Sculpture Gardens & Walker Art Center: For a little bit of culture go and visit the Walker Art Center and Sculpture Gardens. Considered one of the nation's "big 5" museums for modern art. The museum normally costs $15 for adults, but

is free

to all every Thursday evening (5–9 pm) and on the first Saturday of each month 10 am–5 pm. (FREE)
Museums In The Twin Cities
We have a lot of great museums in the Minneapolis area. Here are a few of my favorites.
Mill City Museum: Newly completed museum in downtown Minneapolis looking at the city's past as the flour capitol of the world. Beautiful Mississippi riverfront location, a great place to take a stroll after you visit the museum. ($10 adults, $5 children)

Science Museum of Minnesota: While it isn't exactly cheap to go here, it is a great museum, and worth the price. They currently have a Star Wars exhibit showing. ($16 adults, $13 children)
Minnesota History Museum: Museum looking at Minnesota history. Beautiful museum building in downtown St. Paul. ($10 adults, $5 children. See below for how to get a free pass)
Minneapolis Institute of Arts: located in south Minneapolis, this museum houses a ton of classical art, traveling exhibitions and also houses the Children's Theater. My personal favorite museum, and best of all, it's free! (FREE)
American Swedish Institute in Minneapolis: As a person of Swedish ancestry, I'd be remiss if I didn't mention the American Swedish Institute in Minneapolis. Once a private residence, the Turnblad Mansion is now a museum and cultural center charged with promoting Scandinavian culture in Minneapolis-St. Paul and preserving connections with the old country. ($10 adults, $5 children)
Walker Art Center: This is a leading museum of contemporary visual arts and design. The first Saturday of every month the museum features "Free First Saturdays" which means free gallery admission, plus performances, games, art-making, and kids' films from 10 am to 3 pm. (FREE first Saturday, $15 adults, $10 children other days)
The Bell Museum of Natural History: The Bell Museum is part of the University of Minnesota and is located on the University's Minneapolis campus. Update: This museum location has closed permanently now, but will reopen in summer of 2018 on the St. Paul campus's new location. (Free admission on Sundays)
Visit Museums free Courtesy of Minneapolis Libraries and Macy's: if you can get a resident to go to the library for you – you can get tickets to many of these and other great museums for free!! Details HERE. Thanks to Crossinator for the tip. Visit his site here.
Other free museums: Here is a link to free museums across the Twin Cities thanks to Nikki: Free Museums
Minnesota Sports
We have a lot of great sporting event options here in the Twin Cities.
St. Paul Saints Baseball: Minor League baseball at it's best. An evening at a Saint's game is one you'll never forget. From the goofy announcers and massages given by nuns, to the fan contests between innings, you'll love going to one of these games. My brother had his groom's dinner here the night before his wedding. (Starting at $5 adults, $4 children)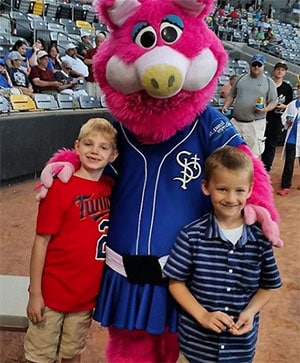 Minnesota Twins: Go to a Twins game all summer at the new Target Field in downtown. Major League baseball is always a good time, and it is doubly fun at the beautiful stadium with panoramic views of the downtown skyline! Look for promotions for cheap tickets during the week, or family packages on the weekend. (Starting at $10 general admission)

Minnesota Vikings: This isn't going to be frugal, but going to a Vikings game is an electrifying experience. It has become even more so since the new stadium was completed last year. (starting at around $30)
Minnesota Wild: Probably one of the Twin Cities most popular teams, going to a Wild game at the Excel Energy Center is probably the best NHL experience you can get anywhere. Again, not cheap, but well worth it if you like hockey. (starting at around $30)
Minnesota Whitecaps: The National Women's Hockey League recently added a franchise in Minnesota. Head on over for an entertaining night of competitive women's hockey! (starting at around $20)
Minnesota Timberwolves: The red-headed stepchild of Minnesota sports for many years after they traded Kevin Garnett and started over. Last year with Jimmy Butler, Karl Anthony-Towns, Andrew Wiggins and others they are once again a good draw, enjoying their first playoff series in over a decade. While Butler is now gone, they are still fun to watch. You can get some cheap tickets for one of these games if you search around, they're the 3rd most affordable ticket in the NBA. (Starting at around $17)
Minnesota Lynx: The WNBA Lynx are one of Minnesota's most decorated teams, having won the WNBA championship 4 times. You can get some cheap tickets for one of these games, and the entertainment value is high! (Starting at around $18)
Minnesota United FC: The Minnesota United Football Club started their first Major League Soccer season in 2017, and promise to be a lot of fun. Their first season or two they played at TCF Bank Stadium in Minneapolis, and they'll soon take up residence at Allianz Field, their new stadium in St. Paul. (Starting at around $20)
Dining & Drinks
After being out on the town all day, you're gonna want to have a bite to eat. Personally I'm partial to the Juicy Lucy (cheese filled hamburger) that you can find at a variety of places across the cities.
The Nook: Some of the best burgers in the Twin Cities, and very affordable. My favorite place to get a burger ($10-15)
Matt's Bar: Just like the Nook above, this neighborhood pub in Minneapolis known for it's Jucy Lucy cheeseburger (hamburger with melted cheese inside the burger). Go here for a little neighborhood flavor, and a cheap meal! ($10-$15 per person)
Midtown Global Market: A global marketplace with foods from tens of different countries. Food from Israel, Mexico, China, Africa, and more! Fun place to shop and eat – or even take dance lessons- and you won't have to spend a ton of money. ($10-15)
Best Cheap Eats in Minneapolis: Check out this link for the city's best cheap eats in Minneapolis. (LINKS HERE and HERE)
Other Frugal Entertainment
There are a lot of other frugal things to do for fun in Minneapolis.
Comedy Sportz Comedy Club: A great place to go for family entertainment – they offer a hilarious clean show, and you'll be rolling in the aisles. ($10 Thurs $12 Fri-Sat)
Music shows at one of the many fine music clubs in downtown Minneapolis: There are a ton of great local music clubs in Downtown Minneapolis, particularly in the warehouse district. Check out First Avenue (of Prince fame), the Fine Line Music cafe or the Dakota Jazz Club on weekends for some great music at an affordable price.
Wabasha Street Caves: Visit the Wabasha street caves and take a tour of the caves and surrounding complex. The caves were used during prohibition as warehouses for illicit booze and had speakeasies for mobsters and their friends. My wife and I used to go swing dancing here, and they still regularly hold dances. Fun place to check out. ($8 for tour)
Mill City Farmer's Market: From May through October this farmer's market brings healthy, local and organic groceries to the downtown waterfront, with live entertainment as well. (FREE)
Play Frisbee Golf: The Minneapolis area has more disc golf parks than almost any other metro area in the United States. (FREE)
Tour the Minneapolis Federal Reserve: I worked at the Fed in college, beautiful building on the Mississippi. Between June and November they have free guided tours for individuals and families available, Monday through Friday with advance registration. Learn about the nation's central bank and financial system, and how U.S. currency makes its way to your local bank. (FREE)
Free Brewery Tours: Enjoy a free brewery tour at Insight Brewing or Surly Brewing, or any one of the other popular local breweries in the Twin Cities craft beer scene. Check out my Twitter list of Minnesota breweries here to find one near where you'll be. Most breweries will have a free tour available, many of them on Saturday. (FREE)
Tour the State Capitol Building in St. Paul: Tour the second-largest self-supported marble dome in the world at the Minnesota Capitol buiding. It was recently completely restored to it's original 1905 grandeur. Weather permitting you can also walk to the Quadriga (golden horses) on the roof. (FREE – donations accepted)
Theodore Wirth Park: Cross country ski, snowboard, snow tube or snowshoe in the winter recreation area at Wirth Park. Low cost equipment rental and lessons are available.
Here's a list of 150 things to do in Minneapolis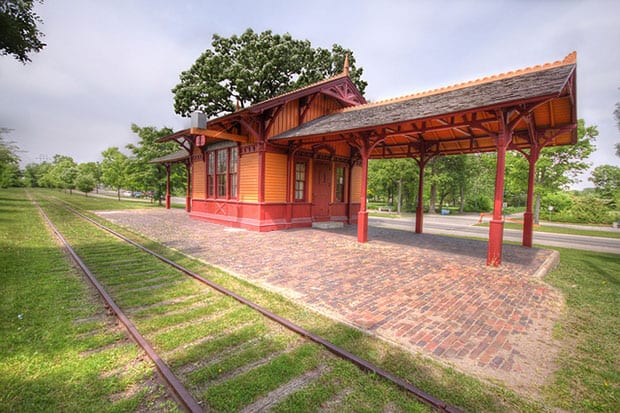 So there you have it, my quick list of frugal things to do when you're in Minneapolis. Have your own suggestions? Leave a comment and maybe I'll add it to the list!
Other "Frugal Things To Do In.." Posts Below!