Frugal Things To Do When You're In…
A few blogging friends and I decided to put together a series of posts called "Frugal things to do when you're in…", where we each choose our favorite city or hometown, and put together an article with frugal things to do while you're there. I decided to put together an article talking about my hometown of Minneapolis, Minnesota.
Each person in the series will be talking about each of their home areas, and highlight frugal things to do there when you're visiting (or if you live there). Once you're done reading this article, feel free to check out the other articles in the series (links at the bottom of the page) for frugal things to do in other cities!
So without further ado, here are frugal things to do when you're in Minneapolis.
Minneapolis, A Great Place To Live And A Wonderful Place To Visit!
Minneapolis, at approximately 410,939 people, is the largest city in Minnesota. The name "Minneapolis", means "The City of Lakes" in a mash-up of the Dakota word minne and the Ancient Greek word polis, which refers to the city's 22 natural lakes.


MY LATEST VIDEOS
Having lived in Minneapolis and surrounding areas for most of my life, I love living here, and think it is a true treasure, a beautiful place to live or visit. There is always something to do. You can enjoy the outdoors in one of our many parks. Or if you prefer you can attend a world class Broadway show downtown. The cuisine is delicious and the nightlife is hopping. In short, you can't go wrong with a visit to Minneapolis.
So what are some ways that you can keep things on the frugal side when visiting Minneapolis? Below I'm going to list some of the best ways that I know to make your trip fun and exciting, while at the same time not breaking the bank.  Some of the suggestions will be right in Minneapolis itself, while others may be St. Paul or the greater Twin Cities metro area.  (all photos in the post were taken by me!)
So first let's start with transportation:
Transportation
Minneapolis has plenty of public transit options to help you keep things affordable.  If you're flying into Minneapolis St. Paul International airport, a good option for getting to the downtown area is to take the light rail transit.  Light rail is a relatively new addition to the Twin Cities area, and if you're going to certain areas of the city it can be an affordable option to get from point A to point B.  Fares will be anywhere from $1.50 to $2.75 for the express.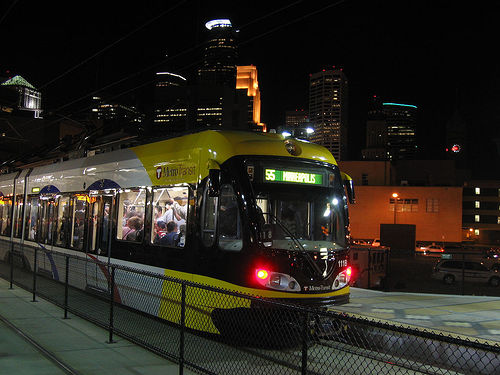 Along the light rail route include such highlights as the airport, the Mall of America (one of the largest malls you'll ever see), Minnehaha Falls, and ending up in downtown Minneapolis at the U.S. Bank Stadium, home of the Minnesota Vikings. See the U.S. Bank Stadium light rail stop in the picture above.  It goes a few blocks further ending right near Target Field, home of the Minnesota Twins.
Minneapolis also has plenty of buses running just about round the clock, so you shouldn't have too much trouble finding transportation in the city.
If you're planning on doing a lot of driving around the Twin Cities (probable if you want to see some things in outlying areas), try using a discount car rental website like hotwire.com or priceline.com to get a good deal on a car rental.  It is definitely easier to get around in Minneapolis if you have a car.
Enjoy Our Parks And 10,000+ Minnesota Lakes
Minneapolis is known as the city of lakes, and with 22 of them – there is a good reason.  Any one of those lakes makes a great place to take the family for a picnic, take a canoe ride, or just to enjoy some sun. Here are a few of my favorite parks and natural spaces in Minneapolis and surrounding areas.
Lake Calhoun:  A great place to go for the day to enjoy some sun, a canoe ride, maybe some beach volleyball and a nice walk around the 3+mile lake.   It is the place to see and be seen in the summer months (FREE)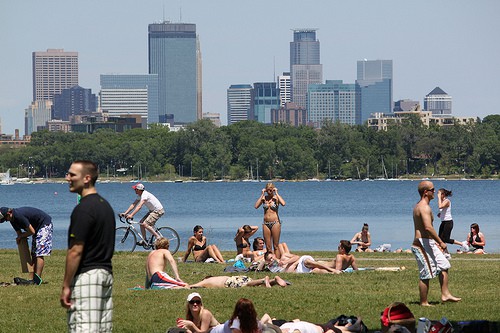 Minnehaha Falls: The falls are a natural wonder, and definitely a must visit for shutterbugs. In the area surrounding you can take nice long walk from the falls down to the Mississippi river, or have a picnic.  Beautiful! (FREE)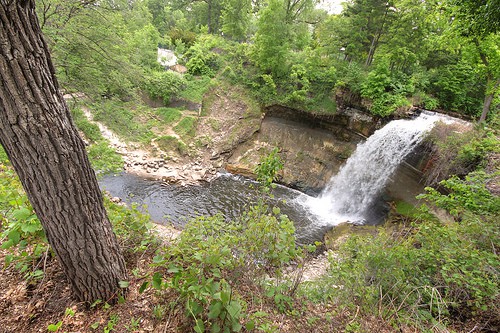 Minnesota Landscape Arboretum: A 1,047-acre garden and arboretum about 20 minutes outside of Minneapolis. Because of it's natural beauty this is often a chosen as a great spot for weddings and for just getting some great pictures. (15 and under free, $7 adults.  Free all day Thursday in the winter, and free on Thursday evenings from 4.30 p.m. until 8 p.m. or sunset in the summer)
Lyndale Park Rose Gardens at Lake Harriet:  Lake Harriet in south Minneapolis has a beautiful Rose Garden that has been blooming every year since 1907-1908.  It's a popular place for weddings, photography and peaceful reflection.  If you're going to Lake Calhoun anyway, stop by the Rose Gardens, it is just a short walk away.   Also, right across the street is a beautiful Japanese Gardens (FREE)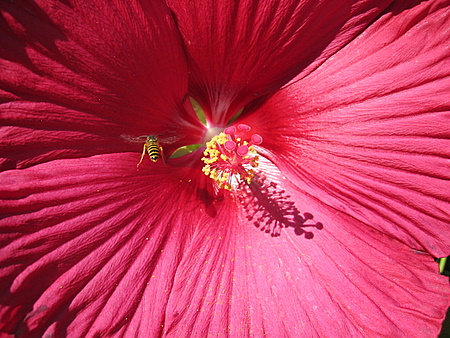 Major Attractions
Mall of America: If you like to shop, or even just people watch, this place will be heaven.   At the time it was built it was largest mall in america, and one of the largest in the world.   Fun place just to visit, even if you don't spend money. Also has an indoor theme park.  If you prefer, you can go a few miles up the highway and visit the country's first enclosed climate controlled shopping center, Southdale Center. (FREE + any money you spend shopping)
Minnesota State Fair:  At the end of Every August, the Minnesota State Fair is the most happening place to be with over 1.7 million visitors every year.  While it probably won't be completely frugal, if you enjoy eating, riding rides and viewing state fair exhibits, this is one of the best fairs in the country.  (Admission: $12 + food + rides).  How to save at the Minnesota State Fair.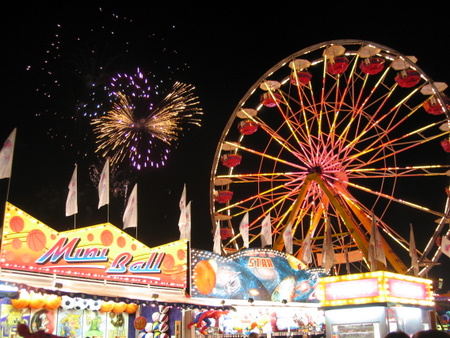 Como Zoo: Located in St. Paul, this is one of two zoos in the area, and the only free one.  Even though its free it still has a wide variety of wildlife – everything from polar bears to tigers and gorillas.  One of the best free attractions in the cities.  (FREE: donations accepted)
Marjorie McNeely Conservatory at Como Park: A beautiful indoor conservatory/greenhouse that houses a plethora of beautiful plants year round.  A great place to go in the winter if you're getting cabin fever, just take a walk through the tropical plants section and you'll be just fine (FREE: donations accepted)

Sculpture Gardens & Walker Art Center: For a little bit of culture go and visit the Walker Art Center and Sculpture Gardens.  Considered one of the nation's "big 5" museums for modern art.   The museum normally costs $10 for adults, but

is free

to all every Thursday evening (5–9 pm) and on the first Saturday of each month 10 am–5 pm.  (FREE)
Museums
We have a lot of great museums in the Minneapolis area.  Here are a few of my favorites.
Mill City Museum:  Newly completed museum in downtown Minneapolis looking at the city's past as the flour capitol of the world.  Beautiful riverfront location. ($10 adults, $5 children)

Science Museum of Minnesota: While it isn't exactly cheap to go here, it is a great museum, and worth the price. They currently have a Star Wars exhibit showing. ($16 adults, $13 children)
Minnesota History Museum:  Museum looking at Minnesota history.  Beautiful museum building in downtown St. Paul. ($10 adults, $5 children.  See below for how to get a free pass)
Minneapolis Institute of Arts: located in south Minneapolis, this museum houses a ton of classical art, traveling exhibitions and also houses the Children's Theater. My personal favorite museum, and best of all, it's free! (FREE)
The Bell Museum of Natural History: The Bell Museum is part of the University of Minnesota and is located on the University's Minneapolis campus.  Update: This museum location has closed permanently now, but will reopen in summer of 2018 on the St. Paul campus's new location. (Free admission on Sundays)
Visit Museums free Courtesy of Minneapolis Libraries and Macy's: if you can get a resident to go to the library for you – you can get tickets to many of these and other great museums for free!! Details HERE.  Thanks to Crossinator for the tip.  Visit his site here.
Other free museums: Here is a link to free museums across the Twin Cities thanks to Nikki: Free Museums
Sports
Dining & Drinks
Matt's Bar: Neighborhood pub in Minneapolis known for it's Jucy Lucy cheeseburger (hamburger with melted cheese inside the burger).  Go here for a little neighborhood flavor, and a cheap meal! ($10-$15 per person)
Midtown Global Market: A global marketplace with foods from tens of different countries.  Food from Israel, Mexico, China, Africa, and more!  Fun place to shop and eat – or even take dance lessons- and you won't have to spend a ton of money.  ($10-15)
The Nook: Some of the best burgers in the Twin Cities, and very affordable.  My favorite place to get a burger ($10-15)
Best Cheap Eats in Minneapolis: Check out this link for the city search Best Cheap eats in Minneapolis 2008 (LINKS HERE and HERE)
Other Frugal Entertainment
Comedy Sportz Comedy Club: A great place to go for family entertainment – they offer a hilarious clean show, and you'll be rolling in the aisles. ($10 Thurs $12 Fri-Sat)
Music shows at one of the many fine music clubs in downtown Minneapolis:  There are a ton of great local music clubs in Downtown Minneapolis, particularly in the warehouse district.   Check out the Fine Line Music cafe or the Dakota Jazz Club on weekends for some great music at an affordable price.
Here's a list of 150 things to do in Minneapolis
So there  you have it, my quick list of frugal things to do when you're in Minneapolis.  Have your own suggestions?  Leave a comment and maybe I'll add it to the list!
Other "Frugal Things To Do In.." Posts Below!