When traveling, you'll probably find that your accommodations eat up a good portion of your budget. Hotels don't usually come cheap, and alternatives like Bed & Breakfasts may still be more than you want to spend.
The good news is that lodging doesn't always have to cost you a lot of money.
There are lots of low-cost alternatives that most anyone can afford. You just have to know where to look, be creative and occasionally sacrifice a convenience or two.
1. Hostels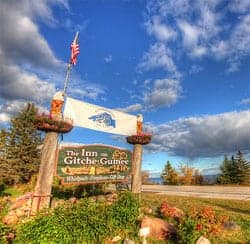 Hostels aren't just for young people. And you don't have to be subjected to a single room with 9 other people, either (unless you want to, of course).
When my mom and I traveled to New Zealand, we stayed in quite a few hostels. Yes, a lot of the people there were young. But there were quite a few older people, as well.
You don't always have to bunk up in a shared room, either. Many hostels also have private rooms with attached baths.
Good hostels will also have most of the amenities you need at a fraction of the cost of a hotel.
2. Camping
If you're the rugged outdoor type – or even if you're not, but willing to rough it for a night or two – you can opt to sleep under the stars.
You don't always need all the fancy stuff like cots and cushions, though I'll admit a tent does make things a bit nicer.
But at a minimum, you'll want a sheet or sleeping bag and a flat surface to lie down on. That stuff shouldn't cost you much. And for some, waking up to fresh morning air beats waking up in a stuffy hotel any day.
3. Airbnb
Airbnb.com is a unique option that came onto the scene in 2008.
People from all over the world list their places on the site and you can find anything from a spare bedroom in someone's house to a luxury penthouse.
Prices will vary widely, but if you're looking for something simple and affordable, you could score a really great place. Save $40 on your first trip of over $75 by using this link.
(Want to host people at your home and make some extra money? Learn about being an Airbnb host here)
4. Apartments
If you'll be staying a week or longer at your destination, it's worthwhile to look into renting an apartment on sites like VRBO.com (Vacation Rentals By Owner).
You'll typically get a better deal on a place the longer you stay, and apartments rented by the week or month will lower your rate considerably when compared to a hotel.
5. House Sit
If you're the responsible sort and you're willing to help out a bit around the house, house sitting could be a great alternative to a hotel.
Many homeowners want their plants watered or their pets fed in exchange for a place to stay and sometimes a nominal fee.
6. Couch Surf
I know this one might be a bit of a stretch for a lot of people, and sleeping on some stranger's couch might seem a bit sketchy. But the biggest perk of all? It's free.
It's not just about the price, though. CouchSurf.org really believes in the value of connecting fellow travelers with each other and you never know, you may just meet your next best friend on your travels.
To Sum Up
These low-cost alternatives to hotels can keep your travel costs super low or, in the case of couch surfing, at zero dollars spent.
What other alternatives do you suggest for finding affordable lodging options?
This article was written by Kim Olson over at Everything Finance, a site about just that, everything related to finance. Head on over to get information about investing, saving money, the best savings rates, shopping, blogging, and making money online.