I've written about quite a few online financial management software on this site over the past couple of years. I've found a couple that I really enjoy using including Mint.com and Empower. Both of those sites have great budgeting and tracking tools built into their pages, and have a nice visual experience for people who want to stay on top of their finances.
This past week I was introduced to another new financial management tool and website from the folks at Power Wallet. The Power Wallet website will help you to set a budget, manage monthly bills and payments, while helping you to save money via local coupons, offers and daily deals. They'll also soon have the ability to earn points in their rewards program to earn cash back and discounts at popular retailers.
So how does Power Wallet stack up, and what features and functionality do they have available? Let's take an in depth look in this Power Wallet review.
Power Wallet Company History

Power Wallet launched in early 2012 as a beta product, and after going through several months of beta testing it launched at the Financial Blogger Conference in September of 2012. So what is Power Wallet? From their site:
PowerWallet is a free online personal financial management tool that helps users budget smarter, manage their monthly bills & expenses easier, plan for the future and save more with customized coupons. Launched in early 2012, PowerWallet has quickly grown with the intent to help Americans take power over their personal financial situation.
I like their philosophy of helping Americans to take power over their financial situations, that's something I aim to do with this site as well. Just how well do they do that? Let's take a look at what they have to offer. But first, we need to sign up.
Signing Up For Power Wallet
Signing up for the Power Wallet site is super easy. I've partnered with the folks at Power Wallet to launch a customized portal for Bible Money Matters readers and you can now sign up for their service for free through this link. All you'll need to signup is the following information:
Full name
Email
Birth year
Postal code
Answer a security question
Confirm email address
Set a password
Take a moment to sign up for your free account, it only takes minutes!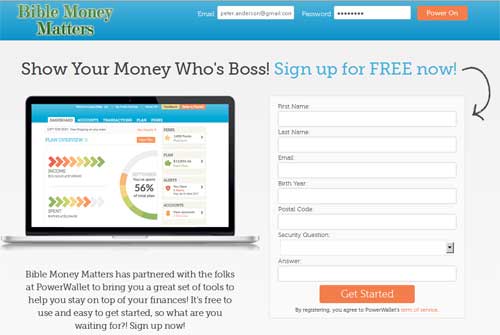 Sign up for your FREE Power Wallet Account
Once you sign up for your free account the next step will be to add your financial accounts including your checking, savings, investment and other cash accounts. You can also add bill reminders and check out their daily deals and offers sections. But we're getting ahead of ourselves. Let's look first at a list of things you can do within the Power Wallet site.
Features And Functionality
Power Wallet has a lot of different things that you can do on their site. Among the highlights listed on their site:
Plan ahead and create custom budgets by categorizing transactions
Get an overview of your current financial situation by seeing all of your online bills and financial accounts in once secure place
Manage and stay on top of your bills with bill pay alerts
Get deals and coupons that are customized to your geographical location and spending history
Organize your finances and live within your means with spending limit alerts
Plan and budget on the go with PowerWallet's mobile site
Get rewards and savings with the PowerCard rewards program
Bank level security and read-only access to your bank accounts.
So basically you'll be able to aggregate all of your accounts in one place, setup bill reminders and alerts, get customized local deals and offers and create a budget to help you stay within your means. Sounds good, but how does it look in practice?
Dashboard
Once you login your Power Wallet account you'll be taken to the dashboard for your account.The dashboard will give you an overview of your account so you can see not only what your account balances are, but also how you're doing on your budget, what your cash flow is, and a peek at some of your recent transactions. Here's a look at the dashboard in my test account. No income or spending happening in the current month yet, so the plan overview isn't as colorful as it usually is.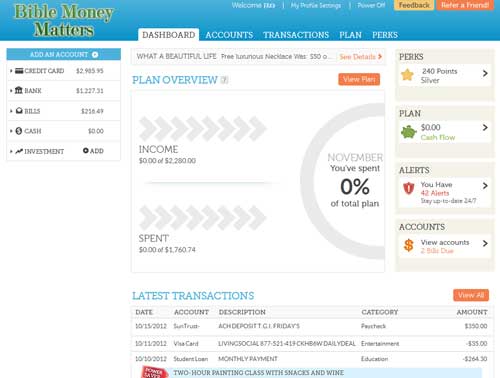 From the dashboard you can click into any of the different sections that you'd like to explore further, including the alerts section (where you can set up account alerts for low balance, high spending, etc), and bills due.
Accounts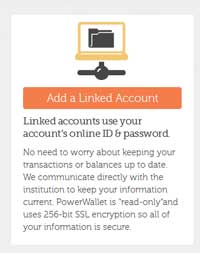 From the dashboard you can jump over to the "accounts" tab, where all your basic account information is listed. When you first open your account you'll be coming here to set up your financial accounts including your checking, savings, credit cards, investment accounts and any bills or other manual accounts you want to setup.
Adding an account is pretty simple, you just click on the "add account" button, and then search for your bank. If your bank isn't listed or isn't compatible, you may need to add it as a manual account. I added three accounts to my profile, and two of them logged in and downloaded info just fine. The third one, for my local bricks and mortar bank, had some issues downloading data, and I haven't been able to get it working yet. That's no surprise as my bank doesn't work well with Mint or Empower either.
Transactions
If you want to get more detailed information about your account transactions you can head over to the "transactions" tab. In the transactions tab you can view all your transactions, only bank transactions or only credit transactions.
You can filter the transactions by date, by account and by income or spending category. So if you're looking for a specific transaction, it shouldn't be too hard to find it. Only thing I wish they had (which I can't find if it is there) is a search function somewhere within the transactions page. Mint.com has something like that and it makes it much easier to find missing transactions. That's easily remedied just by using your browser's text search function, but it would still be nice to see in the software itself.
Within this screen you can also edit transactions, or add new ones if you don't see them listed. When editing transactions you can update the name, the category or assign keywords to link transactions to certain categories.
One final interesting thing you'll see in this screen is the "Power Saver" special offers that correlate to your account spending. One example in the test account shows a student loan payment, and then shows an offer for pottery classes, I suppose because they're both related to education.

In my actual account I saw a deal for an oil change next to an auto parts purchase. Very handy since I was looking to get an oil change anyway!
Setting Up A Plan
In the "plan" tab you'll find all the tools you'll need in order to setup your budget.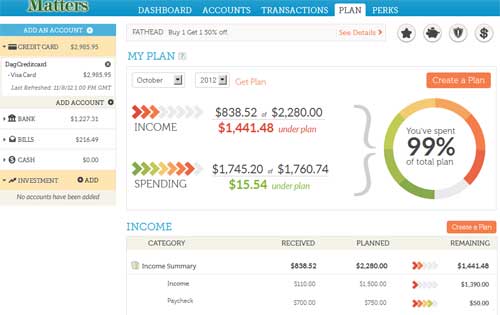 Setting up your budget basically involves you going through and adding income and spending amounts to your budget plan. So you'll need to go through and tell the system how much income you'll have coming in every month, and how much you expect to spend on all the different categories. You may need to track spending for a month or two before setting these up effectively, but that's probably something you should be doing anyway. If you decide you need to adjust a budget category later on, just click on that category in the "my plan" screen, and edit it. You can set expected spending amounts in categories by month, year or several other time periods.
Also within the "my plan" tab, next to your budgeted category amounts, you'll see listings of special offers next to some of the categories. The deals and offers are obviously one way that the site makes money, and why the site can be a free service. I have no problem with the offers being there, and I may even use some of them if they're for something I'd buy anyway.
Under the "my plan" tab is another link to a cash flow report. The report is done by month, and will show you your income and spending for the month, along with whether you had positive cash flow or not. Very useful report to see how you're doing when it comes to your budget.
Finally, you'll also see a bill and alerts calendar that you can go to and see when your bills are coming due, when large deposits went through and other alerts. Useful when you're paying bills.
Perks
Within the Perks tab there are several things you can do. You can browse shopping offers, take advantage of daily deals, and even get points and rewards for doing things on the site.
Offers: The offers section is going to have a ton of offers in different categories that you can take advantage of. Everything from clothing to food to electronics, it's all in there. Be careful not to spend too much!
Daily Deals: The daily deals section aggregates daily deals from sites like Groupon, Living Social, Amazon Local and others. All the deals are coming from deal site aggregator YipIt. Again, be careful not to get too carried away!
Earn Points: You can earn points on your Power Wallet account by doing simple things like adding accounts, viewing daily deals, setting up your budget and more. You can't currently redeem your points, but they'll be launching some options soon for cash back, discounts and other rewards. Stay tuned on that.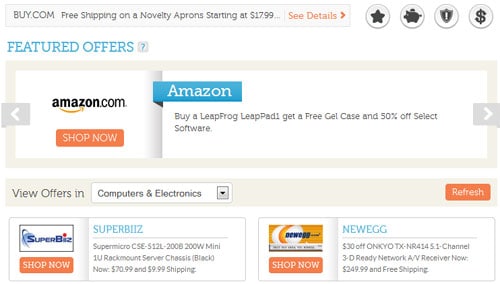 A Solid Financial Management Software
Power Wallet seems like a solid personal financial management tool, and after playing around with it for a couple of days I think I can say it's definitely worth checking out. While it doesn't offer a huge array of tools yet, it does give you pretty much everything you need. You've got a way to aggregate all of your accounts, a budget planner, bill reminders and even alerts on your income and spending. Throw in the daily deals aggregator (which could be dangerous in the wrong hands!) and you've got a solid financial tool.
Check out the site now, you've got nothing to lose. Signing up is easy, and of course it's FREE!