If you've followed this site for a while, you'll know that I'm a big fan of Dave Ramsey, his 7 Baby Steps To Getting Out Of Debt, as well has his 9 week class, Financial Peace University (which we helped to facilitate at hour church), and his next steps class, The Legacy Journey.
Dave has several best selling books, does huge live events across the country, and has his own radio and TV shows that are enjoyed by millions.
One of the things that Dave Ramsey is known for is his admonition to not use debt via credit cards or other means, and his suggestion to pay cash for everything you buy. He even suggests that you should pay cash for a home – if you can!
I was just reading some posts today about Dave Ramsey's new home that he recently built, and it sounds like it is quite the showplace. The home and land are valued at over $4,900,000! So the question is…
Did Dave Ramsey pay cash for his new home? Or was he a hypocrite and take out a mortgage?
UPDATE: I published this article several months ago. Within the past few days Dave Ramsey actually found this post through Twitter and commented! (see below). To read Ramsey's comment without going through the entire thread (150 comments) and to get my take on it, head on over to the updated post: Dave Ramsey Comments On My Post About His New House, His Debt Philosophy And Giving.
All photos copyright coolsprings.com
Did Dave Ramsey Pay Cash For His New House?
After another personal finance blog linked to it I checked out this real estate website talking about Dave Ramsey's home, the cost, and some of the features of the home.
Most people have seen Dave Ramsey's home in Cool Springs from the distance although they may not have known it is his. The house looks like a snow capped mountain but instead of snow, the mountain top is covered by Dave Ramsey's home. It is fairly majestic to say the least.

The land at King Richard's Court Franklin TN 37067 was purchased for $1,552,000 by Dave Ramsey on April 2, 2008. For the tax year 2008 (before the home was constructed) annual taxes were just $4,938. For the year 2010, the land market value is $750,000 and the improvement value is $4,159,200 for a combined total market appraisal of $4,909,200.

A mortgage does not appear to have been recorded for the property. That's our Dave!

The tax record shows 3 levels in Dave Ramsey's Cool Springs home, totaling 13,307 square feet of living area and 1,454 square feet of garage.

From what we hear Dave's home office, including the sliding library wall ladder, is made of solid mahogany. The shower in the master bathroom is rumored to have 18 shower heads and is larger than the jacuzzi tub. Cathedral ceilings throughout. The local who we spoke with felt the basement was by far the most impressive. Full bar with whiskey barrels built into the walls, media room and several bedrooms make up the broad lower basement level you see from the distance, wrapping around the tip of the mountain.
So according to this real estate professional the home had no mortgage documents recorded, which means that it's pretty likely that Ramsey paid cash for the land and home! He's following his own advice!
It sounds like it's quite the house too. Who wouldn't want to have a beautiful mahogany lined office like that, or a shower with 18 shower heads? He truly is now living like no one else!
Of course, since Dave Ramsey has an estimated net worth of $55 million dollars, this home is well within his family budget.
Want to live near Dave Ramsey? The house next door, owned by Lee Ann Rimes, is now for sale for only $6,499,000! What a Bargain!
More Pictures Of Dave Ramsey's House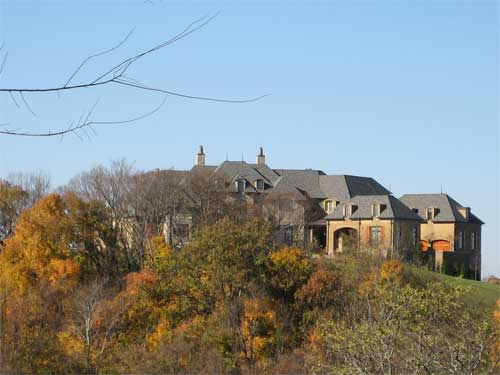 All photos copyright coolsprings.com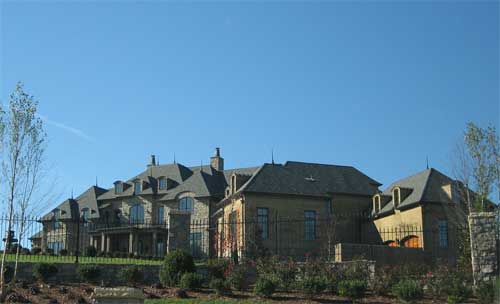 All photos copyright coolsprings.com
All photos copyright coolsprings.com
Resources