My wife and I have been out of debt except for our mortgage for a couple of years now.
I can still remember paying off that last debt, my student loan, and how good it felt. It was like a weight had been lifted off of my shoulders, and we were now free.
I can't even imagine how good people feel who have finally paid off every debt, including their mortgage. You must become weightless, and float off into the sky! Free like a bird!
Since we've been debt free we've also been following some other good principles of personal finance like following a budget, spending less than we earn and making do with what we have instead of spending to buy new.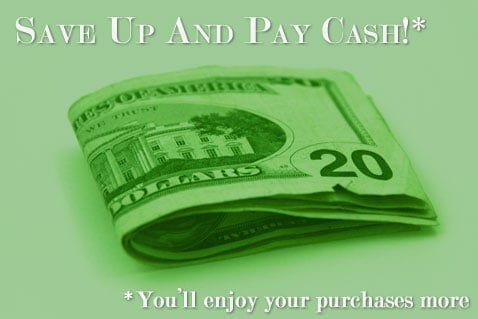 One of the big changes that we've made is that now we've started not making any big purchases without first saving up the cash for those purchases.
If we can't pay cash, we don't buy it.
Saving Up For Big And Small Purchases
Saving up enough cash to buy some things this is no big deal.
Buying A New Computer With Cash
When we decided that it was time to upgrade our old 5+ year old computer that we had been nursing along for the last few years, we needed to scrape together a few hundred dollars in order to buy a new one.
We set our savings goal (about $300) and reached that goal in one month. We did our research and found a nice refurbished Dell computer for $300. The computer was much faster and less frustrating to use than our old one. Done deal, and we paid cash.
We declined to finance our $300 purchase using Dell's "easy monthly payments". The computer just runs so much nicer knowing that it's paid for!
Buying A New Car With Cash
Some things require a bit more discipline in order to save for them.
For example, we paid cash for my new car that I purchased last year.
The car we bought was a nice 2 year old used car (we'll probably never buy a new car, even with all the rebates and tax credits available today), and the car was just under $10,000. Saving up for this purchase took a bit longer than for the computer.
A while back when we knew we would need a new car within a couple of years, we started saving for that purchase. Using a plan similar to Dave Ramsey's "Drive Free Cars And Retire Rich" plan, we set a goal for new car within 3-4 years, and started saving towards that goal.
Instead of making a car payment (since we didn't have one on our old car either) we just started paying ourselves a monthly car payment, and over a couple of years we had saved up enough money to buy a nice used car.
My car ended up dying before it's time last October, so we didn't quite reach our complete savings goal, but in the end we found an extremely nice used car for the amount that we had saved.
The car had under 30,000 miles, and cost us less than $10,000. We probably would have spent more, but now I'm glad we didn't because I absolutely love my car now!
The best part is, my car is paid for.
The car is a beauty, and when people ask me how much my monthly car payments are on my nice new car, I tell them, "What payments? We paid cash for this car!".
We get some quizzical looks, because paying cash for a car (or other big purchases) just isn't normal these days. Taking on debt of all kinds IS normal.
I'll tell you what, I may not be normal, but I don't care to be. And my paid for car? It drives so much nicer without a monthly payment.
Have you ever tried paying cash for the things you buy, instead of financing them? Did it change how you viewed that purchase, and did you get more enjoyment out of it? Do you find that you spend less when you pay cash – since the purchase is that much more real?