If you've been around the past few years, you've probably heard the name Dave Ramsey.
The ups and downs of the economy have helped popularize his teachings about saving, eliminating debt, and sound investing.
Perhaps you've been curious about Dave's Baby Steps, and whether or not you should give them a go.
For those of you who aren't familiar, here they are listed below:
Dave Ramsey's 7 Baby Steps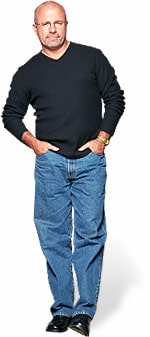 Save up $1,000 to start an emergency fund.
Pay off all non-mortgage debt using the debt snowball.
Save up 3 to 6 months of expenses to complete your emergency fund.
Invest 15% of household income into Roth IRAs and pre-tax retirement accounts.
Work on college funding for children.
Pay off your mortgage early.
Build wealth and give!
I remember first watching Dave on Hulu.com and being very skeptical of the people who were screaming "We're DEBT FREE!"
After all, could people really beat debt – something that our economy lives and breathes? And what was all this talk about paying off your home early? Isn't a 30-year mortgage normal?
The more I listened to his show, the more I began to understand where my financial plan was falling short.
I was investing in volatile single stocks and thought I could get ahead in life by "smart" day-trading. I was a seeker. I was someone looking for the missing piece of the financial puzzle I'd been trying to solve for years.
After reading Dave's New York Times bestseller, The Total Money Makeover, everything changed. The book was the piece of the puzzle I was missing.
It has been a little over a year since I've started Dave's Total Money Makeover, and I've learned a lot about why the process works in real life. I'm currently on Baby Step 3, and will be finished building the 6-month's worth of expenses emergency fund within a few months.
Top Three Reasons Why Dave's Baby Steps Plan Works
There are several reasons why Dave's 7 Baby Steps plan works.
Dave's Plan Forces You To Get Gazelle Intense When It Comes To Paying Off Debt
As one who likes to save, starting with only $1,000 in the bank while we were paying off our debt pushed me to pay off debt faster. After all, I wanted to get to Baby Step 3 where we could save up lots of money in an emergency fund.
I've seen people get stagnant with with their debt elimination strategy because they have investments or other cash that puts them at ease. Too much money in the bank while you have debt can encourage you to hold onto debt longer, thus paying more interest.
Dave's plan pushes you to get that debt out of your life.
Dave's Plan Encourages Behavior Modification
This is a big one.
Many financial gurus claim that the key to wealth is getting the better interest rate, chasing your FICO score, or learning the "secrets" of financial freedom.
Dave, on the other hand, explains that we are responsible to produce a good income through hard work and diligence. He claims that the strongest wealth-building tool we have is our income.
As we were paying off our debt, our income quadrupled because we sought higher paying jobs in order to complete Baby Step 2. If we want to win, we must make serious sacrifices and live like no one else so later, we can live like no one else.
Dave's Plan Frees You To Focus On One Step At A Time
In a culture where multitasking is often encouraged, Dave has a different strategy: focused intensity.
Baby Steps 1-3 are completed consecutively. Baby Steps 4-7 are completed concurrently in a prioritized order.
All extra money after budgeted expenses goes to whatever step you are currently on. Focusing on one step at a time allows you to dedicate your energies toward learning all you can about the main task at hand.
No distractions, no worrying about other steps. As you get closer to completing each step, you'll have a burst of intensity to get that step done and out of the way!
Real Financial Peace Can Be Found
I finally understand what Dave means when he talks about financial peace.
Being out of debt helps you breathe easier.
Having a solid emergency fund frees your mind of worry and stress.
You'll never know what a blessing it is to use a budget and have finances under control until you begin to work your way through Dave's plan.
I challenge you to adopt Dave's Baby Steps as a part of your long-term financial strategy. You can start by reading Peter's fantastic review of Dave's Baby Steps or the Financial Peace University class.
Then, go out and grab yourself a copy of The Total Money Makeover. Soon, you'll be on your way to building financial wealth like you can't imagine.
Have you worked through the Baby Steps Plan or taken the Financial Peace University class? Considering starting? Tell us about it in the comments.