I think cars are one of the biggest impediments to getting out of debt and staying out of debt.
They also make it difficult to maintain a fully funded emergency fund (amount differs based on your situation).
Most people need to have at least one car in their family, so there is not much you can do to avoid car related expenses, especially, if you're trying to drive the car until the wheels fall off.
Personally, I'm trying to join the 200,000 + mile club with both of our cars. We're trying to save money on cars as much as we can.
One of our cars has been driven 98,000 miles and the other 73,000 miles. So, I realize we're going to start to experience some maintenance costs that come with normal wear and tear and mechanical failures.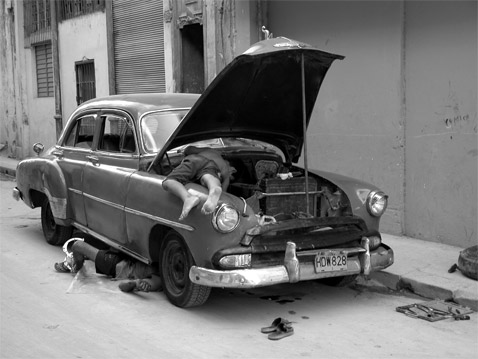 With adequate savings and no car payments (almost) these expenses will hopefully have minimal impact on our financial situation, but it's good to stay in front of them and have a good game plan for handling car maintenance costs.
What Goes Wrong When?
According to Consumer Reports magazine, cars up to 3 years old can still experience problems.
Most common problems are with body integrity and power equipment-squeaks and rattles and trouble with windows, locks, latches, doors, key less entry, and warning lights, among other items. Cars that are older (8,9, and 10 years old) show such problems more frequently. But, there are also other problems that start occurring: Problems with fuel systems, especially with sensors and check-engine lights, occur more often. Trouble starts with the vehicles' climate systems at those ages, too. There are also problems related to ball joints, shocks and struts.
Now, I'm certainly no expert in car maintenance repair and costs, but I do know all of those things sound like they can take a good chunk of money. So, how do you minimize such expenses and know when to spend and not to spend on the repairs? Let's take a look at some tips related to car maintenance spending.
I want you to avoid the temptation to sell your car and buy a new one just to avoid maintenance costs. I'd much rather you maintain your freedom from car payments, or get to that point. Selling and entering into a new car payment certainly isn't a strategy if you want to reach the 200,000 + mile club.
Car Maintenance Spending Tips
1. Set spending priorities.
Setting your spending priorities on car maintenance is important. Certainly you have to spend to keep the car running properly. For example, regular oil changes are a must.
But do you need to spend the money to fix a power seat that isn't functioning properly? Maybe not if it doesn't impact your ability to drive the car and can't do greater damage to the car's performance. I know because we've been driving one of our cars for more than a year with a power seat issue. Yes, there is some annoyance when it misbehaves, but it's not absolutely a must to have fixed. Such expenses can drain your savings unnecessarily.
2. Be realistic.
I haven't always been realistic about car repair expenses. As Consumer Reports points out, older cars are going to have problems. But when you look at these expenses in comparison to having a new car payment each month, paying the repair is almost always a much cheaper route. So, to be realistic, know you're going to have the expenses and save properly for them. Don't run out and get a new car because of a few mechanical failures that need to be repaired!
3. Be safe first.
In considering when to spend and not spend, make sure you're taking the safe route. A trustworthy mechanic can help you make such decisions if you don't know much about the repair. At the end of the day, the car has to provide two things for you: transportation and safety. It's not worth taking the cheap route when the mechanical failure could leave you or your family stranded somewhere along the highway.
4. Spend at the right place
You always hear people say to never take a car to the dealership for repair. Rather, find a local and trustworthy mechanic you can build a long-term relationship with. Certainly, some repairs are the same cost with a mechanic as the dealership, but it's better to find a mechanic who can get to know you and your cars. Such a person can help you know when expenses are coming and help you avoid them with proper care and maintenance.
5. Stay the course to get out of car debt, or stay out!
While it's tempting to leave your used car behind at the first sign of $1000 mechanical repair; don't do it. Again, with proper savings you can avoid using a credit card and pay with cash. Plus, keep in mind a new or used car payment would cost more than the $1000 repair in 2-3 months. Stay your course to staying out of debt, or getting out of car debt as soon as possible.
6. Know when it's time to replace your car?
You may need to consider the purchase of another car after several major repairs. Unfortunately, it's difficult to determine when it's time to purchase another car given every situation is a little different. The first thing you should do is again consider your safety. If your car is no longer safe to drive, don't drive it, or pay to make it safe.
Also, consider your motivation to stay debt free. What type of car could you buy based on the cost of the repairs for your existing car and using some savings (if available)? It may be a good time to invest in another vehicle if the car you could buy is in better condition, it's safe and you can stay out of debt.
What do you think about these car maintenance tips to help you get car debt free, or stay debt free? Have any tips of your own? Tell us your thoughts in the comments!