We've had two days full of income creating ideas. Are you looking for even more ways to make extra money? Good, let's get started!
Budgeting – Income Vs. Cutting Back
Budgeting your money each month boils down to making sure that there is more coming in than going out. If you have more money going out each month than you have coming in, you really have just two options:
1) cut back on your spending, or what's going out; or
2) generate extra income.
If you've already cut back spending, here are 5 simple ways you can make a little extra money to balance your budget.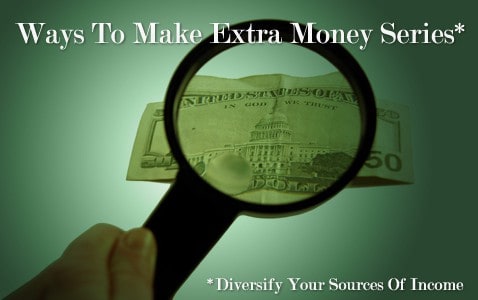 Sell On eBay Or Craigs List
Two well known options today are selling items on eBay and Craigslist. Both work a little bit differently, but essentially you're doing the same thing. The easiest way to get started is to search around the house for unused items. As you would with a garage sale, just price the item at a fair price and list it for sale. If you want to get a little more advanced, you can shop around for good deals and resell lower priced items you've purchased for closer to their retail price.
Buy Groceries Low And Sell High
Many of you have heard about playing the Grocery Game. Basically it's a way to buy groceries at cheap prices using the Grocery Game lists in addition to manufacturer coupons. Surprisingly, I recently heard of someone turning the game into a business model. Rather than focus on the cost cutting aspect for their own budget, they focused on the resale of the products at cheaper than retail prices. The idea was to use the lists to buy low and sell higher with hosting their own grocery garage sales.
Become An Expert At Something
Most people have a talent or skill they have a lot of passion about. If you're interested in taking the skill to the next level, you can perhaps market it as a service to people. For example, let's say you're interested in personal finance and you're good with managing money. Or perhaps you just have a strong passion for it. You could initially volunteer your time as a financial coach to help others get their finances in order. You might then choose to turn your volunteer efforts into a business by offering fee based coaching, speaking engagements and run your own website. The possibilities are endless here.
Become A Computer Wizard
With it becoming practically impossible to survive in business (and now home) without knowing computer basics, there is a real need for people who can train the essential skills. There are some companies around who have built their entire business model on providing basic computer services for people at home. But if you're good in this area, there isn't any reason you couldn't market yourself as a consultant or technologist who helps people with their computers. With the right skills and motivation you can get started at a relatively low cost.
Sell Clothes On Consignment

My wife has become quite the expert in buying and selling clothes on consignment.
On the cost savings side, she dresses our children in extremely nice clothes of which most of them have been purchased from consignment. She finds many designer brands that have hardly been worn and buys them at extremely large discounts. On the money making side, she often drops off clothes for sale that our kids have outgrown. Sometimes we just give things away, but she has made some extra money on nicer items she's chosen to resell.
Well, I hope these 5 ideas have stimulated your thinking and creativity. Making extra money is mostly about the effort you're willing to put forth into something. If you're serious about it, or have enough motivation behind it (like making money to pay off debt); you can definitely find ways to increase your income!
What do you think about these 5 money making possibilities? Which one do you like the best? Do you have your own ideas for creating income? Tell us your thoughts in the comments.