My husband and I have debt. A lot of debt. The majority of it is from student loan debt my husband accrued obtaining his Ph.D. I have a small amount of student loan debt left, and we have some consumer debt as a result of simple overspending and not having much income last year. We are followers of Dave Ramsey, and we became gazelle intense in October, 2011, as soon as my husband secured a post-doc research position. With gazelle intensity, even with our relatively low income, we have managed to pay down a little over $8,000 in four months. However, we are now on the verge of gazelle intensity burnout.
While we have made good progress, we still have more than five times the amount we have already paid down yet to go. It is hard to maintain gazelle intensity when you know you will be paying down debt for several years. Gazelle intensity at this level is akin to a runner sprinting through the first five miles of a marathon and becoming overwhelmed with the 21 remaining miles. Sprinting through a marathon is simply not possible.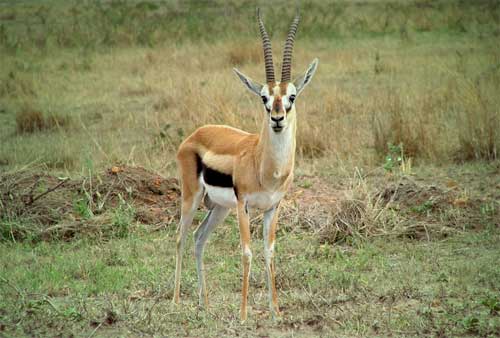 Interval Training: Best for the Body, Best for Debt Repayment
If you are looking to improve your physical fitness level, experts tell you not to do the same exercise routine every day. You become complacent and your body does too. Your body learns how to not work as hard. Interval training is an excellent way to push yourself and still allow enough time in between extreme bouts to recover. The physical challenge followed by the rest period is what gets you into the best shape. So it should be when paying down debt.
Dave Ramsey doesn't address gazelle intensity burnout. He advocates pushing as hard as you can until the debt is gone. While I like the theory, I don't think it is reasonable when one has a significant amount of debt to pay off. Instead, treat gazelle intensity like interval training. Push as hard as you can for as long as you can, and then take some time to recover and rest. Then push as hard as you can again.
We are currently in the rest period as we are saving for a conference my husband must attend out of state in March. We are still paying extra on our debt, but now it is $50 extra a week instead of $300. After the conference is over, we will go back to gazelle intensity.
Advantages to Gazelle Intensity Interval Training
You have time to rebuild your passion. Your personal passion to get out of debt is what drives you to live like no one else and sell things and work an extra job to generate more income to use as debt repayment. While I was nearing burnout, now that we are in the rest period, I am itching to become gazelle intense again and watch our debt balances go down. My passion is returning now that I am rested, so to speak.
You avoid burnout. So many people commit to paying down their debt, but lose their passion and focus and remain stagnant, using credit cards throughout the month and paying down what was charged the previous month but nothing more. If you take a rest period from gazelle intensity and remain committed to not accruing more debt, you are still making progress toward your goal to be debt free, though not as quickly.
Gazelle intensity becomes a manageable way of life. Dave Ramsey says over and over again to eat beans and rice, rice and beans because they are low cost foods. My family likes both beans and rice, but if I fed that to them at every single meal, I would face a revolt. While we eat beans a lot, at least once a week we have something fun like homemade pizza. Having an occasional break from gazelle intensity, even in the realm of food, makes gazelle intensity more manageable.
If you have debt, first commit to not accruing new debt. Then, push as hard as you can in the beginning to pay down as much debt as you can as quickly as possible. Take a rest if you need to, and appreciate the fact that every time you have a gazelle intense period, you make the next rest period more fruitful because you will have less interest to pay overall thanks to the previous bout of intensity. Just like interval training, your finances will be in better shape if you alternate gazelle intensity with rest.