Many people who have an interest in investing don't take any action because they feel like they don't have enough money to invest.
The truth is, you don't need a lot of money to start investing.
In fact, if you wait until you have a lot of money, you'll be missing valuable opportunities and time for your money to grow and compound.
Rather than putting it off, why not find investment opportunities that would be a good fit for you starting today?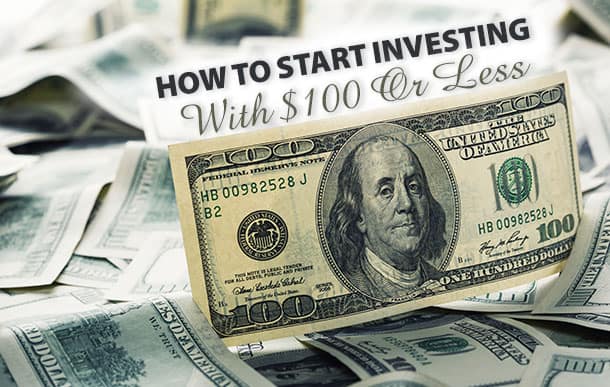 In this article, we'll take a look at 15 different ways you can start investing with $100 or less.
With the options covered in this article, there's no reason to wait any longer.
Before You Start Investing…
While investing is a critical part of growing your net worth and improving your finances, there are a few other things that should also be considered.
Depending on your situation, these things may take priority over investing.
Start an Emergency Fund
Almost every financial advisor recommends establishing an emergency fund as one of your most basic financial goals. An emergency fund is money that you set aside in case something unexpected happens, like the loss of a job, an injury that causes you to miss work, health problems, or family issues. No one likes to think about the possibility of these things happening, but you need to be prepared.
The amount of money that you should have set aside in an emergency fund will vary, based on a few different factors. But in general, most professionals recommend having at least enough money to cover 3-6 months of living expenses.
If you don't already have an emergency fund set up, you may want to consider doing this before you start to invest.
The money in your emergency fund should be liquid and easy to access quickly, in case you need it. Most people like to keep it in a savings account or money market account. If you use an online bank like CIT that offers a decent interest rate, you can even make a little bit of money from your emergency savings.
Pay Off Debt
If you have consumer debt, like credit cards, car loans, student loans, or personal loans, you may want to consider paying off this debt before you prioritize investing. Some people suggested completely paying off consumer debt before focusing on saving and investing, and others take a more balanced approach.
Whether you choose to focus exclusively on paying off debt or also start investing while paying off debt a little more slowly is up to you. But if you have high-interest debt, like credit cards, be sure that you do everything possible to eliminate that debt as fast as you can.
15 Ways To Start Investing With Less Than $100
Now, let's take a look at the investment options that are ideal for small amounts of money.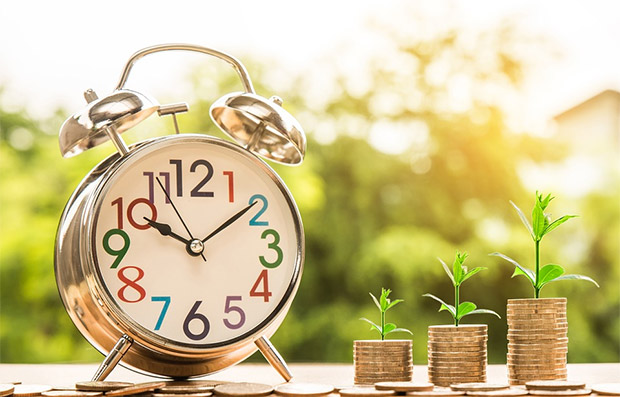 1. Start Contributing To Your 401(k)
Most American employees have access to a 401(k) plan through their employer. If you fall into this group, contributing to your 401(k) is one of the easiest and best ways to start investing.
You don't need any money upfront to start a 401(k). All you need to do is complete some paperwork provided by your employer to set up automated contributions. You can determine a percentage of your pay that you would like to automatically contribute to your 401(k). That amount of money will be deducted from each paycheck and invested into your 401(k) without any effort on your part.
The automated aspect is one of the best things about a 401(k). Since the contributions are done before you even get your paycheck, it eliminates the possibility for you to forget or decide not to contribute.
Equally as important, the tax benefits of contributing to a 401(k) can be significant. Your contributions will reduce your taxable income, which means you'll pay less in taxes.
Most employers that offer a 401(k) plan to employees will also offer some sort of company match. For example, if you contribute 4% of your salary to your 401(k), the employer may provide a match and contribute an additional 4%. The details will vary depending on the employer, so be sure to check your company's policies and contribute enough money to take full advantage of the match.
If you already have a 401(k), be sure to take advantage of Blooom's offer for a free analysis. It takes just a few minutes and it is fully automated (so you won't have to speak to anyone). You'll simply login to your 401(k) account and Blooom will quickly analyze your investments and provide a detailed report.
Blooom is a robo advisor that specializes in 401(k) accounts, so of course, they'll give you the option to use their service, which costs $10 per month. However, even if you decide that you don't want to use their services, the free analysis is still extremely helpful and valuable. I've had Blooom review my own 401(k) and I definitely recommend this free service to others.
Get your free 401(k) analysis with Blooom.
Invest In Real Estate
Real estate is one of the most popular types of investments for building wealth. Traditional real estate investments, like rental properties, require a lot of capital and also come with a lot of responsibilities in terms of managing the property. However, real estate crowdfunding makes it possible to passively invest in real estate with small amounts of money.
Many of the leading real estate crowdfunding platforms are open only to accredited investors (annual income of $200,000+ or net worth of $1,000,000+) and/or require large minimum investments. But there are a few platforms that allow anyone to invest and also allow you to get started with $100 or less.
Let's take a look at a few of the best options.
2. Groundfloor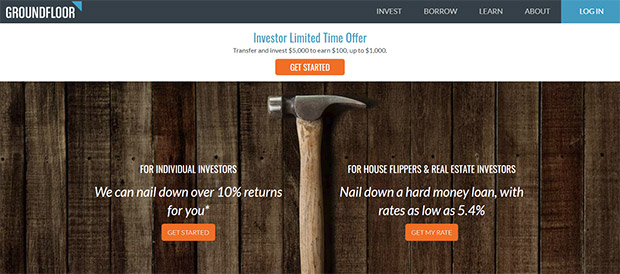 Groundfloor is a platform that matches up investors with flippers who are looking for short-term loans. As an investor, you can browse the different projects and opportunities that are available, including details like the interest rate and the projected term. In general, loans are for 6-12 months, so your money isn't tied up for a long time. The interest rate that you'll earn will depend on several factors, but the average is about 10%.
One of the great things about Groundfloor is that you can start investing with as little as $10.
Simply browse the current investments that are available, create an account, and invest. You can even invest small amounts in several different projects to get some diversification.
Get started with Groundfloor here.
3. Rich Uncles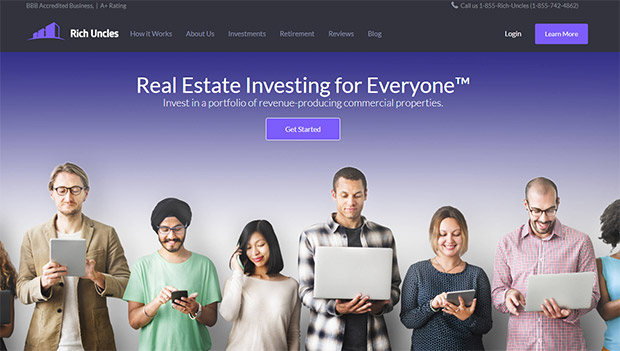 Rich Uncles is another real estate crowdfunding platform that allows you to get started with very little money. Their minimum investment is just $5!
While Groundfloor allows you to invest in individual properties and projects, with Rich Uncles you will be investing in a REIT (real estate investment trust) that owns and operates many different properties.
They currently have two different REITs that are open for new investments:
BRIX REIT – Invests in student and multi-family housing, convenience stores, quick-service restaurants, and fitness centers (estimated dividend of 6%).
NNN REIT – Invests in single-tenant offices, industrial and retail properties (estimated dividend of 7%).
Getting started with Rich Uncles is easy. You don't have to choose any specific properties or projects to invest in. Simply choose one of the two REITs and invest as little as $5.
Get started with Rich Uncles here.
4. American Homeowner Preservation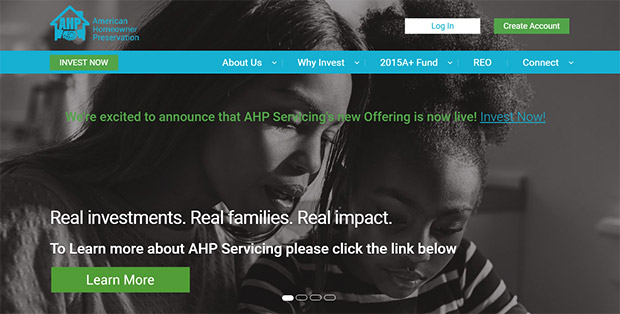 The last real estate crowdfunding platform that we'll look at in this article is American Homeowner Preservation. They use investor money to buy distressed mortgages at deep discounts. They work with homeowners to keep them in the homes and avoid foreclosure.
AHP works a little bit differently in terms of how investors are paid. They offer a target rate of 10%, and the company keeps any profit that is left after paying the investors.
You can get started with AHP for an investment as low as $100. You don't need to choose any properties or REITs, just simply create your account and invest at least $100. Distributions are paid each month.
Robo Advisors
If you're a new investor, or if you are simply not comfortable making a lot of investment-related decisions on your own, a robo advisor can be a great choice. A robo advisor will ask you some questions about your level of risk tolerance, your age, and goals for investing. Based on the details that you provide, the robo advisor will create and manage a portfolio that is designed to be a good fit for you.
Investing with a robo advisor is very hands off. All you need to do is provide the robo advisor information about yourself and your situation, add money, and let it do the work.
There are a growing number of robo advisors out there, and each one will have its own policies and minimum investment required to get started. Let's take a look at two robo advisors that are excellent choices if you are looking to get started with less than $100.
5. Betterment
Betterment is one of the leading robo advisors, and they're a great option for new investors because they require no minimum investment.
Betterment will help you to determine your financial goals, will ask questions to get a sense of your full financial picture, and will select and manage your investments accordingly. Betterment's fees are also very low, at just 0.25%.
Get started with Betterment here.
6. Acorns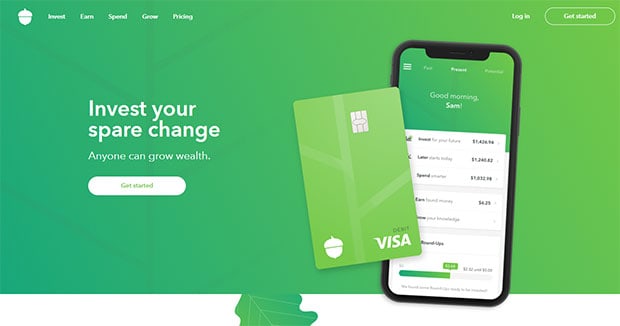 Acorns is a robo advisor that specializes in "micro-investing", their tagline is "Invest your spare change. Anyone can grow wealth."
How does it work? When you sign up for an account you link your existing checking account, or sign up for Acorn's debit card. Then when you spend money Acorns will round up your transactions, and invest the money in a diversified portfolio of stocks and bonds based on your personalized level of risk.
For the basic account it costs $1/month, and there only a $5 minimum investment.
Peer-to-Peer Lending
Peer-to-peer lending matches borrowers with lenders, skipping the bank. You can invest money by lending it directly to borrowers. Borrowers generally get a better rate than they would be able to get from a bank (if they can get a bank loan) and investors are able to earn a decent return.
Like all investments, peer-to-peer lending does involve some risk and it is possible to lose money if the borrower doesn't make payments. But you'll be able to screen the investments and only choose those that meet your requirements in terms of risk (of course, the higher-risk loans will pay a higher interest rate).
Peer-to-peer lending can be a good choice for new investors because you can get started with a small amount of money, and the potential returns can be significant. Here is a look at one of the leading platforms.
7. Prosper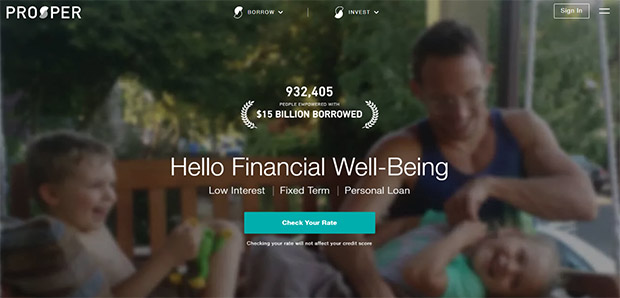 Prosper claims to have a 5.3% historical return for investors. Some investors who choose higher-risk loans have been able to make more money.
When you sign up as an investor, you'll be able to browse the loan opportunities that are available. You'll be able to see details like the borrower's FICO score, rating, and term of the loan. You can choose the individual loans that you want to invest in, or use Prosper's Auto Invest tool to invest based on your criteria. You'll earn money monthly as loan payments are made.
You can get started with Prosper for as little as $25, making it a great choice for new investors. Lending Club is another popular peer-to-peer platform, but you'll need to invest at least $1,000 to get started with Lending Club.
Get started with Prosper here.
Invest In The Stock Market
You may think that investing in the stock market is only an option for the wealthy, but that's not the case. In fact, the apps and resources that are available today make it easier than ever for anyone to start investing in stocks.
8. Robinhood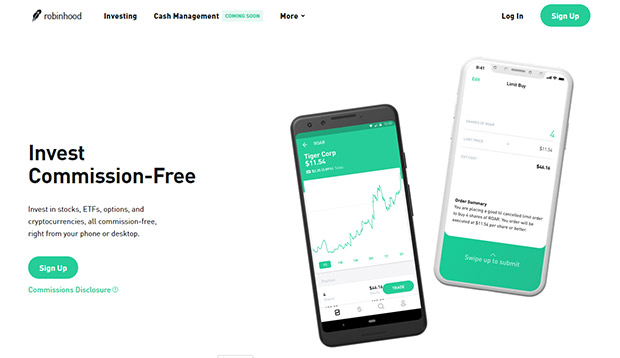 Robinhood is an online brokerage that has had a huge impact on the industry in the past year or two. With the help of Robinhood's app, anyone can trade stocks and ETFs with no commissions or fees. There is no minimum investment required and the platform is designed for simplicity, with new investors in mind.
With just $100 or less, you can transfer money from your bank account and start investing in the stock market. Robinhood will even give you a free stock if you create an account through this link.
Get started with Robinhood here (and get a free stock).
9. Webull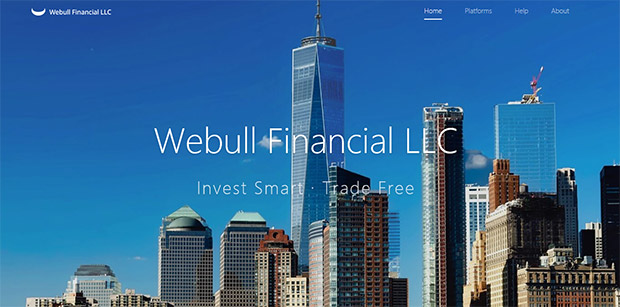 Like Robinhood, Webull is another online brokerage that offers free trades of stocks and ETFs. Webull is only about a year old, but they're already becoming well-known.
While Robinhood's app is fairly simple, Webull has more to offer in the way to reporting and analysis, so you can research stocks that you might want to buy. Webull also has no minimum, so it's also an excellent option for new investors.
Webull will also give you a free stock if you open an account through this link and make an initial deposit of at least $100.
10. Stockpile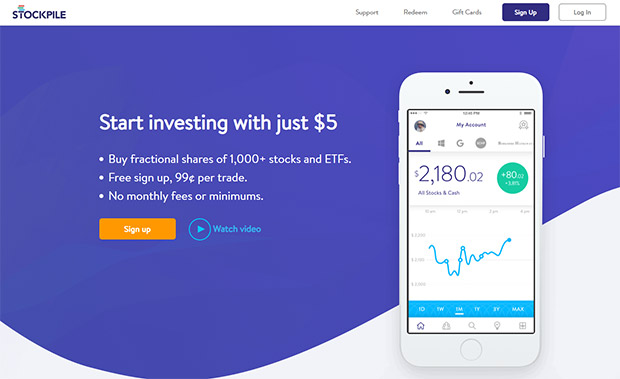 Stockpile is an investment app that is a bit different than Robinhood and Webull (see Robinhood vs. Stockpile vs. Webull for a detailed comparison). Like Robinhood and Webull, Stockpile requires no minimum investment to get started, however, Stockpile charges a fee of $0.99 per trade. Although that fee is higher than the free trades from Robinhood and Webull, it's still a low fee compared to most other competitors.
What makes Stockpile unique is that you can buy fractional shares, which can be a great option if you are looking to get started with a small amount of money. Also, you can gift shares of stock to others or receive gifts of stock.
Get started with Stockpile here.
11. M1 Finance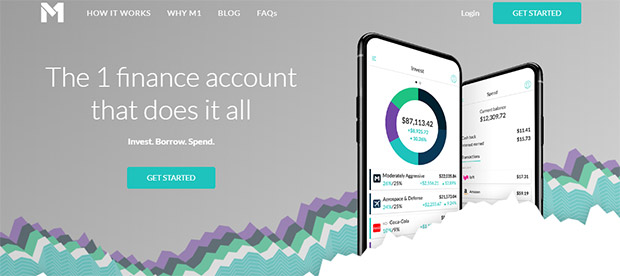 M1 Finance is an investment app that offers some features of a robo advisor, but with a twist. With a free M1 Finance account you can create your own custom stock portfolio, or you can choose from 80 different expert portfolios and let it do the work for you. You can deposit money anytime and M1 Finance will invest it for you.
Unlike other robo advisors, M1 Finance does not use a questionnaire or survey to determine the investments that are right for you. Instead, you'll simply select from their pre-made options (you can also customize your investments if you'd like). Like other robo advisors, M1 Finance will do some rebalancing as needed.
Another nice feature is that you can purchase fractional shares, which is great for new investors who are starting with a small amount of money. The minimum investment to get started is $100. That's higher than some of the other options mentioned in this article, but low enough that it's a realistic option for most investors.
Get started with M1 Finance here.
12. Stash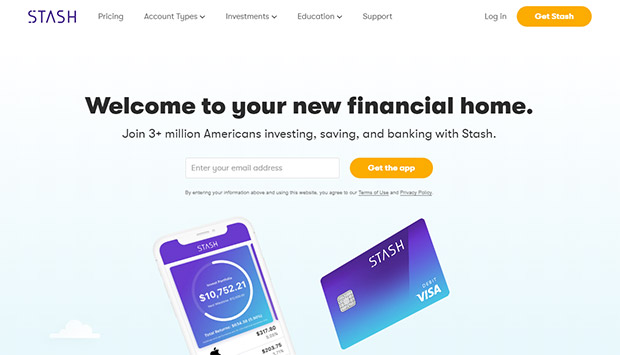 Stash is an investing, saving, and banking app that allows you to get started with as little as $5. As far as investments go, you can purchase fractional shares of stock with Stash. You can also purchase a wide range of ETFs with varying purposes. Users also have access to educational resources that help you to learn more about investing.
It's important to note that there is also a downside to Stash. Although the platform is welcoming to new investors (access to educational resources and a very low minimum of just $5), there are fees that make it a poor choice if you're not going to be growing your account and adding more money. The basic plan costs $1 per month. That's not a lot of money, but if you are only investing a small amount, it winds up being a high percentage. I would only recommend Stash if you are planning on adding to your account on a consistent basis and growing the account to essentially lower the percentage of the fee.
13. Index Funds
An index fund is a mutual fund or ETF with a portfolio created to match a financial market index, such as the S&P 500. If you want to invest in the stock market but you want a lower-risk approach than investing in individual stocks, index funds can be a great choice.
Both Fidelity and Charles Schwab allow investments in index funds with no minimum.
Index funds are a great choice for many investors, and it's a passive, long-term way to invest that won't require you to do a lot of analysis or make a lot of investment decisions.
Business Bonds
The last type of investment that we'll look at in this article is a business bond. This alternative investment will allow you to get started with very little money, earn a nice interest rate, and support small businesses at the same time. Here are two options:
14. Worthy Bonds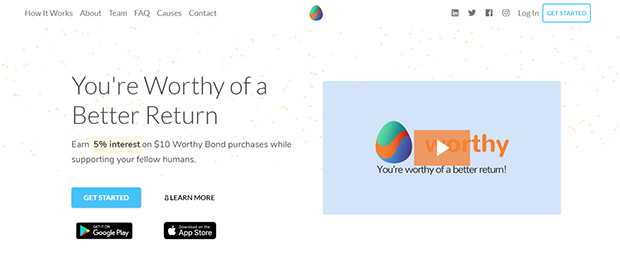 Worthy Bonds is open to all U.S. investors and you can get started for as little as $10. The cost of each bond is $10 and you'll earn a fixed 5% interest on your investment. The bonds are for a term of 36 months, but you can cash out at any time without penalty.
The money that you invest is lent to small businesses and fully secured by liquid assets (like inventory). Because the loans are fully secured, the risk is lower.
Worthy Bonds also has a "round-ups" feature that makes it easy to grow your investment quickly. It is optional, but you can link it to your bank account and it will round up your purchases to the next full dollar and automatically purchase a bond for you when it reaches $10.
Get started with Worthy Bonds here.
15. StreetShares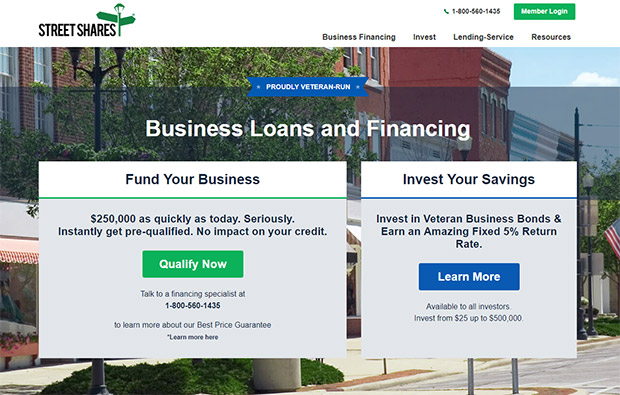 StreetShares is fairly similar to Worthy Bonds. The investment minimum is $25 as compared to the $10 minimum from Worthy Bonds, but StreetShares also offers a fixed interest rate of 5%. The bonds that you purchase through StreetShares will be used to fund American small businesses, with a special emphasis on veteran-owned businesses.
One key difference between StreetShares and Worthy Bonds is that with StreetShares you'll need to wait at least 1 year to withdraw the money or pay a fee of 1%.
Both Worthy Bonds and StreetShares off a nice alternative that will pay more interest than a savings account.
Get started with StreetShares here.
Conclusion
If you have less than $100 but you'd like to start investing, try any of the 15 options covered in this article.
I recommend starting with you 401(k) if you're not already contributing. Beyond that, check out the different options covered in this article and find one that seems like it will be a good fit for you.