Faith-based investing! What does it mean? Is it a worthy investing route to follow?
In this article, we'll take an in-depth look at this type of investing and explore how you can make it work for you. Read on to learn about how this way of investing strategy allows you to reinforce your values.
Nowadays, investors are not putting their money just anywhere. Investors have realized the benefit of investing in things that matter. These include things like caring for the environment, wildlife, society, and minority groups. They want to make a difference with their investments.
Investors are now looking for investment options, which offer good returns and align with their beliefs and values. This way, even as they make more money, they do it with a clean conscience.
Faith-based investing is an investment philosophy that many investors are now embracing. And, like impact investing or socially responsible investing, it promises to do more than multiply your money.
So, what exactly is faith-based investing, and how does it work? Is it worth your money and time? And, how do you get started with faith-based investing?
Let's dive in and find out.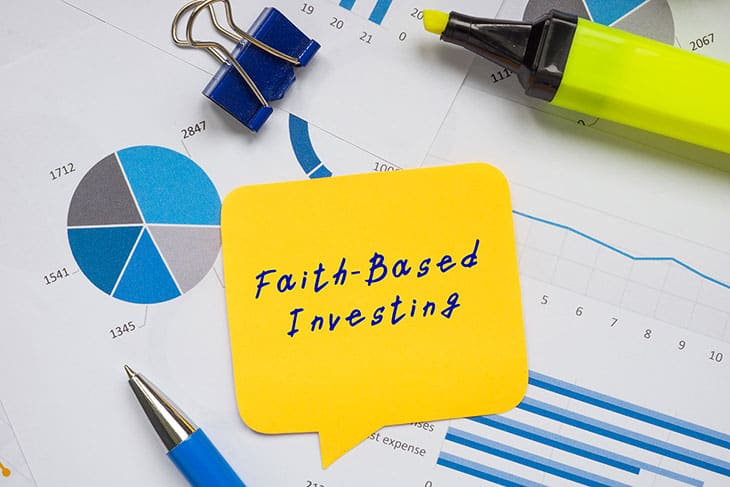 What is Faith-Based Investing?
When we see the term faith-based, most of us instantly think of "religious investments." Well, while it's connected to religion, it's definitely not in the way most of us might think.
Firstly, faith-based investing has nothing to do with religious organizations' stocks. In fact, as you might already know, religious organizations are non-profits, thus, don't issue public shares.
For instance, you'll never see churches, mosques, or temples, offering shares to the public.
So, if not investing in religious organizations, what does faith-based investing mean?
Your next guess might be correct.
Faith-based investing is not too different from other investment philosophies. All aim at maximizing investors' returns.
But, investors here don't choose just any investment. They focus on investments whose strategies align with their religious values.
This way, the investor's faith, values, and beliefs determine where they invest their money. As you can notice, while this type of investing doesn't mean investing in shares from places of worship, it's still tied to religion and values. And that's why faith-based investing can also be referred to as values-based investing.
Interestingly, every faith has its opinions and perspectives on how to invest money to support certain causes. Also, the same applies to causes that contradict the faith's beliefs and values.
For this reason, we will dissect faith-based investing based on some of the main religions around the globe. This will help us understand the concept better.
Top Faith-Based Investing Options
If you want to start your faith-based investing journey, here are some of the main options you can choose from.
Christian Investors
Christianity is the world's largest religion, with around 2.5 billion followers. And, all these people lead their lives based on certain beliefs and values – investing is part of this life.
If you are Christian or wish to invest based on Christianity values, there are two main investment styles you can opt for:
Catholic Faith-Based Investing
The Catholic faith has its own framework on how believers should lead their economic life. The framework outlines ten faith-based principles and guidelines. This outlines how Catholic Christians should engage in finances and the economy.
Generally, they emphasize investing in companies or funds that support various positive issues. For instance, environmental conservation, human rights, fair employment practices, etc.
Also, Catholic investors will avoid investments that support certain things. These include abortion, weapons, adult entertainment, embryonic stem-cells research, etc.
Their investing principles revolve around moral law and human dignity.
Currently, we have many companies, investment firms, and funds you can pick from. These are companies where such values form part of their investing philosophy.
This means that as a Catholic value investor, you can invest freely in these companies or entities. And, you won't have to worry about contradicting your faith.
Some excellent examples of Catholic faith-based investment entities include:
Catholic Investment Services
This is a not-for-profit investment management firm designed to deliver high returns on investment. And, it keeps Catholic faith principles at heart. It aims at pursuing investment excellence based on Catholic faith values.
Currently, the firm manages assets worth over $1 billion and serves around 45 Catholic institutions. Also, its restricted companies' list stands at 700.
Catholic Investment Strategies
This is another great way to invest in Catholic faith-based investments. Here, the platform allows you to invest your money in a way that aligns with your faith and church values.
And as they put it on their website, they will never invest your money in companies whose values contradict the Catholic faith.
Generally, the platform invests in institutions like hospitals, universities, etc.
Also, they offer a portfolio that fits your needs. The portfolio excludes investments that support abortion, contraception, racial and gender discrimination, etc.
With the LKCM Aquinas Funds, the main investment strategy is guided by social responsibility (SRI). This Equity Fund offers Catholic faith investors an investment option that promises high ROI.
Its choice of securities and companies to invest in depends on the principles and guidelines formulated by the US Conference of Catholic Bishops. The fund has been operational since 2005 and continues to grow with a 9.83% growth rate since it began.
Protestant Investing
Unlike the Catholic faith that shares common beliefs across the entire faith, Protestants are somewhat different. While some denominations are quite liberal in their beliefs, others are more conservative. But, their principles tend to be similar.
Generally, the Protestant faith encourages work ethics and hard work. It urges its followers to invest in entities that support general Christian values. This mainly involves social consciousness. This means that this type of faith-based investing might not be as strict and specific as its Catholic counterpart.
Also, even as they promote social consciousness, they exclude some investments. These include stocks that support:
Adult entertainment
Weaponry
Embryonic cloning
Addictive behavior (drugs, gambling, etc.)
High-interest loans (shylocks and payday loans)
Some excellent examples of companies and funds that support Protestant faith-based investing include:
For over 20 years, GuideStone has faithfully served faith-based investors and advisors. The platform seeks to offer strong-performance investments guided by various Christian values.
GuideStone provides Protestant faith-based investors an excellent opportunity to invest in mutual funds. And, it offers a diversified portfolio across various asset classes. It does all this with Christian values in mind.
The platform seeks to offer socially screened investments that are well managed. These ones guarantee great returns for the investors.
In essence, they use biblical teachings and values to ensure that investors get good returns. Also, their money is also invested in investments that make the world a better place.
The fund's main values revolve around family, health, stewardship, life, and safety. So, if this sounds like you, you certainly need to start your investing journey here.
This is a faith-based investment fund by the Presbyterian Church. It seeks to offer Protestants the best investing style based on their values.
Basically, the fund's investment strategies depend on socially responsible investing. Here, the slogan, "you can do well while doing good," guides them. It gives diversity in investment options, as well as charitable giving.
The platform makes investment decisions based on social consciousness principles. It supports doing good to help nature and society.
Additionally, it avoids investments that promote negative issues. This includes things like gambling, alcohol and other addictive drugs, pornography, etc.
As a Christian, New Covenant Funds offers something for everyone. Whatever your investment mission is they have something for you.
Jewish Faith-Based Investing
Giving and diversification are the key principles that guide Jewish faith-based investing. Jews follow investment strategies that adhere to these two principles, among other values in their faith.
In the Jewish religion, there are many teachings about giving and diversification, as seen in the Talmud. These teachings subsequently act as guidelines when it comes to investing.
Jewish investing doctrines and beliefs resemble socially responsible investing. Here, society and the environment are major pillars in investment decisions.
Different faith-based investments embrace socially responsible investing. This is because it fits into the guidelines and principles of different religions.
Some of the main issues addressed in this type of investing option include:
Social justice
Climate change
Region's specific issues
Various mutual funds offering Jewish faith-based investments focus on various crucial issues. Some of the best investment platforms here include:
Jewish Values Investment Funds
Investing in Jewish faith-based mutual funds has been made easier. JVIF, LLC, offers an excellent way for Jews to invest in companies and funds that align with the Jewish faith and beliefs.
This investment advisor recognizes the importance of tzedakah (charitable giving). It allows the Jewish community to invest in things that matter to them.
This is another great fund, offering Jewish investors a chance to grow their money. An, it allows them to take part in charitable giving.
The fund aims to encourage community development by supporting initiatives as follows.
Small businesses,
Affordable housing, etc.
With as little as $20, anyone can invest and make a change. The fund's Community Investment Note finances various organizations. These are organizations that bring positive change to various communities globally.
If you want to invest in something that makes the world a better place, this might be the way to go.
Islamic Investing
Just like Christianity and Jewish faiths, the Islamic religion has values and beliefs. These guide its followers on the way to lead their lives, including financial matters. This way, when it comes to investing, Muslims have specific guidelines or principles to follow.
Generally, Muslim investors will adhere to halal or permitted values while investing. This set of rules allows investors to undertake a disciplined type of investing. They make investments that are ethically, socially, and environmentally responsible.
Islamic investing principles discourage investing in areas such as:
Pork related businesses
Companies that invest in gambling, drugs, and adult entertainment
Short-term speculation (the faith considers this as gambling).
Companies with huge debts since they are paying interest for the loans.
Any investment that pays interest (money markets, savings account, etc.)
In other words, any company or fund that wants to qualify for Islamic investing must adhere to Sharia law. It must follow the teaching from the Quran, Qiyas, Ijma, and the Sunnah.
If you've been looking for a way to make Islamic faith-based investments, here are some excellent options for you.
These are Islam faith-based mutual funds offered by Saturna Capital. The funds' investment strategies are guided by the Islamic faith. And, they embrace social, ethical, and environmentally-friendly practices.
However, they prohibit investing in interest-bearing securities and bonds. They'll usually try to guard their investments against inflation through long-term equity investments.
Saturna follows investment principles that avoid interest or companies engaging in prohibited issues. These include the sale of alcohol, pornography materials, gambling activities, etc.
Allied Asset Advisors, Inc.
Allied Asset Advisors operates like any other investment management company. It offers portfolio management, financial planning, mutual funds, and retirement plans for investors.
The company is Islam faith-based and offers investment opportunities supporting the Islamic faith.
It introduced the Iman Fund, which is tailored to fit the needs of Muslim investors. It adheres to Sharia law and principles.
Is Faith-Based Investing Worth It?
Absolutely yes! If you find the right investing platforms, you can easily make money. Also, you'll feel proud of how your money is being invested.
But, you should note that faith-based investing faces the same risks as other investments. So, ensure that you've not settled for just any company or fund.
Choose companies that can prove strong financial standings, charge reasonable fees, and that show growth potential. This way, you don't end up investing your money in companies that will never offer value for your investment.
Generally, faith-based mutual funds and ETFs offer better long-term returns.
This is according to research published by John C. Adams and Parvez Ahmed from the University of Texas and the University of North Florida.
So, if you feel that faith-based investing ought to be your next investment move, it can certainly be a good move. But as mentioned, do thorough research on the best faith-based investments depending on your values and beliefs.
Author Bio: Kyle is the founder of The Impact Investor, a website focused on helping others invest sustainably without sacrificing financial returns. We all want products sourced by sustainable and ethical means, why should investing be any different? Follow my investing journey on my Facebook, YouTube, or Twitter accounts.