*This article may contain affiliate links. Read our disclosure policy.
No matter who you are or what your current financial situation is, there are always ways to improve your budget's bottom line.
Whether it's finding ways to make some extra money, being creative to spend less on the things you buy, or finding better insurance, banks, and investments, there are always ways you can do better.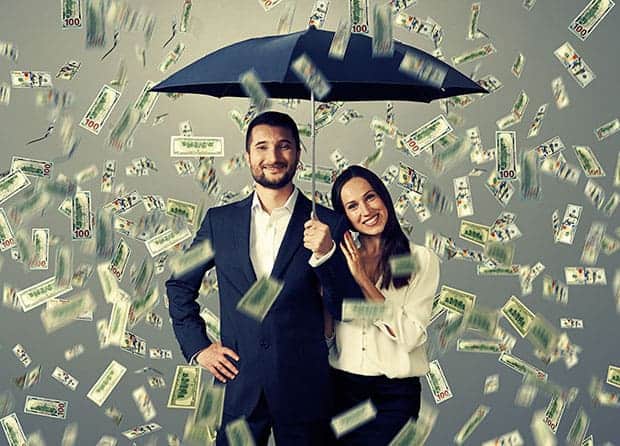 Today I thought I'd look at 10 easy ways you can improve your financial outlook, starting today!
1. Make More Money Today In Your Spare Time
One of the best ways to get ahead in your finances is to make some extra money in your spare time. Small amounts here and there can add up quickly. One of the easiest ways to make some extra money is to fill out surveys online.
Survey Junkie is one of the most reputable online survey companies with an A+ rating from the Better Business Bureau. Not only do they have a good reputation, but they also pay rewards in cash via PayPal – not all survey companies do that!
Swagbucks is a website where you can earn cash and rewards for taking surveys, surfing the internet, watching videos, completing questionnaires, and more. I've personally earned hundreds in Amazon gift cards from Swagbucks and recommend trying it out.
Opinion Outpost is another legitimate survey site where you can take online surveys for awesome rewards including cash payments.
If taking surveys isn't your thing, and you want to make a bit more cash, you might want to consider driving for a ride-share service in your spare time.
Lyft and Uber are the two main services you can drive for. You work only the hours you want to, and you can make some decent money doing it. Got a couple of spare hours? Pick someone up and drive them where they need to go! Quick cash in the bank!
BONUS: Lyft is offering a $250 signup bonus right now!
Don't want to drive people around? You could consider being a pet-sitter.
Rover is a service that connects people who need someone to watch their dog, with people that can walk their dog or watch them for an extended period of time. Want to try it out as a user before becoming a dog-walker? You can get a $25 credit through our link. Sign up to try being a Rover sitter here.
2. Start Tracking Your Finances
Tracking your money is important if you want to get ahead financially. You should know how much is coming in, how much is going out, and how your savings and investments are doing.
Empower is one of the best sites for tracking all aspects of your financial situation. Track your income, bills, debts, assets, and even all of your investments accounts. Sign up today, get all of your financial accounts linked and watch your finances start improving!
Tiller is another option to track your finances if you're old school and like working with a budget spreadsheet. Tiller received the "2017 Best Budgeting Service" award by FinTech Breakthrough, and takes the simplicity of Google Sheets, and allows you to link your online accounts to ensure that you'll need to do no manual data entry. If you're a student, you can also get one year free!
You Need A Budget is another great way to track your money. Sign up for the app and link your accounts, and you'll have access to reporting that tells you where your money is going. We've been using YNAB for years now to track our finances!
3. Check Your Credit
If you've ever had your identity stolen as I have, you know how important it is to stay on top of your credit situation.
Credit Sesame and Credit Karma are 2 free services I use to check my credit score and credit report on a regular basis. They've helped me to identify fraudulent activity on my credit card in the past, and there is no cost to either website.
4. Cut Your Insurance Costs
Insurance is often one of the sneaky big bills that we have to pay. From health insurance to auto insurance to life insurance.
Take a moment today to get quotes on new coverage and see if you're paying too much. In the past, I've switched companies and saved hundreds!
Policy Genius is a great place to get quotes on term life insurance. They'll get quotes from a bunch of different providers, helping to find the right policy for you.
Auto Quotes Direct can get multiple quotes and help you to find a better, lower-cost auto insurance policy.
5. Sell Your Old Or Unused Electronics
If you've got any old electronics laying around the house don't just let them collect dust and depreciate. Sell your old iPhone, Macbook or Android device for cash while they still have value!
Gazelle, SellShark, and BuyBackWorld are my go-to services for selling all of my unused or broken electronics. You might be surprised just how much you can get for them! Grab that device off the shelf today and get a quote!
6. Setup Automated Savings And Investments
Saving money can be hard, especially if you have to remember to do it.
Chime App offers an automated savings plan with their accounts where every time you use your Chime Visa card on your spending account, they'll round up the transaction to the nearest dollar and put that money into your savings account. Savings made easy! Bible Money Matters readers also get a $5 bonus for opening a new account!
Qapital is another automated savings account and app. Qapital will allow you to have automated savings transfers based on spending roundups, regular monthly transfers, or on any other number of triggers that you can set. Your favorite team scores a goal? Set Qapital to transfer money to savings to pay for playoff tickets!
Axos will help you to setup automated savings goals, for free! Just create a goal, set a date you want the money saved by, and it will help you to save money in small increments over time, all for free!
Looking to automatically invest some of the money that you've saved? Take 5 minutes to setup an automated investment plan with a robo-advisor.
My recommended robo-advisors Betterment, M1 Finance and Wealthfront will give you a diversified investment portfolio that will grow your nest egg over the long term, but they're also low cost!
7. Use A Savings Bot
Trim is an automated savings bot that will help you to save money by canceling unused subscriptions, finding cashback promotions, notifying you of large transactions, or even negotiating your bills. Trim just negotiated a $15 credit on my cable internet bill last month!
Just sign up, connect your accounts and the robotic savings advisor will go to work, messaging you with ways you can save. It's fun to use and effective. I've saved quite a bit already! Another similar service to try is BillShark, which will do its best to save you money by negotiating your bills as well.
8. Pay Your Mortgage By Hosting On Airbnb
If you're living in a home with an extra bedroom or an unused finished basement, why not rent the space out? One study on SmartAsset.com found that on average, in the cities they looked at, a host could expect to pay 81% of their rent by listing one room in a two-bedroom home on Airbnb.
Airbnb is the most popular rental listing service. All you have to do to get started is set up an account, create a listing, and take some nice pictures of your home. Then set aside days your space is available to rent, and you're off and running.
9. Save Money On Online Purchases
Most of us do a lot of shopping online these days, and a great way to save on those purchases is to use a cashback or rebate site.
Rakuten is one of the most reputable cash-back sites out there today with an A+ rating with the Better Business Bureau. Start your shopping trip on their site and you'll earn cashback at select online stores, including many of your favorites. Once you earn enough you can receive a cash payment directly to your PayPal account!
Bonus: Rakuten is offering a $10 bonus for new users!
Ibotta is another rebate site that you can use to get money back on the things you're buying anyway. They are also offering a $10 welcome bonus for new users right now! Ibotta Review here.
Honey is another cashback and coupon site that provides a Chrome extension, that finds you savings on a variety of sites, even Amazon!
10. Refinance Your Student Loans & Other Debt
We'll end with one of the higher impact ways to improve your finances, refinancing your credit card or student loan debt.
According to the Federal Reserve, the average household has over $16,425 in credit card debt and over $50,868 in student loans. Save thousands by refinancing your debt now!
SoFi is a great company that I've met with and recommend. They have loans to pay off your credit card with APRs as low as 5.19%. When the average credit card APR is over 15%, refinancing your credit card debt will likely mean thousands in savings. SoFi is also great because they have no pre-payment penalties or origination charges, unlike many other lenders.
Student loans are among the biggest debts for most people. If you're looking to refinance your student loans, I recommend a credible student loan refinancing partner like CommonBond, LendKey, or Laurel Road. They'll help you to find a lower interest rate loan that can save you thousands, and help you to get out of debt faster!
Improve Your Finances Starting Today – It's Easy!
The list of 10 things you can do to improve your finances doesn't cover everything, but it does give you an extremely actionable list of easy ways you can start saving and making money today.
Why not get started right now?
What are some ways you've improved your finances?