This year, my husband and I decided we wanted to bulk up our emergency fund. We decided most of the money I make as a freelancer will go into our emergency fund and the rest of it will go into a fund to save for our son's braces.
That meant we had to use my husband's income to pay all of our expenses. The result wasn't pretty.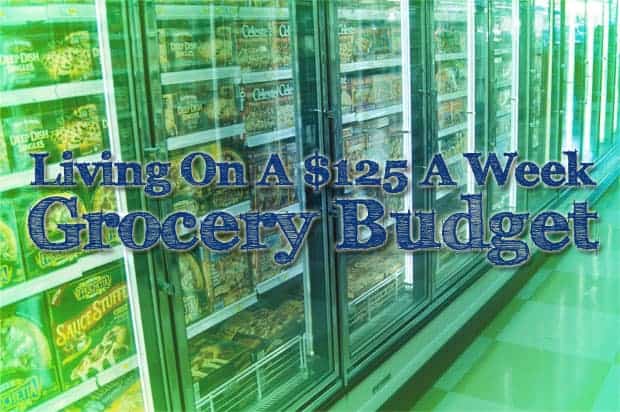 My husband is a recent Ph.D. graduate. He's completed his post-doc work and now has a job at a university, but he hasn't yet secured grants or gotten a tenure track position. In plain English, that means he's not making a lot, but hopefully he will be in the next few years.
After we slashed our expenses more than they were previously slashed, we took a look at our final budget. I had $125 a week to spend on groceries for our family of five.
Oh, did I mention we have many food intolerances? No gluten, no dairy, no corn, and no beans except black beans. In other words, most of our frugal options were out.
What I've Learned With This Grocery Budget
We've been on this budget for 8 weeks now, and I've started to learn some important lessons.
We Can Thrive On This Amount
At first, I thought there was no way we'd be able to survive on this amount. (Our old grocery budget was $200 a week.) However, we're doing just fine. We've never gone hungry, and with some creativity like taking advantage of an organization called POW-WOW where we can get up to 60 lbs. of fresh produce for $10 and buying chicken that is discounted because it's a few days away from the expiration, we're doing just fine.
Distinguishing Wants And Needs Becomes Much Easier
We love smoked salmon. We love making homemade sushi with smoked salmon, rice, cucumber, and avocado. However, that hasn't fit in our budget for the last 8 weeks. I know we'll get it sometime, but it won't be a regular menu staple anymore. Smoked salmon is a want, not a need, so it's something we don't get very often. Instead, we're relying on much more basic staple foods like fresh veggies and fruit, ground beef instead of steaks or roasts, and canned tuna instead of smoked salmon.
Loss leaders Are The Way To Go
Most of the items I buy on my weekly shopping trip are the loss leaders. Four weeks ago I bought 40 pounds of organic potatoes that were $2 for 5 lbs. We just finished them this week.
Buy In Bulk And Save
Whenever items are cheap, I stock up as much as my budget allows. Our kids like to eat seaweed and rice with some of their meals. There is only one brand of seaweed we can buy because of food intolerances. This is normally $2.99 for 5 large sheets, which is clearly out of the budget. However, in early January it went on sale at .99 a package, and I bought several cases. With the case discount, I paid just .89 a package, a savings of 71%!
Be Creative With Meals
We get a lot of zucchini and eggplant in our POW WOW orders, neither of which is our favorite. Still, we've found some great ways to use eggplant—baked, breaded eggplant, eggplant burgers, and Marrakesh. The same goes for zucchini.
Never Waste Food
When there isn't any extra money for groceries, wasting food is even more painful. To avoid this, we have leftovers for lunch several times a week, and my husband is great about eating any leftovers from meals that the kids didn't care for.
Take Advantage Of Rain Checks
A worker at Sprout's taught me this trick. One day, I went to the store to buy organic apples for .99 a pound. They were out. He told me to get a rain check up front and to come back in a few days to see if they were back in stock. He said to buy the apples then but to hold on to the rain check so that in future weeks, thanks to the rain check, I can continue to get low cost apples. Now, when I go to the store, I sometimes hope the item is sold out so I can get a rain check!
If you're curious how much is average for a family your size to spend on groceries, you can check out the USDA's food plan guide for the cost of eating at home. For our family, following the thrifty plan, we should be spending $176.60, but we're doing fine on less, even while buying organics and grass fed meats.
What's your favorite strategy to save on groceries?