One of the discussions that we always seem to be having in this country has to do with what constitutes "wealthy."
Are you "wealthy" if you make more than $250,000 a year, or do you need a net worth of at least $1 million to really be wealthy?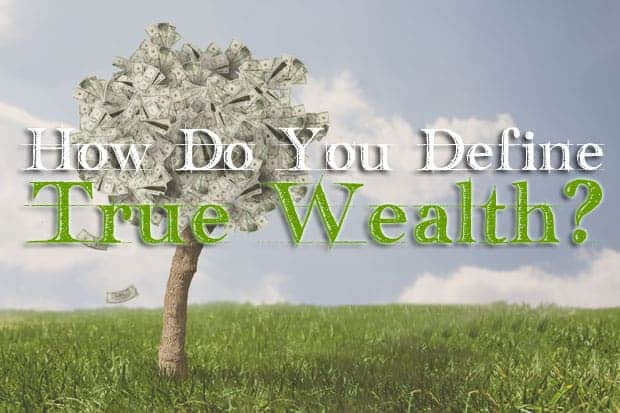 Questions about what it takes to be wealthy swirl around various factors, including:
Is it more about income?
Does net worth matter more?
How big of a role does location and cost of living play in wealth?
Do measures of wealth always have to be in terms of comparison?
The answer, of course, is that what we term "wealthy" is relative.
Someone with an annual income of $300,000 who lives in San Francisco might not be nearly as wealthy as someone who lives in Salt Lake City making $150,000 a year. How much money you have left over after paying your living costs can be a big deal — and it's one of the reasons that so many people are against using the $250,000 annual income as a threshold for tax policy measures.
While it's practically impossible to define "true" wealth on a broad scale, though, it is possible for you to determine what you think it means to be wealthy.
Your Financial Definition of Wealth
The first step is to consider your financial definition of wealth. Leave aside what other say it takes to be "wealthy." Look at what would make you feel wealthy. In my case, it's not about reaching a certain number. Some consumers feel they will have "made it" when they have a certain net worth, or when they have a particular income.
I prefer to look at wealth in terms of what my money allows me to do. Do I have enough money to cover my survival needs? Can I do most of what I want? If the answer is yes, I feel as though I have sufficient financial wealth. I am able to save for retirement, go on trips, and afford to live in my current location. I don't need a certain type of car, or a big screen TV, to feel as though I'm wealthy. Instead, I like the idea of being able to use my money how I want. The choices make me feel wealthy.
Your Non-Financial Definition of Wealth
Of course, wealth isn't just about money. There are other ways to view wealth. I like to look at my family and friends. Do I have people in my life that I care about? Do I feel like they care about me? What about health? The ability to pursue interests and hobbies? Can I feel a connection to my community?
All of these are questions that go into your non-financial definition of wealth. For many people, having a huge pile of money doesn't assuage feelings of loneliness, or make up for the fact they feel no real purpose in life. If your life isn't rich with experiences and love, can you really consider yourself wealthy, even if you have a lot of money?
What do you think? What is your definition of wealth?