One thing that I am a huge proponent of is trying not to rely too much on one stream of income for your family. Why not instead create multiple streams of income, whereby if one of them dries up, you'll still have several others that you can depend on?
PT over at PTMoney.com is launching a great e-book today that will look at a variety of ways that you can make extra money for your family. It's a great resource that you should check out. As a part of that offering he asked me to write about something that I do to make money on the side, graphic design. I heartily agreed. Before we get into that, however, go to PT's site, and download the e-book – you just may find some great ways to make some extra income! (look for small "download" link in the right corner until Friday. Download it without giving an email until then!)
Make Extra Money By Designing Logos
Are you a graphic designer or do you have some artistic talents that you know others are looking for? Why not make some extra money for your bottom line by designing logos or other graphics for people's websites, for their newsletters or for other print applications?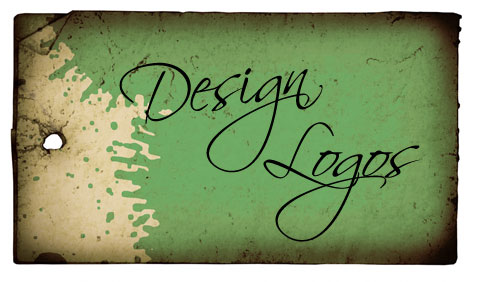 Doing web graphics obviously isn't for everyone. It will help you quite a bit if you've got some background in graphic design or if you're relatively proficient in design tools like Adobe Photoshop, Adobe Indesign, Adobe Illustrator or other similar products. You don't necessarily have to have a degree in graphic arts, as long as you're able to put together eye pleasing designs that others will love and will pay for. I am completely self taught when it comes to design, but I think I've done quite well and am able to make a nice side income from doing design.
Getting Started
So how do you get started designing logos for others? Can you just put together a website and hope that the business will start rolling in? Unfortunately it will take a little bit more work than that. (Note: the steps below can work for doing a variety of service oriented businesses online, not just design)
Network: To get my logo design business started I first started networking with people that I know on the internet that would have a need for design work. That means bloggers, IT developers who put together websites for others and a variety of people I've met through social media.
Get the Buzz Going: Next I designed a few logos for free or for extremely cheap rates. A few of these logos for were for high visibility bloggers who in turn trumpeted my design services on their sites.
Put together a portfolio: Once I had built up a small portfolio and a bit of a buzz I launched a WordPress portfolio site for my design work, showing examples of my logos. Now people were able to see examples of my work.
Make it easy for people to buy and use your services: I also put up an logo purchase page where people could order different logo and design packages, and pay for them directly through PayPal. I put up questionnaires on the site so people could tell me exactly what they were looking for. The website was setup to make the process of ordering a logo and giving design instructions as easy and hands off as possible. That way, I could spend more time doing the important work of design. Of course I did still have to to do the work of promotion for the site through networking, through writing of design related blog posts to bring in search visitors and through setting up a referral program.
Customer Service Is Key
Now that I've been doing design work for a while word of mouth does the best job of bringing in new work. When you're doing your design work for your customers (or other service), remember that customer service is key. Make sure to maintain good communication, keep your turn around times as short as possible, and remember that the customer is always right. If you do those things, you'll be on your way towards having a nice secondary source of income.
Have your own ideas for ways to make extra income for your family? Tell us about it in the comments! Want to share your own post about how to make some extra money, click on the "contribute" link at the top of the page, and send us your post!