401k balance dropping? Create some new income!
Right now the markets are struggling. There is no doubt about that. 401k balances are dropping, investment accounts are taking a hit, and there isn't an end in sight. So what can you do instead of just wringing your hands and hoping for someone to bail YOU out?
Make a budget, and stick to it.
Spend less than you earn.
Create new income.
So, how do you create new income? In a previous post I gave 5 ways that I've used to make extra income. In this post, in light of the current economic crisis, I thought that I would come up with a few more ways that you can create some additional income to add to your bottom line. Times are tough, but for those who are creative enough, putting together their own "bailout package" shouldn't be that hard.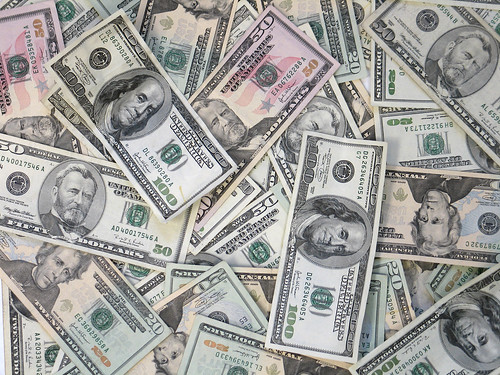 6 more ways to create some extra money
Start a blog and monetize it: While starting a blog won't bring you a ton of income right away, if you work at it and build up a lot of good content, over time it can definitely bring in some regular income that you didn't have before. If you really want your blog to make money from the start, consider choosing a niche that is a proven performer – like the personal finance niche, and be sure to follow the advice of proven moneymakers like problogger.net or getrichslowly.org. Monetize the site using adsense ads, private link and ad sales, paid reviews and anything else you can think of. Over time the small amounts of money you make can add up to larger sums.
Take surveys online for cash: For the past few months I've been taking online surveys and signing up for email lists through CashCrate.com and TreasureTrooper.com. The most successful one for me has been Cash Crate – I've been making in excess of $75 a month for the past couple of months using that service. Read my review of Cash Crate here. To find other similar services just do a google search for "GPT" or "Get Paid To" services.
Become the neighborhood "computer guy": Do you have a bit more knowledge about computers than your friends, family members, neighbors or acquaintances? If so, consider offering your computer and other technical skills to them as a service. Set up their new computer, hook up a wireless network, clean their computers of spyware, or help them with other random computer related issues. Set up a rate sheet for different types of services, or offer to work on an hourly rate. Get the word out through family and friends that you offer your services. You can even put up a website to advertise as well. Get some free business cards through vistaprint.com to advertise your new business. (I got my business cards through Cash Crate and got even more free!)
Rent out an extra room: Have an extra bedroom in the house that isn't being used? Consider renting the room out to a family friend, someone from church or someone you've found through a classified ad. We have some friends who rented the extra bedroom in their basement and they get an extra $600 a month from the renter. Not bad for just using that un-needed space! One caveat to this, however, be careful about who you rent to. A bad renter can cause a lot of problems.
Become a garage sale flipper: Start attending local garage sales, retail outlets, thrift stores and second-run stores to find good deals on brand name or popular items you can resell on services like Ebay, Craigslist and Amazon. Do some research on hot selling items, and figure out what types of things to search for. I recently found a great deal on a clearance high tech remote control at a local Sears store. I bought three of them at $40 each, and resold them on Ebay for $80 a piece. Not a bad return! If you keep your eyes peeled you can find all sorts of good deals that you can turn around and flip for a profit.
Cut back on your spending: This may seem pretty basic, but if you just put together a working budget, and limit how much you can spend in some non-necessary categories, you can often come up with tens if not hundreds of extra dollars every month. My wife and I found close to $500 extra dollars in our budget after cutting out a bunch of unnecessary expenses like gym memberships, eating out and clothing purchases. Amazing!
The ways that you can create new income for you and your family are only limited by your creativity. So get started today and watch your bottom line improve, dollar by dollar.
Have your own ideas for creating extra income? Let us know your ideas in the comments!