Several years ago, my husband and I got out of debt.
We did so largely by following Dave Ramsey's baby steps and going gazelle intense.
I worked lots of side jobs, and every single extra dollar went on our debt.
I found the process a bit frustrating, however, because we only had a $1,000 emergency fund, and when big expenses that were more than $1,000 came up, we didn't have the money to cover them and had to go back in debt.
That two-steps-forward-one-step-back shuffle really frustrated me.
We were out of debt for several years, but over the last two years, we had a series of medical issues arise with our children, and we went back into debt to pay the medical bills and therapies.
Now things have stabilized, and we're once again working our way out of debt, but this time, we're not throwing all of our extra money at debt.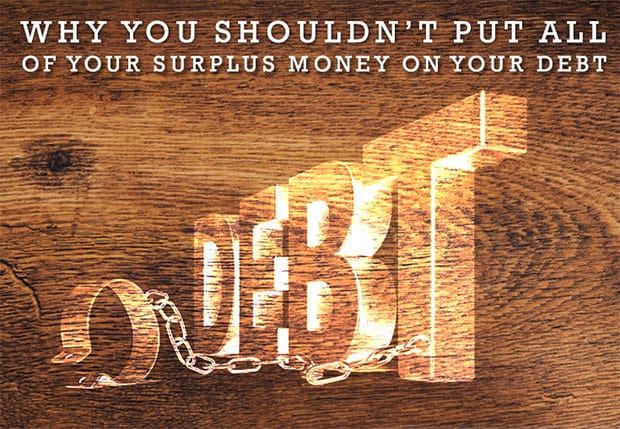 Why We're Not Putting All Of Our Surplus Money On Paying Down Debt
There are several important reasons why we're not putting all of our extra money on paying down debt.
We Wanted A Bigger Emergency Fund
We have three kids, two of whom have medical issues, a house, and two cars, one of which is 14 years old.
This year alone, we've had several issues that cost more than $1,000 including a $2,500 car repair, a $1,400 dental procedure, and another $1,700 dental procedure.
To avoid going further in debt while we try to get out of debt, we've decided to gradually build a bigger emergency fund WHILE paying off debt.
Then, we will have money to pay out of pocket when these large expenses come up, and we won't derail our debt repayment plan or even worse, go further into debt.
No More Two Step Shuffling
To me, nothing is more frustrating than paying off a large chunk of debt only to incur a smaller debt because I don't have money to pay for an emergency because all of the additional money was allocated to debt.
I'd much rather pay down my debt more slowly, but continually make progress than zig-zag through my debt repayment process.
Plus, the more we can make our finances solid by having an ample emergency fund and sinking fund for irregular expenses like car repairs, home repairs, and medical bills, the less likely we'll ever have to go back into debt again.
How We Pay Down Debt
We've been using a formula to simultaneously pay down debt and save money.
Any extra money that comes our way, whether from a windfall or extra work, is divided. We put 40% on debt repayment and 60% on building our emergency fund.
If we ever have a time when our emergency fund dips below $1,500, we stop the 40% debt repayment and allocate all of the surplus money to replenishing the emergency fund until it is back to at least $1,500. Then we go back to our standard ratio of debt repayment and building the emergency fund.
Once we hit $5,000 in the emergency fund, we'll put all of our extra money on debt repayment.
Eventually, we'd like an emergency fund of three to six months' living expenses, but we'll wait on that goal until our debt is paid off.
I've been surprised that even though we're not throwing all of our extra money at debt repayment, we're still making steady progress. This makes me feel better because I know we're also simultaneously building an emergency fund and making ourselves more financially secure.
If you've had debt, did you throw all of your extra money at it, or did you also make sure you had an ample emergency fund? Which technique would you recommend?