Amazon and the Amazon logo are trademarks of Amazon.com, Inc. or its affiliates.
Amazon Prime was first launched back in 2005, and shortly thereafter our family signed up to take advantage of the reduced rates on shipping.
The service first launched at a $79/year price point, and over the years it has gone up to $119/year while adding a number of benefits besides the free 2-day shipping.
Amazon Prime now also includes Amazon Prime Video, Prime Music, free Kindle e-books, unlimited photo storage, exclusive access to great deals on Amazon products and more.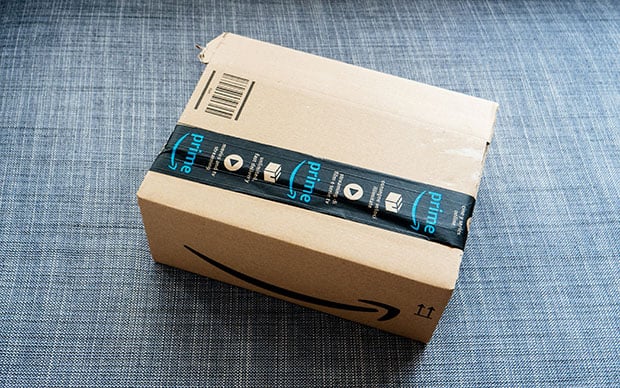 We buy a lot of things via Amazon, and watch a lot of the Prime Video, and as such we definitely get our money's worth. We've been extremely happy with the service.
Over the years Amazon seems to always be adding new features to Prime, often these perks were available and I didn't even realize it.
This week I discovered something new. If you order an item, and it has a guaranteed delivery date on your checkout page, if it doesn't arrive on the promised date, you could receive a refund of your shipping fees. But it's not just going to happen automatically, you have to request compensation.
Let's take a look at what I did in order to get a credit applied to my account.
Free 2-Day Shipping With Guaranteed Delivery
Amazon promises Prime members free 2-day shipping on millions of products on their store, but what happens if your package is delivered late? Sometimes it happens, and it can cause an inconvenience if an item doesn't arrive when you were expecting it.
After we had a package miss it's promised delivery this past week I learned that Amazon may actually compensate you if an item doesn't make it's guaranteed delivery date.
Here's how Amazon describes the guarantee, and it's caveats, on their FAQ page:
If we provide a guaranteed delivery date on the checkout page, your shipping fees may be refunded if we miss our promised delivery date. The following requirements must be met to qualify for a delivery guarantee refund:

Shipping method selected is shipping option advertised on a product detail page.
Order is shipping to eligible address.
Order is placed before "order within" countdown listed on the checkout page. The "order within" countdown timer provides the window of time in which you must place your order to receive your delivery by the date shown. That delivery date may become unavailable within that window of time due to changes in inventory or delivery capacity before you place your order. Your confirmed delivery date is included in your order confirmation E-mail. Contact us with any concerns.
If you order contains items that aren't eligible for guaranteed delivery, shipping preference "Ship my items as they become available" is selected.
Your credit or debit card must be successfully charged before the deadline displayed on the checkout page.
The guarantee does not apply if we miss our promised delivery date because of an unforeseen circumstance outside of our control, such as a strike, natural disaster, or severe winter storm. Also, delivery scans might be inaccurate.

An attempted delivery on or before the guaranteed delivery date meets our delivery guarantee.

An offer by the carrier of a delivery appointment on or before the guaranteed delivery date meets our delivery guarantee
So if you find that your order meets all of the requirements above, you may be eligible to receive compensation in some form.
What Compensation Can You Expect For A Late Amazon Delivery?
So what compensation can someone expect to receive from Amazon for a delivery that has missed it's guaranteed delivery date?
The answer seems to be that it depends.
In checking with others who have successfully asked for compensation, it can range anywhere from receiving a credit on their account, to a free month of Amazon Prime, to a full refund on the item and and shipping cost. So it can vary widely.
Here are a few examples of what other customers received when I did a search online:
Full refund of item and shipping cost.
$40 Amazon credit after repeated late deliveries.
$10 Amazon credit.
$5 Amazon credit.
Free month of Amazon Prime + 30% refund of the order.
4 late deliveries lead to free month of Amazon Prime, $30 credit, one $15 item for free.
Free month of Amazon Prime.
The most common compensation that I've seen is a free month of Amazon Prime, but it does appear pretty common for people to receive Amazon credit as well. I think the amount received tends to vary depending on the cost of the product, the number of late deliveries, and possibly other factors.
How To Get Compensation For Your Late Amazon Delivery
Once you've determined that you're probably eligible to receive compensation for your late Amazon delivery, how do you go about receiving that compensation?
You need to contact Amazon. To contact Amazon it's best to go through their "Contact Us" page.
When you get to the contact page you'll see a list of items currently being shipped to your delivery address, and you can see tracking details, order numbers and expected arrival time and more of those items.
To request compensation, at the top of the screen just choose that you need help with "An order I placed".

After choosing which order you're inquiring about, under #2 just select "Where's my stuff?" from the first drop down box. Next, choose "Shipment is late" on the second drop down.

Finally, under #3 you can contact Amazon either by live chat or by phone. Personally I prefer to do things on the chat because I don't want to be sitting on a phone call listening to hold music. The chat is usually pretty quick and you can leave the window open while they investigate your issue.

Once your chat agent arrives, it's just a matter of inquiring about your late package delivery, and asking politely for some sort of compensation.
Here's the full transcript of my chat with the Amazon agent: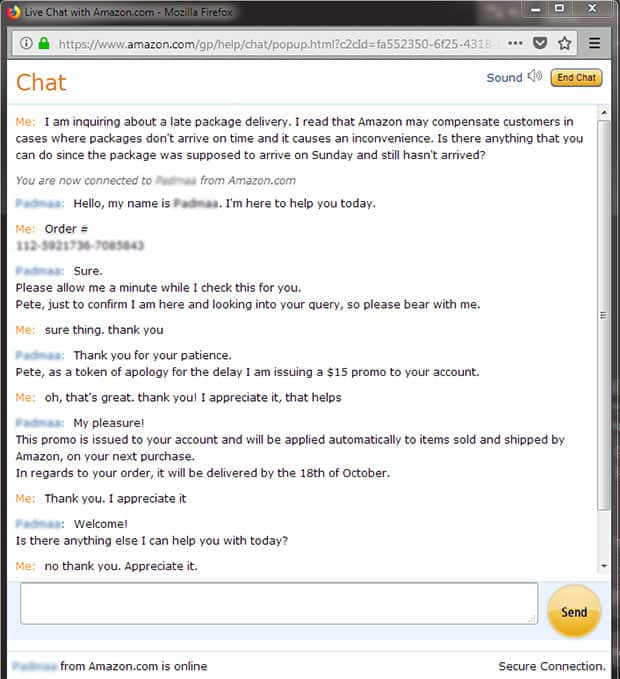 So essentially I was polite, inquired about receiving compensation, and then gave them the order number of the order in question so that they could look it up and see if I was eligible for a credit.
In this case they were happy to give me a $15 Amazon credit on my account, which comes out to about 40% of the order total. Not too bad for 5 minutes of work.
Here's the text in case you care to edit it for your own use:
I am inquiring about a late package delivery. I read that Amazon may compensate customers in cases where packages don't arrive by the guaranteed delivery date, and it causes an inconvenience. Is there anything you can do since the package was supposed to arrive on X day, and it still hasn't arrived X days later?
Remember to be polite and engaging when you contact them, you'll likely have more luck with the agent if you're nice. You can catch more flies with honey than with vinegar, as the old saying goes.
Use Paribus To Track Your Late Deliveries And Request Credit Automatically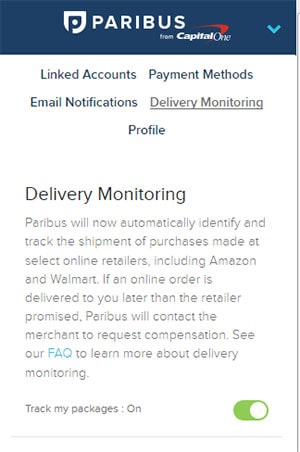 If you're interested in taking advantage of the guaranteed delivery promise, but you don't really want to track your deliveries and whether they're on time, there is another option.
A while back I wrote about a service called Paribus that would track your online purchases from Amazon, Target, Wal-Mart and other stores, and if the price went down it would request an automatic price match refund either from your credit card price match policy, or the service itself. I used the Paribus service and received several decent sized refunds from my credit card provider.
Paribus (which is owned by Capital One) also recently added a new service called "Delivery Monitoring" where they "automatically identify and track the shipment of purchases made at select online retailers, including Amazon and Walmart. If an online order is delivered to you later than the retailer promised, Paribus will contact the merchant to request compensation".
So just sign up for Paribus, turn on "Delivery Monitoring" feature in your settings, and then any purchases you make in your linked Amazon or Wal-Mart accounts will be tracked for on time delivery, and compensation requested automatically when they're late.
Take Advantage Of All The Perks You're Paying For With Amazon Prime
For me the process of requesting compensation for a late delivery with Amazon was easy and was completed within 5 minutes. For my time I got a $15 credit, almost 40% of the cost of the items I had purchased. That's not too shabby!
Since you can track your shipments and request credit automatically for free via Paribus, there's no excuse not to get compensated when your package arrives late.
Also, if you shop at Amazon regularly, don't forget to take advantage of offers to win or earn free Amazon gift cards!
Have you received a credit or free month of Prime after your package was delivered late? Tell us your experience in the comments!