*This article may contain affiliate links. Read our disclosure policy.
If you're anything like me, you shop online for the things that you need. Probably a lot.
One thing that can be extremely annoying is thinking you got a great deal on something that you've purchased, only to find a few days later that the price has dropped substantially.
We go through this just about every Christmas when we find that many of the gifts that we bought for our family, ended up dropping in price right after we bought them. It's frustrating to see all of that wasted money.
So what's a person to do?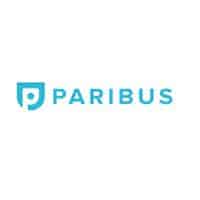 A lot of stores have a pricematch policy, but in order for you to take advantage of it you have to remember to constantly be checking prices, and when you find a price that has dropped, you have to actually ask for the pricematch.
Enter Paribus.
Paribus is a startup that aims to take all the legwork out of making sure you got the best deal. Here's a quick look at what they do, and how they can help.
Signing Up for Paribus
Signing up for Paribus is pretty simple, it only takes a couple of minutes.
To open an account just use a login from your compatible email provider (Currently they support Gmail, Yahoo and Microsoft emails), and give them access to your inbox. Paribus will need access to your inbox so that they can scan for receipts for your online shopping, and so that they can send out automated price drop refund requests through your email. (If you're not comfortable with that, just setup an alternate email that you use for shopping!).
The site used to ask for a credit card when you signed up because they would charge you a "success fee" when they would find a successful price match for one of your purchases. Paribus was recently purchased by Capital One, however, and no longer charges a fee of any kind. The service is completely free!
How Paribus Works To Save You Money
So how does Paribus work, and how does it save you money?
When you are owed money, Paribus' advanced algorithms automatically get it for you. Sign up with your mailbox, enter any missing shopping credentials, and Paribus handles everything else: Automatically detect purchases, monitor and compare price changes/coupons in real time, and engage with stores on your behalf by filing claims to get you paid.

When Paribus succeeds and stores issue your price adjustments, money is typically refunded directly onto your original form of payment with the store. For example, if you originally paid with a debit card, you should receive a credit for the amount of the refund on that debit card. The merchant, and not Paribus, issues the refund.
So Paribus essentially does everything. They monitor all your purchases at eligible stores, and work to get you a refund when you're due one.
The Paribus Website
When you login to your Paribus account, there are two main screens that you'll see. Your dashboard, and your purchases screen.
On the dashboard you'll get a high level overview of your account. It will show you recent purchase activity, how many purchases they've logged for you, how much you've spent by month, and how much you've saved.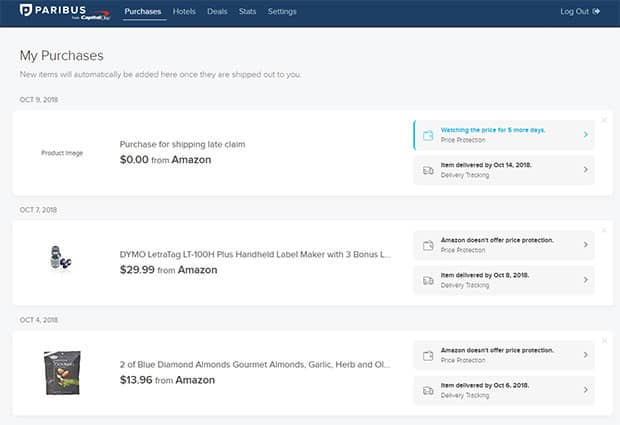 On the purchases screen you'll see every purchase that you've made at one of the supported retailers. Each purchase will show a chart with a historical trend of the price for that item, and whether the item is eligible to make a claim. For items purchased through Nordstrom, for example, the price has to drop within 14 days of the ship date in order for you to claim a refund. Others will have different price match periods.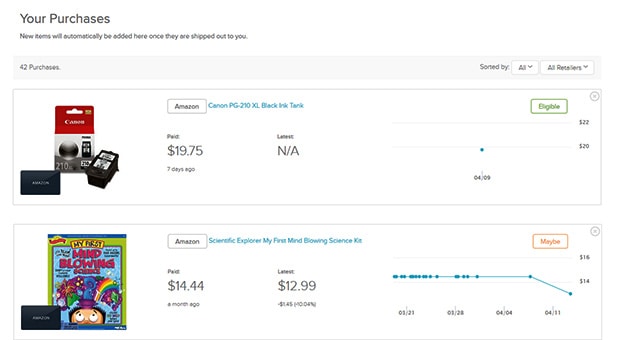 If an item is still eligible to have a price match claim made, it will have a green "eligible" box on that item. (see above). If the item is beyond the price match period for that retailer, it will switch over to an orange "maybe". The maybe is reflective of the fact that some credit cards will have price drop perks built into the credit card itself – and you may be able to make a claim through your credit card. In those cases, however, you will have to look for a price drop refund on your own with your credit card provider.
I you have a successful price drop refund on one of your items, the item will show a green thumbs up on the item, and a "Claim successful" underneath.
You can also receive refunds for guaranteed deliveries that don't arrive on time, for example, through Amazon. If your purchase doesn't arrive at the promited time users often will get refunds on the cost of shipping, full or partial refunds on the cost of an order, store credit, and complimentary one-month extensions of Amazon Prime memberships.
I don't expect to save a ton of money using Paribus, but if it can save me even a little money with no work for me, I'm all for it.
UPDATE: I just received a claim check in the mail from my credit card company for a claim that Paribus made for me, without any real intervention from me. They made a claim on some floor liners I bought for my new car that had dropped in price by $22.86.

Here's the check I received a few weeks later (claim was approved for a bit less):

I'm happy with getting this check. I wasn't expecting it, and I didn't have to do anything. Paribus did all the work for me. Bonus!
UPDATE 2: I just got another price check claim submitted by Paribus for $20 this time – for a price drop on a Christmas present we bought for our son 20 days ago. Another $20 in savings for doing nothing!

What Stores Does It Work With?
Paribus currently supports the following stores, among others:
Amazon (with your login credentials)
Bloomingdale's
Macy's
Best Buy
Sephora
Newegg
Staples
Target
Bonobos
J. Crew
Zappos.com
Nordstrom
Banana Republic
Gap
Old Navy
Athleta
Piperlime
Walmart
Use Paribus To Track Your Late Deliveries And Request Credit Automatically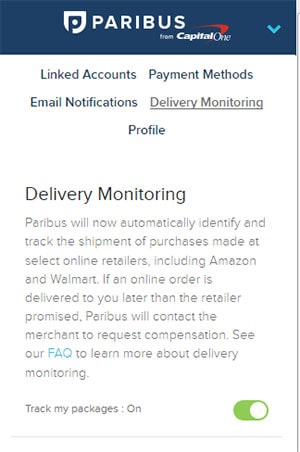 Paribus recently added a new service to their site called "Delivery Monitoring".
Some sites, mainly Walmart and Amazon, offer guaranteed delivery. If an item doesn't arrive on the day that it's promised, you can often get store credit, a refund or some other compensation for your trouble.
Paribus will "automatically identify and track the shipment of purchases made at select online retailers, including Amazon and Walmart. If an online order is delivered to you later than the retailer promised, Paribus will contact the merchant to request compensation".
So just go into your settings, turn on "Delivery Monitoring", and then any purchases you make in your linked Amazon or Wal-Mart accounts will be tracked for on time delivery. If they find a package that arrives late they'll automatically send an email to request compensation.
I've already requested compensation for one late Amazon delivery, and received $15 for my trouble – about 40% off of the item's cost.
Paribus Can Save You Money With No Real Work
According to Paribus, online stores like Amazon change their prices 2.5 million times per day. Chances are pretty good that the price on something that you've bought on Amazon (or other retailer) is going to drop. So why not get a refund on the extra amount you paid?
Paribus makes the process of getting a price drop refund super easy, essentially monitoring your purchases and available coupons and asking for a refund when the price drops within the refund period. In most cases you're getting back money that you would have otherwise just have forgotten about.
Add to that the delivery monitoring tool, getting you credit for late deliveries, and using a service like Paribus is a no brainer.
Why pay more than you have to? Why not get compensated for your late shipments?
Get the money back that you're due, and save it, spend it or give it away!
Have you tried Paribus? What was your experience with the site?