Review and Giveaway
A week or two back after finding my site, Luke over nuruplanet.com emailed me and offered to send me a packet of Nuru's Personal Finance Pocket Cards to review on the site. In theory they sounded like a great idea – flash cards centered around the basic principles of personal finance. I jumped at the offer figuring I could check them out, and then give them away to a lucky reader of the blog. So that's what we're going to do – a quickie review, and then a giveaway!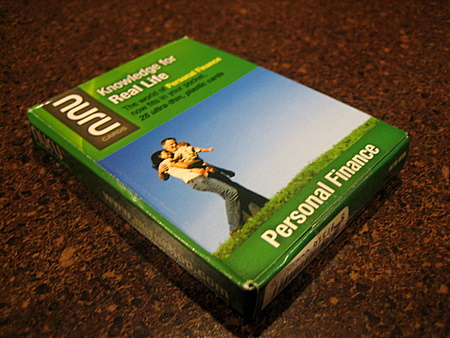 So What Are They?
Here is how Luke describes the cards:
NURU's Personal Finance is a deck of 30 ultra-thin, waterproof, and durable pocket-sized plastic cards that take potentially complex topics and break them down into easy, everyday language, using simple examples to make the concepts stick. Such topics include investing, loans, credit, insurance, retirement vehicles, etc. What's more, those who purchase Personal Finance will be able to access the deck's content on their mobile phone or computer within the next few weeks.
Ok, so we're taking complex finance topics, and breaking them down so they're easier to understand. I'm all for educating people on complex financial topics. So what types of topics do they cover?
There are 7 categories of interest on the cards. They are:
Essential Finance Vocabulary
Personal planning
Investing
Loans
Retirement Vehicles
Credit
Insurance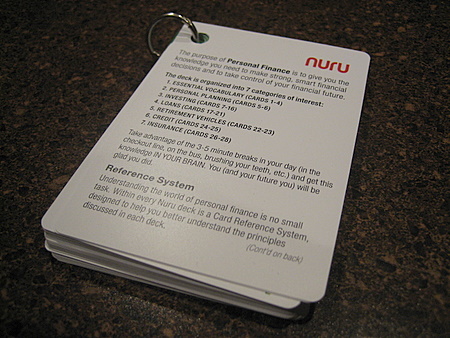 In reading through the cards they seem to do a good job of quickly explaining topics, giving examples of the subject to explore the concept, and then moving on to the next topic. The cards don't go too in depth, but since this is meant more as a reference and a primer to these financial topics, this seems appropriate.
The cards seem like they would be a great tool for teaching folks in a beginning personal finance class, or at a class like Financial Peace University. It gives an introduction to many complex topics that give most people a headache to just think about, and explaining them in this way makes it less intimidating and more approachable.
The compact size of the cards means you can just throw them in your pocket and read over the topics while you'rewaiting in line at the grocery store, or sitting in the doctor's office waiting room.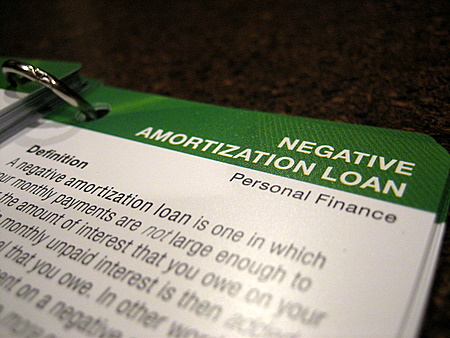 All in all a decent product that I wouldn't hesitate to buy, especially at the cheap price of $10. Buy a couple and give one to a family member or friend.