This was a year of several big ticket purchases for the Extra Money Blog household and throughout the year, my advocacy of using credit cards responsibly was further reinforced and validated by each big ticket purchase experience.
Note that I mentioned using credit cards responsibly. Those without discipline shouldn't be carrying plastic to begin with. It is because of the undisciplined that many personal finance writers often trash credit card usage, and rightfully so. However, there are circumstances where using a credit card over cash or checks is really the most prudent approach.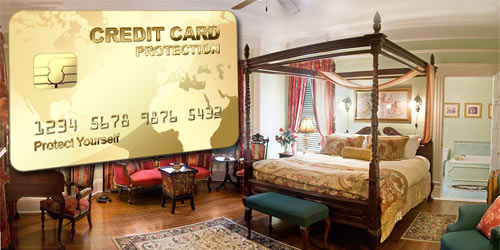 Using Credit When Giving A Down Payment
One of those circumstances is putting down a down payment or deposit on a deliverable (whether a good or a service) that is to be expected sometime in the future. Why is this a qualified circumstance? Consider a local home remodeling store in your city goes out of business. What happens if you ordered carpet and prepaid a portion of it at the store while awaiting delivery and installation on a future date?
Most businesses are volatile just because they are a business and their success is predicated on several variables that they cannot control. For example, a local home remodeling store in your city relies on the city's residents to have discretionary income to spend on home improvement and remodeling projects. It also relies on home ownership and the establishment of new homes. But what happens when the housing market slows down?
File A Dispute To Avoid Losing Money
Something similar happened to us this summer. My wife and I were shopping around for basically an entire bedroom. We wanted to furnish it with a twelve inch thick memory foam mattress and box spring bed, a maple bed stand with headboard and two night stands on each side. In addition, we had lamps, dresser cabinets and drawers picked out to match the bed stand.
Just a week after our visit to the store, the store closed its doors. Fortunately for us, we had paid for the items using our credit card and were awaiting delivery. By rule, if a transaction exchange is not honored by the time it is promised, you can file a dispute with your credit card company to get a refund on your payment.
Whether a credit card can collect from the business that shut down is irrelevant to you as the customer. The credit card company is obligated to reimburse you for your loss. It is part of the risk that a credit card company takes when it agrees to process payment charges. They key point to remember is to file the dispute within 60 days or you lose the right to a refund.
Use Credit To Minimize Risk
This risk management strategy can be applied to other transactions as well. Let's say you are planning a family vacation to a small town and plan on staying at the local bed and breakfast. When making reservations, pay with your credit card instead of sending them a check or "PayPaling" over the funds. Yes, I've actually paid for a bread and breakfast stay through PayPal (oooh technology).
When you make the reservation, ensure that it is no more than sixty days outside your planned stay. By doing this, you are assured some safety in the event the bread and breakfast shuts its doors for whatever reason.
Credit cards are not always evil if used responsibly and appropriately. Hope you found this tip helpful.
Can you think of other strategic uses of your credit card that can benefit your pocket?
Sunil owns over a dozen profitable niche websites and is the author of "How to Go from $0 to $1,000 a month in Passive and Residual Income in Under 180 Days All in Your Spare Time", a FREE report you can download instantly from his blog, where he discusses expedited wealth building through solid personal finance, entrepreneurship and internet marketing. In 2007, he sold his ecommerce website for $250,000 to a top Ebay Power Seller and since then has sold several niche sites for five figures each. You can read more about him on his Extra Money blog.