While Halloween is nowhere near as expensive as Christmas it can still be an expensive holiday especially if you have children or are planning to have a Halloween party.
If you reduce your spending at Halloween, you will have more money for the holidays.
If your funds are tight, or you simply want to save money, here are some ideas for cutting those scary Halloween costs. These homemade projects are also a great way to spend time with your family.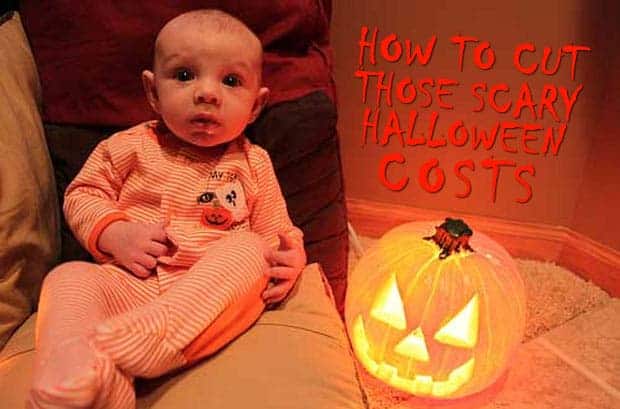 Inexpensive Costume Ideas for Kids
Instead of buying inexpensive and cheaply made costume packages, which can cost $30 or more, you can make your child's Halloween costume from inexpensive and recycled materials.
The Mummy – try using inexpensive white cloth like muslin to make your child's mummy costume. You can pin the cloth to clothing that your child already has. Soaking the cloth in a few teabags overnight while make the cloth look older.
The Ghost – pulling out an old bed sheet is one of the easiest and least expensive costumes available. You can try customizing the costume by adding accessories like jewelry. You can paint clothing or other accessories right onto the sheet.
The Cereal Killer – save a few cereal boxes (or buy a mixed pack of individual serving cereal boxes) and attach them (duct tape works well) to some of your child's old clothes. Buy some plastic knives and "stab" all the cereal boxes. You can use red paint to add some bloody details.
The Highway or Street – dress your child in black and use some yellow duct tape to make the lines of the road. Attach some small toy cars to the road and print off some local highway or street signs and add them to your child's clothing or you can make a hat.
Inexpensive Costume Ideas for Adults
Costume packages for adults cost even more than the costumes for kids, but if you are going to a costume party or trick-or-treating with your kids, you probably want a costume. By utilizing thrift stores and your own closet (and maybe your mother's closet), you can often create Halloween costumes for a few dollars.
The Gypsy – this is a great costume for women (and men), and it is similar to a pirate's costume without the swords and skulls. Try looking for long skirts and colorful scarves in your closet or local thrift store. Men should look for colorful, loose clothing as well. Coin jewelry and colorful or gold jewelry make good accessories.
A Favorite TV Character – most of the time, you can mimic your favorite TV character's wardrobe with what is already in your closet.
The Hippy – similar to the gypsy costume, you probably have the clothes for this in your closet. If not, you can often find appropriate clothing at a friend's house or thrift store. Bell bottom jeans and peasant blouses are good options for this costume. Tie-dying is also a fun way to spend time with your kids.
The Wizard – make a pointed hat with poster board, don your bathrobe, and grab a stick (wand) from your yard, and you are ready to go.
Inexpensive Halloween Treats
Candy is traditional Halloween fare, but it can be expensive to buy it. It is often less expensive to make your own Halloween treats, and not to mention it's more fun.
Fudge – popular and relatively easy to make. Fudge also lasts a long time so you can make it a few days before your party. You can also make bags of fudge for trick-or-treaters.
Candy – you can make your own candy corn, trail mix, and other soft candies. These make a great option for trick-or-treaters. You can spend a few dollars and make a large amount of candy instead of buying expensive bags of candy. However, dollar stores are a good place to find inexpensive candy, but the bags do tend to be small. Here is a video and a recipe for making candy corn: Candy Corn Recipe
Cookies – cookies are easy to make, and you can make Halloween themed cookies. You can even make small cookies and bag them up for children who are trick-or-treating.
Toys – you can also hand out inexpensive Halloween themed toys, like spider rings or whistles. You can often buy these in bulk from party stores, and it is often cheaper and healthier than giving out candy.
Inexpensive Halloween Party Decorations
Having a costume party can be great fun, but it can be expensive to decorate your house. Instead of rushing out to buy expensive decorations, you can use inexpensive items and some things that you already own in order to decorate your home.
Black trash bags – you probably already have these in your home, and they make great decorations. For example, you can cut out cats and bats and hang them around your home. You can also cover tables with these bags in order to give your house a spookier ambiance. This is a great option for food tables, and it makes clean up easy.
Fake spider webs and spiders – these spider webs are often inexpensive, and you can find them at party stores. You can also buy a roll of white string and make your own web that way. Hang this handmade web with pipe cleaner spiders, and you are ready to go. Here's some instructions on making your own pipe cleaner spiders: Pipe Cleaner Spiders
A black light – you might have a black light, and if not, they are inexpensive, especially if you buy a black light bulb. Replace your normal light bulb with a black light bulb (make sure it fits before you buy it). White and light colored cloth will glow under this kind of light. You can also buy some black light paint and decorate with it, and it will glow under black light. For example, you can cut shapes like cats, pumpkins, gravestones, etc, out of cardboard or foam board and paint it with black light paint.
These are just a few ideas to make your Halloween more fun and affordable.
Do you have any ideas for making inexpensive Halloween costumes, treats or decorations? Let us know!
This is an article by Dominique Brown from yourfinancessimplified.com. If you want relevant, witty and easy to follow finance guidance subscribe to his newsletter by clicking here!