**This post contains affiliate links and I will be compensated if you make a purchase after clicking on my links.
A while back we sold our house and in the process of boxing up all of our possessions I remember being astonished as just how much stuff we had accumulated that we didn't even use anymore.
We paid to have all of our things moved, but in the intervening years we ended up donating quite a bit of that stuff.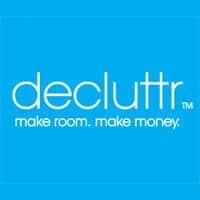 What if there were a service that you could use in order to get rid of some of the clutter that you have in your house – and earn some cash in the process?
There is! That service is Decluttr.
Today I want to take a brief look at Decluttr and talk about how they can turn your old electronics, books, media and even Legos into cash. So let's jump right in.
What Is Decluttr?
Decluttr is a website and app that allows you to sell your unwanted or unused items for cash. They will buy things like:
CDs
DVDs & Blu-Ray
Games
Game consoles
Books
Cell phones
Legos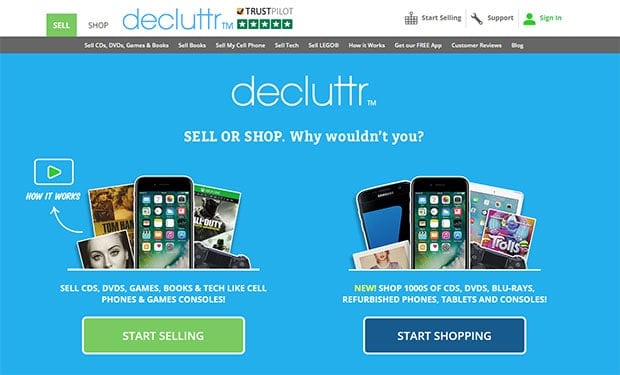 If you're anything like our family you probably have a ton of that stuff just lying around your house collecting dust. I know I still have a collection of 100+ DVDs and games sitting on the shelf, along with a drawer of old electronics in my office.
Why not get rid of your unneeded stuff, clear out some space and make some money doing it?
How Does Decluttr Work?
So how does Decluttr work? It's simple.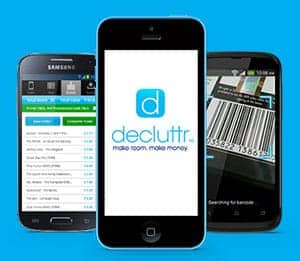 First, you enter the barcode on your CDs, DVDs, games and books into the website's valuation engine and they'll give you an instant offer.
To make things even simpler, you can download their app on iOS or Android and just scan the barcodes of the items you want to sell!
If you're selling Legos, simply put them in a bag, and then weigh your bag. Tell them how many pounds you have that you want to sell.
To sell tech, simply search for your device and select it for an instant price!
For example, here are some items I added to my basket, an iPhone 7 and a 1lb bag of Legos.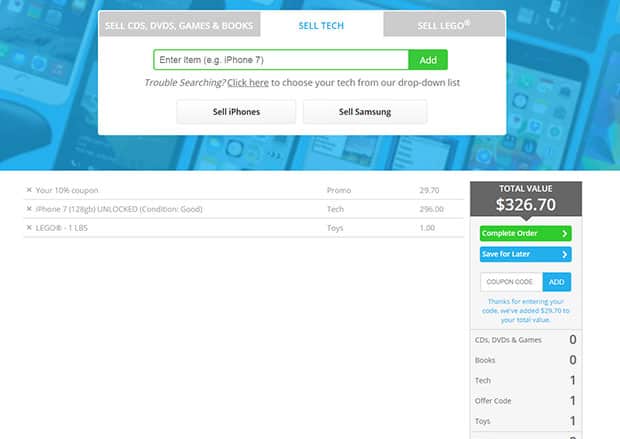 You need to enter a minimum of $5 to complete an order, and there is a 500 item limit to each order. So once you have enough stuff added to your cart that you want to sell, just submit your order.
Next, pack all of your items, CDs, DVDs, Games, Blu-Rays, Books, Lego, Cell Phones and Tech into a box. Each box should contain no more than 200 items, but you can always send a second box if you need to.
Decluttr will send you a free shipping label – just stick it to your box and drop your items off at one of thousands of UPS locations throughout the country.
Decluttr Pays You The Next Day
How do you get paid? When Decluttr has received your box they'll process your items and make a payment in cash the next day!
How is your payment sent? They have 3 options:
Direct deposit into your bank
PayPal deposit
Old fashioned check
It should be noted that Decluttr pays for your items in cash, which is awesome because not everyone does. Some sites will pay you in merchandise vouchers for their own site, while others like Amazon will give you gift cards. Personally, I prefer to get the straight up cash!
Things To Be Aware Of When Using Decluttr
While using Decluttr is relatively easy and pain free, there are some things you need to be aware of when using the site.
Item Condition
First, you need to make sure that the items you're selling are in the condition that you say they're in.
If the CD, DVD, Blu-ray, game, or book is not in an acceptable condition when Decluttr receives it, or doesn't have a visible barcode, the company will not be able to offer you a payment for that item. Not only that but they won't return the item to you either. According to Decluttr all unacceptable items are sent for recycling which includes paper, plastics and the disks.
The caveat to the above is on tech gadgets. If a tech gadget arrives in a condition that is unacceptable to Decluttr, they'll make you a revised offer and give you the option of taking the smaller payment offer, or they will send the gadget back to you, with free shipping.
So again, it pays to make sure that you're accurately describing the item that you're selling to Decluttr.
Payments & Shipping Time
One of the big complaints that some users have had is that it takes too long for items to be paid for when they send them in. The thing is, Decluttr actually pays for your items the day after they receive them, but they first have to receive them.
It can take 7-10 days for your items to arrive at the Decluttr hub in Atlanta, so be aware that you won't be paid instantaneously. It will take 7-10 days of shipping time, and then an additional 1 day for your items to be processed.
Then if you opt for a direct deposit payment, it can take an additional 3 days for that payment to clear. A check can take up to 10 business days to arrive. So if you want a quick payment, you may want to opt for the PayPal payment.
Decluttr: Make Room, Make Money
I first heard of Decluttr when writing an article about places where you can sell tech gadgets. After trying out the site I'm impressed with how easy they make it to sell your stuff. Plus, they pay cash!
While you do have to be careful when selling your items to ensure they are in good condition, Decluttr is a trustworthy vendor with a rating of 9.2 out of 10 on Trustpilot, so you know they're not a scam or some fly-by-night operation.
When it comes down to it, if you've got a lot of clutter, you're moving or just have an old cell phone gathering dust in a drawer, sell your stuff to Decluttr and get paid.
UPDATE: Through October 2018, trade-in any Tablet, Wearable or Apple Computer and get an extra 10% using code: 10MORE (Code good through 10/31/18)
Sell Your Stuff To Decluttr Now!