We live in an age where technology is constantly evolving, and newer and more advanced smartphones seem to come out on a weekly basis.
When you bought your iPhone, it was the cream of the crop – the best available on the market.  While it still works just fine, you're in love with the newest iPhone that was just released with that fancy new feature that you just can't live without. (Sound familiar?)
Continues after Advertisement
---
---
The only problem?  That new smartphone is expensive, and you're not sure you can justify the expense.
If your old phone is still relatively new and in demand, you may be able to offset the cost of that new device by selling your old one.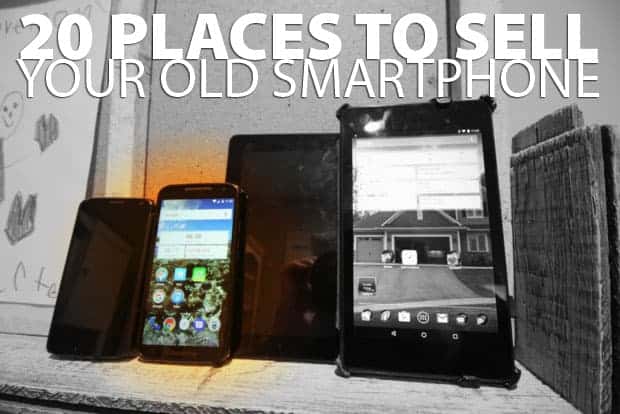 There are a lot of places where you can sell your old smartphone for a decent amount of money. Today I'd thought I'd list a few of the more popular ones.
20 Places That Buy Used Cell Phones
Here is a listing of the top places I found that will give you top dollar for your old smartphone, phablet, tablet or other electronic device.  Some of the places are sites where you can list your item for sale, while others will outright buy your device after giving you a quote.
Selling My Old Smartphone
The last time I sold an old smartphone I had purchased an Android phone and used it for a couple of years. The phone was no longer state of the art, but was still usable on a national network.
I searched for completed listings on Ebay, but the phone was going for next to nothing there because it was so common.
I searched phone buying sites. Those sites gave me at most $10-15.
In the end I sold the phone on Amazon.com for about half of what I originally bought it for. The buyer was happy because it was less than what the phone cost new, and I was happy because I got more than I would have through other venues. It took a little while to sell, but in the end the wait was worth it.
Get Top Dollar By Selling Your Old Smartphone ASAP
One thing you must keep in mind when selling your old smartphone, the amount you receive for your phone will be directly correlated to the demand for that phone on the current market.
If it's a high demand phone like an iPhone from a recent generation, you may do better than you will for an old Android phone from 6 years ago.  It's all about demand, and how much the phone is still desired by buyers on the marketplace.
Your best bet is to shop around, figure out what forum will give you the best return for your device, and then go for it.
Finding Out What Your Phone Is Worth
To get an idea for what your phone is worth I suggest doing the following:
Search Ebay for completed listings: Do a search for your phone's make and model on Ebay, and then make sure to check the "completed listings" checkbox on the search filters. It will show you what your phone sold for – in real world listings.
Get price quotes on several smartphone buying sites: Try getting a price quote on a bunch of sites to see what kind of offers they'll give you on your phone. If you only want to do a few, I suggest established sites like Gazelle, SellShark.com, Green Buyback, MaxBack or BuyBack World.
Once you find the place that you think will give you the best return for your phone (when taking into consideration the amount of time you have, how much you want to get for your phone and how much hassle you want to deal with), go for it!
Do your research, and you'll likely come out with a nice chunk of change to help pay for your new phone. Good luck!