The year is quickly coming to a close, and before we know it 2013 will be here. So let me be the first to wish you a happy, prosperous and blessed new year!
The new year is a traditional time when to look back on the year that we've had, thinking about all the good times and the bad. It's a time for fresh starts, and for setting goals for the new year. It's all about striving to make the new year better than the last.
Before we get too far into planning for the new year, however, please allow me to take a brief look back and to do a review of the top 20 posts on Bible Money Matters in 2012.
Top 20 Posts For 2012
We published 229 new articles in 2012, growing the total archive on Bible Money Matters to over 1,400 posts. There are a lot of hours invested by our team of writers in writing those posts, so I thank you for taking the time to stop by and check them out.
With almost a million page views this year, here are some of our most popular posts for the year! (It should be noted that not all of the posts were written this year, but it just goes to show the importance of that evergreen content.)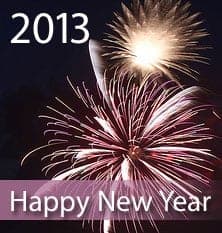 So there you go, 20 of our top posts of the year. Happy new year, and many happy returns to you and yours!
Have your own favorite article of the year? Tell us what it is in the comments! (Either your own, or one on this site!)