Today is day two in "In Event Of An Emergency" week here at Bible Money Matters.
The posts this week are looking at ways you can plan ahead for unforeseen emergencies, tragedies or hard times.
Yesterday we looked at how you can make sure that all your important documents are safe by having a fire safe in your home, and a safe deposit box at the bank.
Today I thought I'd take a look at something that's important for your family to have in the event of your untimely passing or disabling injury.
It's what I like to call the "What To Do If I Die" spreadsheet or database.
The idea has been written about before by many others in the personal finance community, but it can't hurt to do it again. It is THAT important. So what is it exactly?
The "What To Do If I Die" spreadsheet is a place where you put together all of your important personal and financial information in one place, where your loved ones can access it in the event that you're not around to help them.
Here's a simple one that I put together and that you're free to use.
Download "Total Financial Picture Spreadsheet"

Total-Financial-Picture-BMM.xls – Downloaded 20707 times – 16.50 KB
Let's dive in and take a deeper look.
What Type Of Information Should I Put In My Spreadsheet?
The type of information that you put in your database is really up to you. For me the things I decided to include were things that I thought my wife might have a hard time finding otherwise, or that would be a pain to track down.
You can include as much or as little information you're comfortable with. For example if you don't want to include passwords in case someone gets a hold of your spreadsheet, just keep your passwords separate in a program like LastPass. The software will allow you to save all your account usernames and passwords, and password protect them under one master key.
LastPass even has a system for setting up emergency contacts so that people can access your passwords in an emergency. A good idea for security.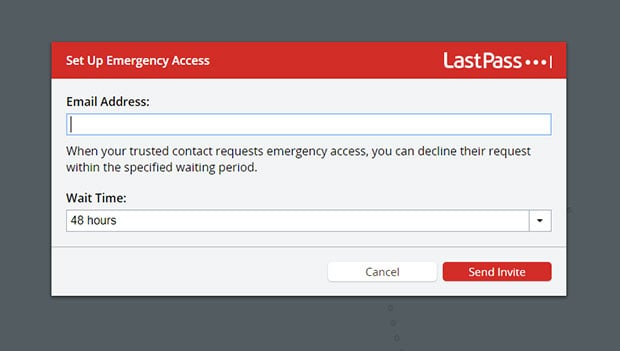 So here are some ideas of what information to include:
Financial and Insurance Information
Bank Accounts: Add all information regarding your regular checking and savings, in addition to any online savings accounts, money market accounts or CDs. Include things like website addresses, usernames, passwords, account numbers and contact information for the bank.
Investment Accounts: Put down all information about your 401k, IRA, Roth IRA and other investment accounts that your family may need. Include things like website addresses, usernames, passwords and contact information for the investment accounts.
Mortgage Account Information: Include all information about your current mortgage, including amount owed, amount due, website addresses, usernames, passwords and contact information for your loan servicer.
Insurance Information: Include all your information about any life insurance, disability insurance and other insurance that you have purchased. Include website addresses, usernames/passwords and contact information for the insurance company.
Credit Card Accounts: Include information about any credit card accounts you may hold including website addresses, usernames/passwords and contact info for the credit card company.
Other Liabilities/Loans: Include other liability information including student loans, auto loans or home equity lines of credit. Once again include any website addresses, usernames/passwords, account numbers and contact information.
Income Sources
Make a listing of all your sources of income, especially ones that your family might not know too much about (like blog income!)
Regular income: This may be going away, although some benefits may be coming your way after your disability or death. List that information here if you want.
Side income: Make sure any side income or assets that the family might not know about are listed here. In my case I could list this blog which would continue to collect income if I die. It could also be sold as an asset. Also be sure to include usernames/passwords for all accounts related to that side income.
Monthly Expenses
It can be a good idea to keep a list of monthly expenses that need to be paid in case you aren't around to pay them. It will make things easier for the person trying to cope with your loss.
Utilities
Insurance
Mortgage
HOA Fees
Loans
In doing the list of expenses you may even want to do a complete budget (if you haven't already) and have a family budget meeting to talk about your finances. If you do that on a regular basis it will make this process that much easier.
Instructions For Collecting Insurance and Benefits
While it may not be fun to think about you may want to write out instructions for how your significant other can collect life insurance, disability or other benefits.
Write out who they need to contact, what they will need to do, and how they will need to do it. This can take a lot of stress out of the situation.
Other Important Info
You may have other important accounts or information that you want your loved ones to know about. Things like locations of wills, safe deposit boxes or the location of those gold bricks you buried in the backyard.
Whatever it is, if your family doesn't know about it, make sure they do. (You can also include letters to family members in case you die)
Where Should I Keep These Documents?
Once you've put together your worksheet of information, it's a good idea to figure out where to put it. For me I'll be putting the information in a couple of different places.
First, it will be kept on my hard drive of my computer in the "My Documents" folder.
Second, I'll put it on a USB flash drive and store it in our fire safe. Keep a copy in your safe deposit box if you have one.
Third, I'll email myself a copy zipped and password protected to my gmail account. I'll then label it "If I Die".
Once I've set up all these copies of the document(s) I'll sit down with my wife and make sure she knows where to find this information in case she needs to.
Update: Reader Nathan suggested the following alternate method for saving your important documents.
In Case Of Emergency Binder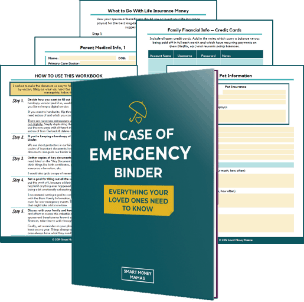 If you'd like something a little bit more comprehensive than our "What if I Die" spreadsheet above, our friend Chelsea over at SmartMoneyMamas.com has put together what she's calling an In Case Of Emergency Binder.
The Binder is a complete package that can help you plan for pretty much any eventuality. It's over 100 pages of simple, printable worksheets (in a fillable .pdf) to organize everything your family may need to know if you're gone.
It includes sections for things like household information, medical information, key personal documents, financial documents and logins, important contacts, important memories and more.
The binder costs $29, but it's well worth the cost in my opinion as it will lead to giving you peace of mind that your loved ones are covered in case the worst case scenario were to happen.
Have you set up something like the "What If I Die" spreadsheet at your house? Does having it give you peace of mind? What other things do you think should be included in the spreadsheet? What method do you use to backup important files? Tell us about it in the comments!