Most people have strong opinions about Michelle and Jim Bob Duggar and their brood of 19 children. While some commend them for putting their family first and having as many children as God feels fit, many others feel they are being irresponsible to have so many children and to potentially put Michelle's health in jeopardy with more pregnancies at an advanced age.
Whatever your personal opinion is, there is no denying that many Americans could learn to manage their money as effectively as the Duggars. Here are some of their money management strategies that have allowed to live debt free despite raising 19 children.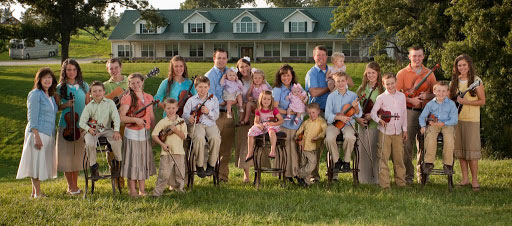 1. Buy used and save the difference. If you watch their show, 19 Kids and Counting, you will see the Duggars recite their mantra, "Buy used and save the difference" over and over. They buy almost everything used–clothing, cars, RVs, baby equipment, beds, the list goes on and on.
2. Barter. In addition to buying used, the Duggars aren't afraid to barter and ask for a lower cost. They barter successfully quite often. Of course, it helps when you pay cash and have all of the money to pay upfront.
3. Pay cash. The Duggars pay cash for their expenses. While they might be able to play the credit card reward system and accrue points to get free services and items, they instead choose to pay with cash and avoid credit cards completely.
4. Avoid debt. The Duggars don't just avoid credit card debt, they avoid all types of debt. Their sprawling home, which features a 2,000 square foot great room including living room, dining room and kitchen, was paid for upfront. They do not owe anything on the house; it is paid in full. Not many Americans can say that, let alone those with the expense of 19 children.
5. Do it yourself. One of the ways the Duggars were able to pay cash for their home was to learn how to do much of the building themselves. They did hire people to help, but then they worked beside those they hired to learn to do much of the work themselves. Do it yourself can save some big bucks!
6. Help others. The Duggars were routinely shown going to help a fellow large family, the Bates, to renovate their house to accommodate their own growing family. The Duggars are always volunteering to help their friends, and in return, their friends gladly help them. This cooperative agreement helps them get things done without hiring others to assist them.
7. Be willing to delay gratification. Before the Duggars built their home, they were in a cramped, small house. While they wanted nothing more than to move into their new, spacious home, they had to be willing to delay gratification so that it would be paid in full when they moved in. The house took several years to complete.
8. Be willing to tell your children no. In their book, Michelle recounts the early days of their marriage when they had very little money coming in. One of their older daughters wanted a pink blanket, but they could not afford to buy her one because it wasn't in the budget. How many of us routinely tell our children no for such a small expenditures? Because they have the ability to live within their budget and tell their children no, they are able to remain debt free.
Of course, many will argue that the Duggars are able to be debt free because they have a television show and book deals. I am not disputing that those deals probably do bring them a substantial amount of money and a more comfortable lifestyle. However, how many athletes or other celebrities do we routinely see who blow through millions in just a few years? The Duggars are being responsible stewards of their money. In addition, they were already living this way long before the television deal came along.
What other financial lessons do you learn from the Duggars or another famous family?