Weekend Away
This past weekend my wife and I got away to the woods of Northern Wisconsin for a few days of fun and relaxation on the lake (see a picture of the lake below). My wife's family used to own a beautiful cabin on a gorgeous lake near the town that we visited, and going there for vacation really got all the old memories flooding back of fun times at the cabin, and of being on the lake in her parent's boat.
We walked through the town, and visited the cute little shops up and down main street. We ate lunch at an awesome outdoor cafe. We played mini-golf and rode the go-karts. We had a really good time. Then while we were sitting at dinner, we started dreaming about owning our own piece of lakeshore in this great little town.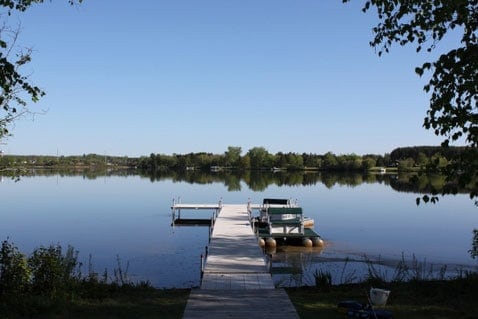 Cabins, Boats And Other Things We Don't Need
We talked about how we had always had such good times when we were at the cabin, and how some of our fondest memories of our young relationship had been out on the lake, and sitting on the dock at the lake house. We dreamed of buying our own piece of real estate on a lake in the area, and talked about how we could then get a boat, and store it there at the lake. We started thinking of all the ways we could make this piece of Wisconsin our own, and turn the summers at the cabin into a reality.
We even started looking around at places while we were driving around, thinking about how the market was down right now, and we could probably get a great deal on a cabin or townhouse on the lake right now. Prices are probably cheaper on lake real estate than they have been in years!
The cabin fever started creeping in, we really wanted to make the move!
In reading a post this morning on another blog, it looks like we're not the only ones who were thinking about moving forward on a large goal, although I'm not sure I agree with how this person went about it (doing it without first talking to his wife).
Not Now, Maybe Later
After talking about it all weekend, we started to come to our senses and realize that we aren't in any position to be buying a lake home right now. We still have a nice hefty mortgage on our principal residence, and adding another mortgage on a vacation home would just be silly. We realize that it just isn't the right time for us to be buying a cabin.
On the other hand, I think it's ok for us to dream, and set a future goal of one day owning a cabin on a lake. It is something that we enjoy, and that we could share with others. Is it something we can do right now? No. But it is something that can motivate us, and push us towards achieving in our professional lives? I think so. I wrote about using goals to motivate you a while back. Goals can have an extremely strong motivating power – and the funny thing is, a lot of the time once you are able to attain the goal, it doesn't seem as important anymore.
So for us, I think that moving forward on a vacation home or a boat just aren't good ideas right now. They will however be good motivating goals for us to work towards. Who knows, our views of living at the lake may change by the time we're ready to go down that road ( I doubt it, I mean, look at that picture of the lake above? Doesn't it just feel relaxing?). In the meantime having that goal will have a strong motivating pull for us, and will help us to reach our goals, whether it ends up being a cabin, or something else.
Do you have a big goal that you're working towards attaining? Have you ever moved ahead on one of your large goals before you were ready, and were sorry later on because of it? Tell us about your big life goals, and how they have worked out for you.